Own a charismatic clothing brand but feel like the business growth is lacking somewhere? Well, that's the biggest challenge many businesses face during their initial stage!
Because fast fashion has taken over the market, brand advertising and product sales have become more intricate than before. When you run a business in the clothing or apparel industry and the competition is vast, the real trouble starts! And, that's marketing.
Every clothing business owner must have said this once in their lifetime, 'I want to boost sales and grow my business.' That's simply because opening an online clothing store is as easy as it sounds, but pulling customers in is what makes it extremely hard.
"What you wear is how you present yourself to the world, especially today, when human contacts are so quick. Fashion is instant language."
— Miuccia Bianchi Prada (Italian fashion designer and head designer of Prada)
How Huge Is The Clothing Industry?
The clothing industry is really vast and is constantly growing at a rapid pace! The revenue for the apparel market, including sportswear, businesswear, and luxury clothing, is estimated to cross 1.5 trillion (yes, trillion) US dollars in the year 2023.
The United States and China are the world leaders when it comes to apparel demand. Both these countries generate higher revenues than any other nation worldwide. When talking about revenue generation, the women's apparel market tops the list, men's on 2nd, and children's on 3rd.
Even after the consequences of the Covid-19 pandemic and 2022 high inflation, the global clothing industry is booming at a rapid rate. Also, the revenue production is expected to double by the year 2028 for most luxury brands. And why is this so? Because, we all live in a digital era, and if we need to flourish our business, we gotta ace our game digitally.
Now you might be wondering where you and your business stand in the market, right?
Don't fret! Let's find the solution to your biggest challenge – how to increase sales for your clothing store!
How To Increase Sales For Your Clothing Business?
Are you good with designing and procuring cloth pieces but facing trouble with brand promotion?
Is your clothing store not getting enough customer footfall?
Are you worried about declining sales?
Well, not anymore! This ultimate guide is surely going to help!
The only practice to withstand this fast-fashion clothing market is by staying motivated, doing the core hard work, and preparing a rock-solid marketing plan of action beforehand.
Growing a small business cannot happen spontaneously. As a clothing business owner, making millions or billions is not going to happen in a day or a week, or a month. One must keep patience and offer something special to the users.
With that said, let's discuss some top strategies to increase sales in your clothing business.
Here we go!
1. Establish and Maintain a Strong Online Presence
First things first, create a robust eye-pleasing website for your clothing store to build your brand's online presence. Brands with zero to minimum online presence indeed have more chances of shutting down in the first or second phase after opening.
Moreover, retail clothing stores are closing at a rapid speed because they haven't worked on building an online presence. So, it's better to create yours in advance!
Your business website should be attractive, responsive, and strong to draw customers' attention. Since everybody loves to shop online now, having a user-friendly website built on an excellent e-commerce platform would work as a solid strategy to fetch more buyers and grow sales.
But, having a website is simply not enough. Your online presence also depends on how well you rank on search results when people search for your business online. It is vital for your business to feature on Google's #1 page to gain maximum visitors and quality leads. And this is only possible when a team of professional offshore SEO experts does this job for you with their best practices.
Establishing your online presence with the help of search engine optimization is the best way to make your brand stand out in today's era.
2. Powerful Advertising At The RIGHT Place
The second important factor to consider when it comes to growing sales for your clothing business is to promote products at the right place.
Gone are the days of traditional marketing methods like newspapers and hoardings. Now, people have shifted gears to modern marketing methods like social media, paid online ads, email marketing, and more.
While online marketing is a modern technique and the need of the hour, one should definitely opt for it to gain more visibility.
Many clothing brands (ZARA, H&M, Levi's, Nike, Tommy Hilfiger, and Calvin Klein to name a few) run social media campaigns, Google ads, and Instagram ads by deploying top-notch PPC services to target potential audiences on many social platforms and convert them into paying customers. Also, newsletters through email marketing have popped up the new age method to advertise, educate, and reach the masses in a profitable way. Such marketing strategies are the prominent method to generate quality leads and get more conversions.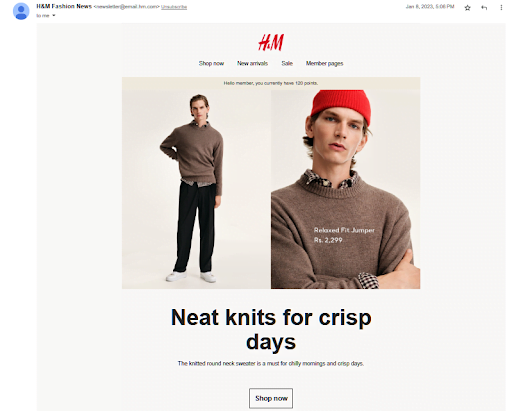 Online marketing keeps customers interested, engaged and helps any business gain maximum traffic in a short period of time.

The digital world gives you maximum exposure to reach audiences from all corners of the globe. While traditional marketing methods require enough capital and resources, online brand promotion can be done for a few bucks.

So, why wait? Boost your online clothing business using powerful modern-day advertising methods.
3. Engage Customers Using Social Media
Social media, when used aptly, can be a powerful tool for brand promotion and business growth. For low budget marketing, social media (Facebook, Instagram, and more) is a great start. These platforms allow users to reach maximum audiences at minimum prices.
Online clothing brands that know how to use social media strategically are already on the rise. And, if you wish to increase sales and grow your online clothing business, then opting for social media would work evolutionarily.
But, take note that brands that use social media only for selling purposes tend to shut down early. That's because social media is for gaining an online presence and engaging with your customers.
Social media platforms allow you to connect with customers, answer queries, update them about new product launches, and more.
So, when it comes to brand marketing, ensure you make maximum use of social media platforms.
4. Research The Market To Understand Your Customers' Needs
Businesses fail when they don't do proper market research. To carefully understand customers, like what they want and if there are any changes required, market research is crucial.
You can have a marketing team that finds data and collects information from the customer base. Expert marketers know the nitty-gritties of the market, like how to use user search data for brand enhancement, business management, and more.
Brands like ZARA and H&M consistently grow because they actually know what their customers want.
Look at their clothing styles and seasonal trends, you'll find out that they are already one step ahead in market research and understating their customers' interests.
Market research keeps you updated with the latest trends and you stay connected with your potential customers. Moreover, it also helps with product improvements, brand building, and inventory enhancements. Your brand-building team should be a pro in market research!
So, before making any important decision related to growing your clothing business, ensure to explore the market beforehand.
Ready To Drive Sales And Grow Your Clothing Business?
There you have it! The above discussed are the top ways to grow and increase sales for your clothing business. So, if you wish to maximize your ROI and eliminate the growing business concerns, start seeking help from industry-known digital marketing experts by Softtrix, and establish a strong brand name for your business in the market.
Remember, for increasing business revenue, deep market knowledge and professional help are essential requirements. Your team of professional digital marketing professionals can assist you with brand promotion, e-commerce platform development, social media management, advertising, and overall website maintenance. So that you simply concentrate on the customers coming your way! The rest will be taken care of by them.
So, without much ado, choose the best offshore digital marketing services for your clothing business, and take home more money!
Frequently Asked Questions
Yes, if you want a cost-effective solution to enhance your clothing business, then hiring digital marketing services would be the best bet to generate maximum ROI for your brand.
To increase sales, you first need to enhance your brand exposure. The more will be your visitors, the more sales it will lead to eventually. So, to boost sales of your clothing store online you can explore the idea of Google Ads or hire professionals to run the campaigns for you! Or you can get them to rank your business for different industry-related keywords by featuring SEO-optimized content. It takes a little while for new websites to show results, but after a few months, the stats are simply overwhelming. Also, exploring your competitors is very important. You cannot do this all on your own. You need to hire a team of digital marketing experts that can help you access your competitors who hold a stronger online presence and carry out relevant marketing activities that establish your brand authority in the market.
Attracting more customers is a challenge faced by many business owners, especially in the clothing industry. But with the help of SEO and PPC services you can reach your potential audience at max, enhance your brand presence and see a boost in paying customers.