If you're planning to launch an online store, choosing the right eCommerce website builder is crucial. Your website builder will determine the ease of setting up your store, managing inventory, and providing a seamless shopping experience for your customers. With numerous great options available on the market, picking the right one can be a tough task. In this comprehensive guide, we will explore some of the best eCommerce website builders and highlight their key features and benefits.
In today's digitally-driven era, establishing and maintaining a robust online presence is crucial for the success of any business. An eCommerce website builder allows you to create and manage your online store without extensive coding knowledge or technical expertise. These platforms provide a user-friendly interface, pre-designed templates, and essential features to help you showcase your products and reach a wider audience.
Factors to Consider When Choosing an ECommerce Website Builder
When selecting the best eCommerce website builder for your business, several factors should be taken into account:
Ease of Use: Look for a builder with an intuitive interface and drag-and-drop functionality, allowing you to easily customize your website.
Design Templates: Consider the variety and quality of templates offered by the builder, ensuring they align with your brand and industry.
Scalability: Evaluate whether the builder can support the growth of your business by offering flexible scalability options.
eCommerce Features: Check the available features for product management, inventory tracking, payment gateways, and order fulfillment.
Pricing: Compare the pricing plans and subscription models offered by different builders to find one that fits your budget and requirements.
Customer Support: Look for builders that provide reliable customer support to assist you in case of any technical issues or inquiries.
Capture, Connect & Convert
Your Audience Into Buyers With Us!
Website Development:  Turn your business dream into a reality with our top-notch development services!
Website Design:  Elevate your brand's visual appeal with our creative website designs!
Squarespace is a popular choice among entrepreneurs looking for a comprehensive eCommerce website builder. It offers an intuitive interface, stunning templates, and powerful eCommerce functionalities.
With Squarespace, you can easily create a visually appealing online store that reflects your brand identity. It also provides built-in SEO tools to improve your website's visibility on search engines.
If you're just starting out and have a limited budget, Square Online is an excellent option. It offers a free plan that allows you to set up a basic online store with essential features.
Square Online integrates seamlessly with Square's payment system, making it convenient for small businesses. As your store grows, you can upgrade to their paid plans for additional customization options and advanced features.
WooCommerce is a powerful eCommerce plugin built for WordPress websites. It offers online stores a versatile and customizable platform, allowing businesses to tailor their digital storefront to their specific needs.
WooCommerce offers a vast collection of themes and extensions, allowing users to enhance the functionality of their online stores. With its user-friendly interface and extensive documentation, WooCommerce is an excellent choice for businesses already using WordPress.
Weebly stands out for its robust inventory management capabilities. It provides a user-friendly interface to add, edit, and organize your products efficiently.
Weebly also offers features like inventory tracking, low-stock notifications, and easy order management. Whether you have a small boutique or a large online store, Weebly can help you streamline your inventory processes.
For website owners who use WordPress as their content management system (CMS), Ecwid is an excellent choice. Ecwid seamlessly integrates with WordPress, allowing you to add an eCommerce store to your existing website.
It offers a wide range of features, including mobile-responsive design, international selling options, and multilingual support. With Ecwid, you can transform your WordPress site into a fully functional online store.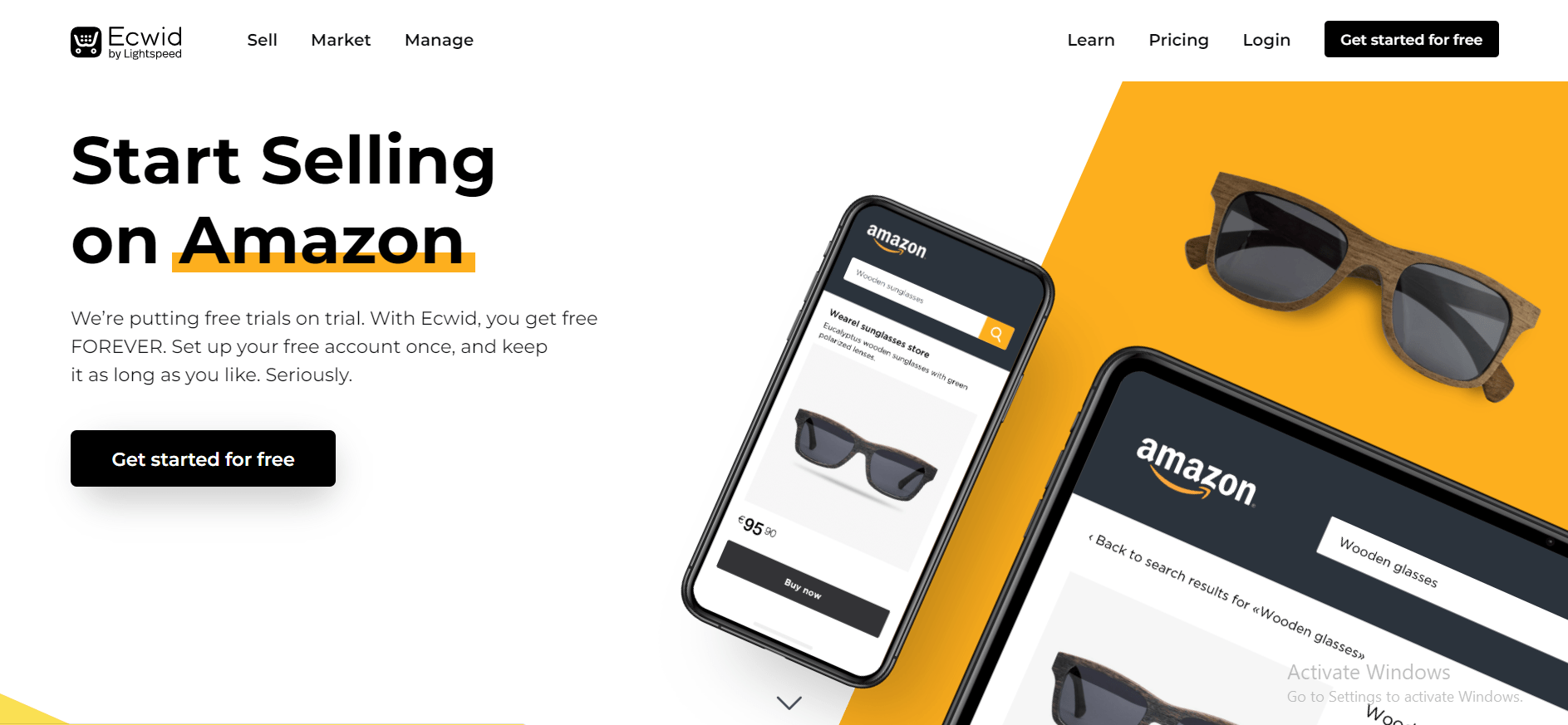 BigCommerce is a powerful eCommerce website builder that caters to businesses with substantial growth aspirations. It offers advanced features such as unlimited product listings, real-time shipping quotes, and multi-channel selling integrations.
BigCommerce also provides excellent scalability, ensuring that your website can handle high traffic volumes and complex operations as your business expands.
Abandoned carts can significantly impact your online sales. Wix addresses this concern by offering a robust abandoned cart recovery system.
It automatically sends personalized emails to customers who have abandoned their carts, encouraging them to complete their purchases. Wix also provides a range of marketing tools and integrations to help you drive traffic and boost conversions.
If you're interested in dropshipping, Shopify is your go-to platform. It offers seamless dropshipping integration with various suppliers, making it easy to launch and manage your dropshipping business.
Shopify provides a user-friendly interface, powerful inventory management, and extensive customization options. With its vast app store, you can enhance your store's functionality and cater to specific business needs.
Volusion is a comprehensive eCommerce platform that provides a range of built-in features to create and manage online stores. It offers responsive templates, a user-friendly interface, and robust inventory management tools.
Volusion includes features like abandoned cart recovery, secure payment gateways, and SEO optimization options. Regardless of the business size, the platform is inclusive and suitable for startups as well as established enterprise-level organizations.
Magento is an open-source eCommerce platform known for its scalability and flexibility. It offers advanced features and customization options for creating unique online stores.
Magento provides a vast library of extensions and themes, allowing users to enhance their website's functionality. It is a suitable choice for larger businesses with complex requirements.
3dcart is a feature-rich eCommerce website builder that caters to businesses of all sizes. It offers a range of templates, customizable designs, and essential eCommerce features.
3dcart includes built-in SEO tools, inventory management, payment gateways, and marketing features. It also provides round-the-clock customer support.
In conclusion, take the time to evaluate each platform's features, pricing plans, and customer support before making your final decision. Remember that your eCommerce website builder should align with your business goals and provide a seamless shopping experience for your customers.
We hope you love our recommendations. Now, just in case you want to take your online store to the next level, you can contact us now. We will help you bypass all the limitations and get your desired functionality or design at a very affordable price.
Frequently Asked Questions