Kids' products are so adorable that they can make anyone nostalgic for their own childhood. This is one such factor besides the basic necessity of children's products that results in increasing sales.
According to Statista, the baby's product market is expected to reach a compound annual growth rate of 10.07%, resulting in $29 billion in revenue by 2027. Brands like Edamama, Mothering Earthlings, etc are competing to gain a significant market share in this economy.
So, if you want to start a kid's products business or already have one then it is an excellent opportunity for you to know how can you increase the sales and build a recognizable name in the market!
Your business products should be advertised in a way that they seem visually appealing to kids and are of great quality that satisfies the parents demands. It is this balance that you have to maintain between what captures the kids' interest and what the parents are actually willing to purchase to make your sales count and experience a boom in revenue.
This seems challenging, right? Well, you don't have to worry! This is where digital marketing plays a role. It helps you to reach a wider audience and allows you to promote your products on different online channels, thus, boosting sales.
Now, you must be wondering, what are these digital strategies, and why are they important for increasing sales?
Well, keep reading to find out!
How To Increase Sales For Kids' Products Online - Google Docs
Since the pandemic, there is an increase in the number of people that have started shopping online. So, to survive in the online world, a digital marketing plan is needed as it ensures you a strong online presence through which you can reach your targeted audience. Thereby resulting in increased customer engagement and improved conversion rate.
This is why your baby products business needs a solid marketing plan that is cost-effective and generates revenue.
What Are The Top-Selling Kids' Products Online?
Since the adults are the ones purchasing, they think about their children's happiness, health, and safety. Knowing their preferences, you can advertise such products which can bring you profitable results.
Here are some top-selling baby and kids' products:
What Are The Relevant Keywords To Target For Kid's Products
Keywords are the user search queries that help you rank higher in SERPs. Through the search intent or by analyzing the search volume of each keyword, you can learn what your target audience is looking for.
Suitable keywords for your baby products can help you to increase your brand relevancy. You can choose these keywords on the basis of what encourages conversions from your target audience.
Here are the few listed keywords for your baby products that help in driving sales:
Kids Clothing Stores
Kids Shoes
Boys Shoes
Baby Store Near Me
Girls Shoes
Kids Outlet
Baby Walker
Baby Diaper Bags
How Targeting Keywords Can Help In Boosting Sales For Your Kids' Products
Targeting keywords helps you to reach your potential buyers and improve brand authority. Thus, building trust among customers which will positively impact the conversion rates.
In order to increase brand awareness and sales for your products, using long-tail keywords act as a strategic move. They improve your content visibility on search engines as they are more specific in nature. Thus reaching your prospective customers.
How To Increase Sales For Your Baby Products Store Through Digital Marketing
In a competitive market like that of kids' products, you need to opt for techniques that make you stand out in the crowd and drive more sales. So, the following are some of the ways in which you can build a strong brand name for your business and generate revenue:
Boost Sales With Pay-Per-Click Advertisements
Paid ads provide instant results i.e. better online visibility and higher conversion rate. It boosts sales for your baby products by bringing in more traffic. Further, it allows you to have control over the ad budget and to analyze the PPC performance to make the required changes for better results.
How Many Clicks Can You Expect From Google Search Ads For Your Baby Products
Google Search Ads are the ads that appear at the top of SERPs. These ads bring more traffic to your website which assists in a higher conversion rate. Google ads work faster than SEO which results in better visibility i.e. it can bring around 5X visitors to your website. This helps in boosting sales for your baby products and to generate more revenue.
Cost Per Click (CPC) is the metric to determine the cost that you have to pay which makes it easy for you to analyze the ad performance. The average CPC for Google Search ads ranges from $0.20 to $3. You can expect around $500 visitors as per this amount of CPC.
Why Are Google Shopping Campaigns The First Choice For your Kids' Products Business
Google shopping ads make users aware of your products by displaying quality images and other relevant information. This creates a strong appeal for your products that makes them target your potential customers, thus boosting sales.
Cost Per Click is an efficient KPI that helps you with useful insights and in planning your budget. The average CPC for Google shopping ads ranges from $0.15 to $2 (i.e. 20% Less than the Google Search Ad Campaigns)
Shopping ads provide high ROAS and better click-through rates as the average CTR for Google Shopping Campaigns is around 0.86%. It results in the generation of hot leads and increases the conversion rate. Thus, it is an efficient way of increasing sales for your baby products.
As per Wordstream, the average click-through rate (CTR) for your baby products business is around 0.71%
What Is The Cost Of Remarketing Campaigns For Kids' Products?
Google remarketing ads help in reinviting your potential customers by adding them to the remarketing list through a tracking code. It shows your ads to those visitors who showed interest in your baby products' website before.
It also helps in improving your ad relevancy at a lower cost per click (CPC). The remarketing campaign is cost-effective in nature as its prices are quite low i.e. around $0.25-$0.60 per click. It provides higher ROI and increases the chances of your target audience "re-exploring" your shopping website.
Minimum Advertising Budget For Driving Sales For Your Baby Products Store Online
Knowing what amount you have to pay for advertising your baby and kids products business, can let you ascertain the outcomes you may receive from the different types of ads.
The minimum advertising cost can be as low as $500 and can be gradually increased. As the amount of your budget directly impacts the performance of your PPC campaign.
While working on various projects, PPC professionals at Softtrix have noticed that you can easily receive around 400-500+ visitors on your $1000 Google ads spend.
How Much Is The Monthly PPC Account Management Fees For Your Online Business?
Pay-per-click is an excellent strategy that helps you reach people and in boosting sales for your baby products website.
PPC account management holds a lot of scope for brand expansion as it looks after your business's PPC strategies and budget. It should be noted that your monthly budget for PPC account management can start from $500
At Softtrix, we believe in complete transparency! Google provides you with a $500 promotional discount code on your first Google account for the first month but most marketing agencies do not communicate this information with you. With us, you get this offer which means for the first month, you can enjoy the services at zero amount.
Why Does Your Business Need Continuous PPC Campaign Management?
PPC campaign management enables you to determine an efficient advertising budget. It also ensures an increase in ROI and better positioning in the ads column.
PPC campaign management is necessary for your kids' products business due to the following reasons:
It improves brand awareness which results in an increase in traffic
It is a cost-efficient solution to increase sales
It helps in knowing who your target audience is
It brings in more customer queries
Are You Struggling To Generate Sales?
Let Paid Advertising Turn Your Woes To Business Triumphs!
Attract targeted potential audience

High conversion rate

Boost in Return On Investment (ROI)
What ROI Can You Expect From Digital Marketing Campaigns With Softtrix?
The main objective of any business is to earn revenue i.e. to get a high ROI on every ad spent. Measuring your ROI lets you analyze what is working for your business and what is not. This, further, helps you in improving your future results.
Proven track record of PPC experts at Softtrix suggests that for every $1 spent you can expect a return of $10. So what's making you stop? Start generating sales today with us!
It is important to note that ROI is never fixed as it depends on various factors like industry niche, SEO, Conversion rates, etc. So, to receive the best outcome, you can start with $2500 to run a PPC ad campaign and then gradually increase the amount according to your budget.
Rule The Online World With Social Media Marketing
It's important to make your online presence felt. With short-form videos, posts, etc you can increase your brand awareness. Online platforms like Youtube, Instagram, Facebook, etc can help you in bringing in more traffic. Social media marketing is an excellent way to engage with your audience which might result in boosting sales.
Increase Online Visibility With Search Engine Optimization
SEO organically boosts sales for your baby products by ranking on top of the SERPs. It leads to better online visibility and drives more traffic to your website. Thus, it is your best bet if you are looking for a cost-effective solution to establish your authority in the market.
Is Your Business Website Not Visible On Google?
Get It Ranked On #1 Page With Us! 
Google #1 page ranking for targeted keywords
Rank #1 on your local maps
Increased brand engagement & sales
Generate Leads With Content Marketing
Content marketing helps your business to attract and retain customers by engaging them with relevant content. It is a very crucial component of online marketing as it assists you in building trust among customers.
Bonus tip: A CTA in well-drafted content can further help you to generate leads and improve conversions which result in higher revenue.
Provide Better Customer Support With Chatbot
Your website must have a chatbot that would answer your customer's queries automatically. It helps your team to be stress-free so they can focus on other important tasks. It can provide 24/7 multilingual customer support which improves the sales process, satisfy your customers, and increase conversion rates.
Increase Revenue With Amazon Marketing
Another way of increasing revenue is with Amazon marketing, which helps your potential customers to notice your business products. It provides "customers also bought" suggestions which enable the customers to explore more of your business products. With Amazon, you can also gain useful insights through customer reviews and alter your products accordingly.
Develop Personal Touch Through Whatsapp Marketing
Whatsapp has over 2.7 billion active users which means an increase in conversions and customer engagements. Your baby products will be hard to miss as WhatsApp messages have a 90% open rate and are read quickly. Thus, It will increase customer satisfaction as Whatsapp allows you to establish personalized communication with your customers.
Stay Connected With Email Marketing

Email marketing informs customers about discounts, sales, product launches, etc, and reminds them to take action. This increases brand awareness. It also allows remarketing which encourages potential customers to take the desired action, resulting in high ROI. Thus, it is a cost-effective marketing solution for booming sales.
Why Do Most Kids Products Businesses Fail?
Businesses dealing with kids' products are trying to rule the online world.
But, have you ever wondered why these online businesses have been failing recently?
Well, below are the listed reasons why some online businesses dealing with baby products fail:
Businesses fail to set up a proper pricing strategy
The business website doesn't include proper CTAs
Businesses are producing poor product content where relevant information is absent
The website does not have a good SEO strategy due to which it isn't ranking on Google
It has no social presence through which they could reach their potential customers
They have uploaded poor product photos while advertising
They do not believe in remarketing which results in losing the potential customers
They are unable to handle the competition
They do not have a proper marketing plan
They do not focus on constructive feedback from customers which results in their downfall.
Best Vs. Cheap – Which Digital Marketing Services Will Prove Beneficial?
Digital Marketing helps you in business expansion. Yet, choosing between the best and the cheap marketing services can be a task.
You might opt for cheap online marketing services which may save you money initially but it will not show positive results in the long run. The best digital marketing services, on the other hand, already harbor extensive industry knowledge and are well prepared to work towards increasing your online visibility and engagement in the long run with guaranteed results.
Thus, if you are looking out for better digital marketing results, then hiring the best digital marketing agency with a proven track record is the best way to go for establishing your online business.
Discover
How Our Agency Can Generate More Traffic & Sales For You!
SEO: Maximize traffic with top-notch SEO Services. Watch real results!​
PPC:

Ignite instant lead generation with my team of PPC experts.

Content Marketing:

Unleash my team of storytellers who craft share-worthy content, attract traffic, and pull in valuable links.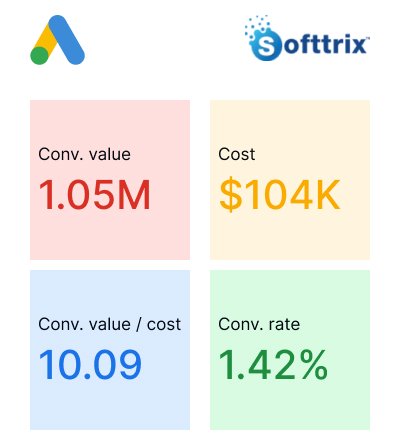 One thing is clear from all the shared information that to increase sales for your kids' products business, digital marketing is a must!
Online Marketing can help you in bringing more traffic to your business through varied techniques such as PPC, SEO, social media, etc. Leveraging them, can help you in building brand authority in the market and improve conversion rates while monitoring daily progress.
So, what are you waiting for? Let the expert digital marketing team at Softtrix help you establish your business online and generate the revenue you have been looking for a long time.
Discover the Sales Secrets: