Google is now the lord of the online world. As per sources, Google receives approximately 8.5 billion searches every day for the year 2023. Quite huge, right?
Now ofcourse, people search for N number of things on the web, but a large portion of these queries belong to the consumer hub seeking to buy a product. And the moment your consumer enters their product-related query, the first thing that hits their screens is Google's shopping section right in the spotlight. These Google Ad shopping campaigns are known to have a 60%-80% higher conversion rate as compared to text-based PPC Ads.
Over the last few years, Google Ads have emerged as a profitable marketing channel for many businesses including the ecommerce business industry.
Google's recent updates have brought about significant changes in the paid marketing environment. As a result, Google Shopping has evolved from being an optional sales strategy into a must-have advertising format for ecommerce businesses worldwide.
Now without talking much, let's dive into how Google Shopping Ads can drive more sales for your business and help it soar to new heights!
Simply put, Google Ads is a powerful pay-per-click (PPC) advertising platform, in which advertisers pay for each click or even an impression they receive on their ads.
Previously known as Google AdWords, this service by the search engine giant was rebranded as Google Ads in 2018.
Google Ads presents quite an effective approach to attracting qualified traffic and potential customers to your business, as they actively search for products and services similar to what you offer. By leveraging Google Ads, you can significantly increase your website traffic, generate more inquiries, and even boost in-store visits. Moreover, the platform offers valuable insights that allow you to analyze and optimize your ads, ultimately reaching a wider audience over time.
What Are The Different Types Of Google Ads
Google Shopping Ads are visible on both the regular Search Engine Results Page (SERP) and the dedicated shopping tab. Unlike traditional ads, they do not target any specific keywords. Instead, you create a comprehensive product catalog, and Google automatically matches your products to relevant searches. Thus increasing brand awareness and sales.
Google Search Ads are the simple text-based ads that you can see on Google search engine results pages (SERPs). The search ads either appear above the organic search results or at the end of every page. This involves targeting keywords with buyers intent. So that you can reach your target audience when they're searching for the products or services that you offer. The more you bid on these keywords, the higher visibility your search ad has!
Google Display Ad Campaigns appear on third-party websites that agree to serve your Google Ads on the basis of audience interest. These ads are in the form of text, image, video, or rich media format so that your potential audience can be targeted in various ways. Display ads are ideal for remarketing your products or services to prospects that were or might be interested in products or services like yours.
As Google reigns over it, YouTube advertising operates through Google Ads. This dynamic platform lets you craft enticing video, text, or display ads that captivate viewers before and during videos, and even beyond! When it comes to targeting your audience, YouTube ad targeting follows a similar path as display targeting, ensuring you reach the right viewers at the right time and that too with precision.
After knowing about the tree, let's understand the popular branch of Google Ads with loaded fruits!
What Are Google Shopping Ads?
Google Shopping Ads are pay-per-click search engine ads that appear as a carousel of your product images. Unlike the traditional ads that appear on Facebook, YouTube, Instagram, and other websites, Shopping Ads appear at the top of search results and showcase the product image, price, and store information, thereby making them highly visible and persuasive for potential customers.
Google Shopping provides an automated advertising platform for online retailers to market their products to customers with high purchase intent when they search for products on Google.
Google Shopping ads appear on the Google search results when a user is searching for a product. As per the search query, Google will show the most relevant products. As soon as the ad is clicked, the product page by the advertiser opens and the browser gets all the details about the product and might hit the Buy Now button if impressed!
What Are The Different Types Of Google Shopping Ads?
There are 3 different types of Shopping ads you can use to launch your Google Shopping campaigns:
Product Shopping Ads: These ads are created on the basis of the product data we provide to your Google Merchant Center account.
Showcase Shopping Ads: These ads can be created by grouping a selection of products like yours together. This way your shoppers can compare several other products like yours and click the one that suits their requirements the best. This helps the audience in discovering your brand and exploring your product or service offerings.
Local Inventory Shopping Ads: These ads make use of the product data available from your local inventory to showcase your products and information about your physical store to all those nearby shoppers searching through Google.
Much like ordinary search ads, Google Shopping ads involve ad auctions. So, how exactly you are charged works a little differently depending on your chosen ad type:
Product Shopping ads are charged as per cost-per-click (CPC). This means that you will be charged only when someone clicks your ad.

Showcase Shopping ads are charged on the basis of maximum CPE (cost-per-engagement) bidding. This means you set the highest amount that you are willing to pay or bid for an engagement with your ad. You are charged when someone clicks a product in your Showcase ad.
According to Google, in any case, you'll only have to pay the minimum amount necessary to rank higher than the advertisers who are paying the same or more to give you tough competition.
What Are The Benefits of Google Shopping Ads?
Higher Product Visibility
With Google Shopping Ads, you can effectively showcase your distinct products to a broader audience. Whether you're launching a new business or have an established presence, attaining a top position on search engine results pages will significantly boost the likelihood of attracting potential customers to purchase your products.
Higher product visibility leads to a higher chance of driving in new consumers. It's important to note that these consumers are already actively searching for products similar to yours. Therefore, familiarity with your brand is not a prerequisite; instead, matching their searches with relevant, high-quality images, and compelling product descriptions in your ads will capture their attention and interest.
Massive Audience Reach
Google Shopping Ads are not limited to just Google Search; they are also present on various other platforms, including YouTube, the Shopping tab, the Images tab, and other partner websites within Google's network. This distribution of ads on a broader level ensures that your products can reach a wider audience, significantly increasing your product visibility and potential customer base. 
Unlike premium ads, which are confined to displaying only one product per page, there are no limitations to the amount of space Google Shopping Ads can occupy on a single search. This helpful feature allows your shopping ads to appear in almost every relevant search, maximizing visibility and potential conversions. Henceforth, with more products showcased on a single page, availability across multiple channels, and an influx of shoppers seeking specific items –  your outreach will substantially grow through Google Shopping Ads.
Multiplied ROI
Google Shopping Ads is the smartest investment you can ever make from your marketing budget.
Why?
Because they are known to perform better across the key metrics, i.e. click-through rate (CTR), cost-per-click (CPC), and conversion rate.
To understand this better, let's go through some data. In a recent report on retail advertising, an advertising performance agency – Merkle found that the click share of Google search ad clicks achieved a record-breaking peak of 63% for Google Shopping.
This indicates that shoppers were nearly twice as inclined to click on Google Shopping Ads compared to text ads displayed on the search results page. But why do they perform better? The main reason is the comprehensive information displayed, which basically streamlines the entire customer journey. By providing all the necessary details on their screens, shoppers are spared the need to visit your store and can straight away get directed to the specific product of their interest.
Qualified Traffic
Not only do Google Shopping ads offer greater quantity, but also excellent quality. To put it another way, you're going to bring in better quality traffic to your store.
Why? Because your ads are shown to people with clear customer intent. They are actively looking for the exact products you are displaying.
Many people who are searching for specific products on Google have already decided to buy the product. If Google determines that your products are relevant to a search query, they may be seen by shoppers who are looking for exactly what you offer.
If they see a relevant ad, these shoppers are likely to click on the link and buy from you.
Improve Your Customer Experience
Your target customers will connect and respond to your ads only if you help them have a seamless customer experience. So to make that happen, try to follow these tactics. First, you should redirect your visitors to a specific product page rather than a general shopping page. Second, add the required product information and photo with appropriate lighting. Third, exhibit proper product-related info and photos when adding them to the cart.
If you make sure to follow such tactics, the chances of your visitors returning back to you are highly positive.
Higher Customer Conversion Rate
Out of all the marketing platforms available, Google Shopping ads stand out with higher conversion rates. Thinking, why are we saying this?
Because people come to Google Shopping with the intention of making a purchase. So when someone is planning to make a purchase, it makes them more likely to be ready to buy products. When shoppers are in the planning phase for their shopping, presenting your products in an attractive manner can lead to a significant increase in clicks and sales. This not only results in better conversion rates but also improves the Return On Ad Spend (ROAS) rate.
It's crucial to keep in mind that individuals using shopping-related keywords in their searches are already in the Desire stage of the sales funnel. By offering appealing products with captivating visuals, you can effectively convert them into actionable customers.
Benchmark Your Competition
When running your Google Shopping campaigns, you have this excellent opportunity to compare your performance with that of your competitors. Analyzing your competition allows you to gain valuable insights on how to optimize your ads for better results.
Having a comprehensive understanding of your actual business position as compared to your competitors is extremely beneficial in the advertising realm. It enables you to maintain a competitive edge and stay ahead of the pack.
How To Create A Google Shopping Ad Campaign For Your Business?
Now that you are aware of what Google Shopping Ads are and how it can transform your business. Let's solve your query of "How do I set up these Ads for my business?"
A) Pre-Setup: Things To Do Before Launching Google Shopping Ads
1) Sign Up For Your Merchant Center Account
To start your Google Shopping advertising journey, the first step is to create a Merchant Center account. This account will serve as the platform to add your products and initiate your shopping ads. You can easily sign up for a Merchant Center account directly through Google.
2) Create A Shopping Feed With Your Products
After setting up your Merchant Center account, the next step is to generate a shopping feed containing your products. Google will utilize this shopping feed to showcase your products in paid listings. To do this, you'll be required to complete a spreadsheet for Google, including, the following required information:
3) Link Your Google Ads Account And Your Merchant Center Account With One Another
Before you begin creating Google Shopping ads, the final yet most important step is to establish a connection between your Google Ads account and your Merchant Center account.
B) Final Setup: Things To Do To Launch Google Shopping Ads
1) Create A Shopping Campaign For Your Ad
To begin creating Google Shopping ads, start by creating a New campaign. After the creation of your new campaign, choose a descriptive and distinctive name to easily identify it.
2) Choose Merchant Center Account For Your Shopping Ad
After creating your campaign, select the linked Merchant Center account having the products you wish to launch ads for. Keep in mind that the choice of the Merchant account is permanent and cannot be changed after the campaign is created.
3) Select The Country For Your Products Sale
During the setup of your Google Shopping ads, you'll be required to specify the country of sale for your products. This means setting the location where your products are being sold, as well as the countries from which your customers will be interested in purchasing. For international sellers, it's essential to include all relevant countries where you want your products to be sold. By providing this information, your ads will only be displayed in searches that are relevant to people in those specified countries.
4) Check On Inventory Filter
Next, you'll want to decide if you want to use an inventory filter for your Google Shopping ads. An inventory filter is useful when you need to limit the products shown in your campaigns. You can use this filter to specify certain criteria that products must meet to be eligible for display in your ads.
For example, if you are running a special promotion on smartphones and want to exclude other electronic accessories, you can set up filters to ensure that only smartphones meeting your criteria are shown in the ads. This way, you can focus your ad budget on the products that are most relevant to your marketing objectives.
5) Decide Your Bidding Strategy
When you learn how to create Google Shopping ads, you should understand that bidding is a critical aspect of your ad strategy. You must know what type of bidding you want to go with. This is why it is always advised to take professional help! Google Shopping ads have multiple bidding options, including:
Cost per click (CPC)
Cost per thousand viewable impressions (vCPM)
Cost per thousand impressions (CPM)
In most cases, the CPC bidding option is used, but if you want to increase brand awareness, you can go with the bidding method that involves impressions.
Next comes budget allocation. It's important to determine how much you're willing to spend on your campaigns every day. Set a daily budget that lets you know what is working best for your business and advertising goals.
Important Note: It is your budget that will determine the number of clicks and leads you can achieve for your business.
This is why you have a substantial budget so that you get optimum results from your ads.
7) Know What Networks You Want Your Ads To Float On
When creating Google Shopping ads, you must decide where you want your ads to appear. These ads can show on:
Google Search Network
Google Search Partner Websites
Display Networks
You can uncheck any of these boxes that you want to exclude. For example, if you want your ads to appear only when your potential audience searches, then you can uncheck Google Search Partner sites and Display Network.
8) Determine Which Devices Will Show Your Ads
When you launch Shopping ads on Google, your ads can appear on all possible devices, including smartphones, tablets, and desktops. However, if you don't want your ads to show a specific device, you can easily change the settings to limit where your ads should appear at the end. Typically, it is advised to show ads on all devices so that you can reach people that are most interested in your business.
Are You Struggling To Generate Sales?
Let Paid Advertising Turn Your Woes To Business Triumphs!
Attract targeted potential audience

High conversion rate

Boost in Return On Investment (ROI)
Can You Run Shopping Ads Without Google Merchant Center?
No, before you even start with the idea of launching Google Ads for your business, it's necessary to create a Google Merchant Center account. Having a Google Merchant Center account will assist you in providing detailed information about your products to Google. So, that it can feature your product in the best way possible and improve its visibility on the search engine for increased customer engagement.
Does Google Shopping Increase Sales?
Yes! Google Shopping is the most effective channel for ecommerce businesses. As shopping behavior has made a shift to the Internet, online retailing has become the new normal for people. Thus incorporating Google Shopping in your sales strategy can definitely help you gain an edge over your competitors and drive profits you never imagined.
How Much Do Google Shopping Ads Cost?
You'll be amazed to know that one out of three paid clicks on the search engine result pages (SERPs) belong to the shopping ads club. This is probably why many advertisers from the ecommerce industry strongly know that they can't miss the prime spot available on Google Shopping. Now these spots along with the campaign that you want to run, perform differently and have different click-through rates, conversion rates, and costs.
On average the cost of Google Shopping Ads lies between $0.2 to $5 depending on your business niche. Usually, the price of Google Shopping Ads is 20% less than search ads in most cases.
How Much Is Google Shopping Ads Management Fees?
Google Shopping may cost $1 a day or maybe $100 a day, depending on the amount of visibility you want your products to have on SERPs. On average monthly PPC Account Management Fees generally ranges around $500, and can be increased to any amount, depending on the type of your business and the results you want.
However, if you are about to launch a new campaign and choose Softtrix as your trusted Google Shopping Ads partner, then you might save up some money! Since many digital marketing agencies won't tell but upon setting up a new Shopping Campaign Google gives a coupon worth $500. So if your monthly shopping ads management fee is $500 and you get a coupon worth the same, then your exact advertising spend, comes up to be Zero!
What Is The Average Conversion Rate For Google Shopping Ads?
The average conversion rate for Google Shopping ads implies the percentage of users who take a desired action after clicking on your ad. Usually, this rate varies depending on the industry, platform, and audience targeting for a particular business. On average the conversion rate for Google Shopping Ads is 1.91%. The rise and decline of the ad conversion rate largely depend on the campaign performance and your business industry. Hence it is important to partner with a top digital marketing agency so that you don't have to regret your decision later.
What Is A Good Click-Through Rate For Google Shopping Ads?
A good or high click-through rate(CTR) for Google Shopping Ads indicates that your potential audience is finding your ad really helpful and relevant to what their search query was. Largely a good CTR depends on your business niche, what products you are advertising, and your campaign performance. So, approximately a good click-through rate(CTR) for Google Shopping Ads lies somewhere between 3 to 5%.
What Is The Average ROI For Google Shopping Ads?
Yes, we know you have been waiting for this question. Because ultimately it is the ROI that will define the growth of your business. So, here is the answer. For Google Ads, you can expect an ROI of about $8 for every $1 spent. And if you are thinking about Google Shopping Ads, this amount increases at a much greater scale.
Have a look at this video to understand better, wherein we generated approximately $2.5 million for a business with Google Shopping Ads:
Tips To Increase Sales With Google Shopping Ads
If your ads are not driving a good click-through and conversion rate, it's time to revamp your bid strategy.
If you are observing a decrease in clicks, you should think about image optimization.
If you want to maximize your revenue "More" with Shopping Ads, Retargeting is your go-to strategy.
If you think that there is something off about your ad, you might want to optimize the product descriptions.
If you want to increase customer engagement for your ad, then mentioning any promotions might help.
If your ad is not showing at relevant search queries, you should try optimizing the ad with relevant and negative keywords.
Discover
How Our Agency Can Generate More Traffic & Sales For You!
SEO: Maximize traffic with top-notch SEO Services. Watch real results!​
PPC:

Ignite instant lead generation with my team of PPC experts.

Content Marketing:

Unleash my team of storytellers who craft share-worthy content, attract traffic, and pull in valuable links.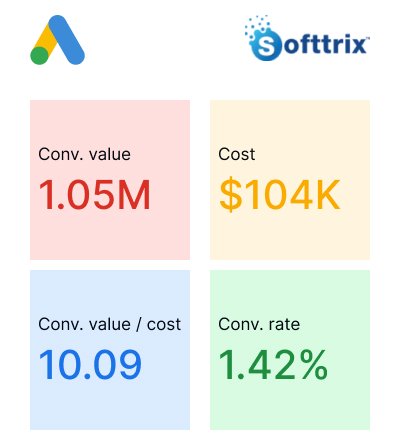 Pheeww!! It was long, but we hope that everything you wanted to know about running your next Google Shopping Ads campaign is answered! No matter what your business is, Google Shopping Ads should be a must-have, in your marketing strategy – given the wide audience reach and authority it has over your audience! These ads, whether placed through Shopping Campaigns or Performance Max, are bound to drive results, that you have been looking out for many years.
So, what's holding you back now?
Start thinking about which products you want to advertise and get set to sail on the boat to increase customer engagement and revenue with Softtrix.
If you have any more queries on Google Shopping Ads, let us know in the comments section below!
We would be more than happy to help you anytime!