Owning one of the finest perfume brands but struggling to maximize the revenue!
If this is your story, then we are here to help you boost sales using our advanced Pay-Per-Click (PPC) service for your perfume store!
Since you are running this business you know that there's this certain market segment that is lured by scents – evoke memories, make them feel and smell good every day, and bring ecstasy into their lives. Hence, the demand for the same has increased over the years, which is probably why, the fragrance industry is booming more than ever. The global market size for perfumes was valued at USD 45.05 billion in 2023 and is expected to grow to 69.25 billion by 2030. In terms of revenue, the market amounts to US$58.27bn in 2023 and is expected to grow annually by 2.95% (CAGR 2023-2028). Now, with a prosperous future ahead, how can you generate maximum sales for your perfume business? 
So, traditionally people would hop into a departmental or luxury store to buy a perfume. But in the past decade, there has been a considerable shift in retail, from people shopping in stores to making online purchases. This means you have fierce market competition. Therefore the only thing that can help you stand out and attract all the customers is having a targeted digital marketing strategy at hand. Knowing how to market or advertise your online perfume business increases your chances of successfully reaching potential shoppers and convincing them to buy your product. 
If you also want to start filling your pockets and make your business a known fragrance brand in the industry, keep reading with us!! 
Our purpose here is crystal clear: to demystify PPC advertising for perfume stores and help you understand how much it costs to generate sales effectively.
So, fasten your seatbelts, and let's embark on this journey of fragrance marketing in the digital world.
How Effective Is PPC For Online Perfume Businesses?
We are quite sure that you are already trying various marketing strategies to boost your perfume business. If you haven't yet explored PPC for your perfume brand, then know that you are lagging miles behind your competitors.
PPC is the fastest and most reliable method to get the desired results. Following PPC best practices promises to earn you approximately $8 for every $1 you spend on advertising.
Let's explore what your business gains when you start investing in PPC.
Benefits Of Paid Advertising For Your Perfume Store
The right PPC strategy catapults your perfume store to the top of search engine results and prominent positions on social media feeds. It is the fastest way to grab lots of attention.
You can cherry-pick your audience based on demographics, interests, and online behavior. Say goodbye to the spray-and-pray approach.
With PPC, every click and conversion is tracked, allowing you to measure your ROI with precision.
Unlike some other marketing strategies that take time to gain traction, PPC delivers quick results. Once your campaign is set up, your ads can be live within hours, driving immediate traffic to your website.
You can track and control each and every single penny of your advertising budget. You can set daily or monthly limits, ensuring you never exceed your allocated marketing budget.
You can edit or customize your PPC campaigns whenever you want. If you notice certain keywords or ads performing exceptionally well, you can allocate more budget to them to maximize their impact.
PPC platforms offer precise location targeting. This is pure gold for perfume stores, as you can focus your ads on areas where your target audience resides or shops.
     

Remarketing Opportunities
PPC enables you to retarget users who have visited your website but didn't make a purchase. Remarketing gives you a second chance to showcase your product differently and increases the chance of getting a sale.
Even if users don't click on your ads, they still see your brand name and products. This exposure can contribute to brand awareness and customer trust. 
By leveraging PPC, you can smartly overshadow competitors who might rely solely on organic search results. This allows you to claim a more significant share of the digital market space.
What Are The Relevant Keywords To Target For An Online Perfume Store?
Well, keyword targeting is the aptest way to identify your audience's needs and target them in the best way possible, so that they see you, for whatever their fragrance-related demand is! The more correctly you target your keywords, i.e. the user search queries, the higher are your chances to get on the top of the SERPs and drive in qualified traffic, thus increasing sales. 
Let's have a look at the list of top keywords for online perfume stores, that can help you in attracting maximum website traffic. 
| Keyword | Avg. monthly searches | Competition | Top of page bid (low range) | Top of page bid (high range) |
| --- | --- | --- | --- | --- |
| perfume store online | 5000 | High | 0.66 | 2.5 |
| buy perfume online | 5000 | High | 1 | 4.44 |
| best online perfume store | 500 | High | 0.94 | 3.13 |
| online perfume shop | 50 | High | 0.86 | 3.57 |
| perfume sale online | 500 | High | 0.47 | 2.27 |
| buy fragrance online | 5000 | High | 1 | 4.44 |
| best place to buy perfume online | 500 | High | 1.04 | 3.91 |
As per the data shown in the table above, the average  Cost-per-Click (CPC) for showing your perfume ads on top of the page would be around $1.5-$2 on the search network. That means, if you are spending around $2000 on Google Ads, then you can expect approximately 800 to 1000 visitors to your website.
Now with this much amount of visitors and $2000 Ads spend, how much revenue will you be able to generate? A question that was itching your head for a really long time right? So, to answer this highly awaited question, you can expect a conversion rate of around 2% to 5%, with an investment of $2000, which makes it 20 to 50 conversions. Now the revenue that you may generate largely depends on the ticket size of the store. So, if we take a minimum conversion of 30 with a ticket size of $200 would approximately generate $6000 in sales, and an ROAS of 3X for the first month.
How Many Clicks You Should Expect From Google Search Ads For Online Fragrance Store?
Simply targeting the right keywords, following the best SEO practices, or any other marketing technique isn't really enough if you want to grow your business really fast and fill your pockets with money. You will have to jump into Google Search Ads to maximize the customer footfall for both online and offline stores while generating revenue. 
Hence, Google paid ad is your best friend, if you really want your business to flourish. Trust us! 
Formerly known as Google AdWords, Google Search Ads is a tested marketing strategy that yields a considerable amount of traffic and makes your investment worthwhile. These ads are perfect for promoting your products to the target audience and increase sales. Plus, the bonus point, with Google Ads, you pay a fixed amount only when a user clicks on your ad. This way the chances of people really interested in your perfumes clicking your ad, and making the final purchase gets much higher. 
As per the market study and stats floating around, the average Click-through Rate (CTR) for Google paid search ad campaigns, especially for the beauty and personal care industry is 5.92%.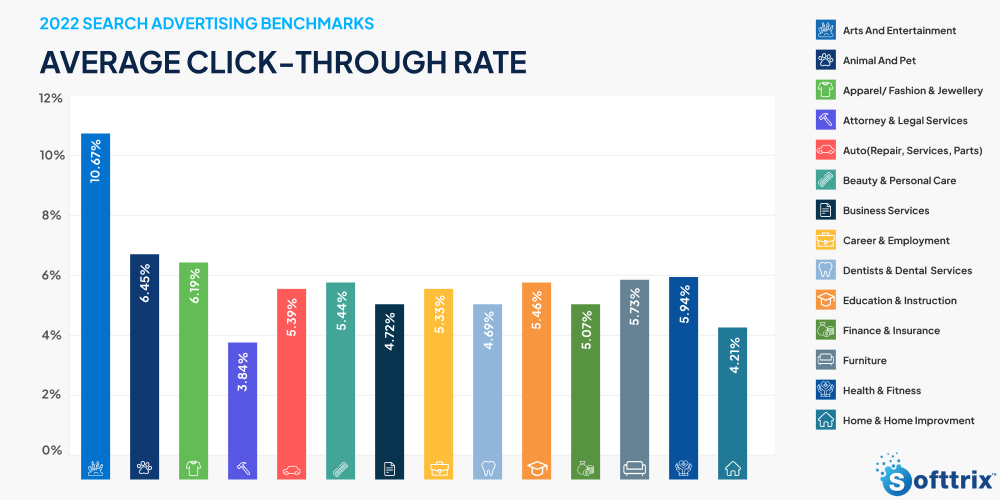 Which Is The Best PPC Campaign For Growing eCommerce Perfume Store?
Google is the only advertising platform that gives the freedom to place your ads in multiple spots in the search results to grab maximum eyeballs. For example, you can show your perfume product on banners, on top of the results, in videos, etc.
When it comes to boosting the conversion rate for your perfume store, you want an advertising method that not only attracts potential customers but also encourages them to make a purchase. 
One highly effective advertising method is the use of Google Shopping Ads, especially if you're selling fragrances online. It is known to be one of the best PPC campaigns if you are looking to get instant traffic to your business website and convert it into paying customers! 
Now, let's explore why a Google Shopping Ad campaign is the best way to boost your conversion rate:
High Visual Appeal
Shopping Ads, also known as Product Listing Ads (PLAs), are inherently visual. They display images of your perfume products, along with essential information like the product name, price, and store name. 
This visual representation immediately captures the attention of shoppers and provides them with a clear idea of what they're considering. 
Humans are visual creatures, and the old saying "a picture is worth a thousand words" holds true here.
Precise Product Showcase
Shopping Ads are incredibly precise in showcasing your perfume products. 
When users search for specific perfumes or fragrance types, your ads can appear with relevant images and details, making it easy for shoppers to see if your store has the exact product they are looking for.
This precision eliminates much of the guesswork and friction in the buying process. Thus making it easier for them to hit the "Buy Now" button. 
Qualified Traffic
Shopping Ads attract highly qualified traffic. When someone clicks on your ad, it's often because they have a strong intent to purchase that particular perfume. 
This means you're more likely to convert those clicks into actual sales. It's like having a store window that displays your best products, and people walking in are already interested in what they see.
Cost-Effective Solution
Compared to some other advertising methods, Shopping Ads are cost-effective. 
You're typically charged when a user clicks on your ad (Cost-Per-Click or CPC), and since the traffic is highly targeted, you get to earn more as compared to your advertising spend.
Bonus Point: The visual aspect of these ads can entice users to click even more than text-based ads. Thus leading to enhanced chances of more sales.
Competitive Advantage
In the competitive world of online perfume sales, Shopping Ads give you a competitive edge. 
When your products appear prominently with images and details, you stand out from competitors who rely solely on text-based ads. This visual distinction can be a game-changer for your business.
Mobile-Friendly 
Shopping Ads are well-suited for mobile users. With the rise in mobile shopping, having visually appealing ads that fit mobile screens seamlessly is crucial.
Shopping Ads do that easily, providing an excellent user experience for mobile shoppers.
Detailed Insights
You get valuable insights from Google Shopping Ads. You can see which products are popular, and which ones are converting more customers. This data-driven approach can help you optimize your ad campaigns for even better and faster results.
What Results Can You Expect From Google Shopping Ad Campaigns For Your Perfume Store
Google Shopping Ads have the potential to transform your perfume store's online presence and sales. By increasing visibility, attracting targeted traffic, and optimizing your campaign, you can expect to see significant improvements in your store's business performance. According to the data from PPC experts, the average CTR (Click-through Rate) for Google Shopping Ads is around 0.86%. The CTR is around 0.74% for your perfume store (beauty and personal care) business.
What Is The Cost Of Remarketing Campaigns For A Perfume Store Business?
We generally use retargeting or remarketing methods to boost the conversion rate. 
Doing it precisely is not everyone's cup of tea. As we have been doing it for years and know how it works, we guarantee our clients to get the most out of every single penny spent.
Retargeting is cheaper than regular ads. The cost of remarketing campaigns is around $0.25 to $0.60 per click. 
Running them straightforwardly never brings good results, and that's why we first understand and analyze all users' behavior using advanced tools that clicked on them in the first place but didn't make purchases. 
After brainstorming with data, the PPC experts at Softtrix curate different ads for retargeting purposes that may include a different product, ad copy, discounted price, etc. 
We consider retargeting the last chance to convince users to make a purchase, and it goes without saying that we easily get them to buy the product. 
NOTE: The cost of remarketing campaigns varies across multiple industries and for some businesses, the charges might be as high as $5, especially for the competitive ones.
How Much Does A PPC Campaign Cost For A Perfume Store?
You are here to know the PPC cost that you will need to spend to boost your sales, but what if we say you are searching for the wrong question?
Yes, you read it right!
Let us give you a chance to change your perspective and find out what actually you are missing out on. So, are you ready?
First of all, you need to understand that PPC is not at all about MONEY. If that is not true, then startups, beginners, or brands with a smaller marketing budget would never get a chance to thrive with paid advertising.
In the world of Pay-Per-Click, executing a PPC campaign with the right strategy is key to success.
Once you understand this, you will be more than confident when getting an ad campaign run.
Now, we want to give you an overview of the actual cost of running a PPC campaign for a perfume store, just for your satisfaction.
The cost of a PPC campaign varies depending on various factors like audience size, keyword competition, strategy, and more. Generally, advertising campaigns start from as low as $1000 resulting in plenty of quality leads. Or your PPC expert may charge you for setting up the campaign, managing or tracking it, etc., or some charge a flat 20% of your total budget.
However, with a professional digital marketing agency, like Softtrix, by your side, you can lower advertising costs and still get quality results. The minimum amount you can start with us is $500 to generate leads and increase business profitability.
There is no maximum limit, as the higher you spend the better will be the results.
If you are thinking of outsourcing your PPC job to a beginner just to cut down on cost, then be ready to experience lots of blunders and losses.
So, if you really want to experience amazing business results consistently, then hiring experienced PPC professionals by Softtrix is the best option you've got.
Are You Struggling To Generate Sales?
Let Paid Advertising Turn Your Woes To Business Triumphs!
Attract targeted potential audience

High conversion rate

Boost in Return On Investment (ROI)
What ROI Can You Expect From Pay-Per-Click Campaigns By Softtrix?
To achieve 8x like steady and promised ROAS (read our case study), you can get started with a mere \$1500 budget (\$500 extra for service charge).
If you are ready to join hands with us, this is what you can expect over the span of 6 months.
| Time | Expected ROAS | Budget | Expected Sales |
| --- | --- | --- | --- |
| Month 1 | 1.5x | $1500 | $2250 |
| Month 2 | 2x | $1500 | $3000 |
| Month 3 | 2x to 4x | $1500 | $3000 to $6000 |
| Month 4 | 4x to 6x | $1500 | $6000 to $9000 |
| Month 5 | 6x to 8x | $1500 | $9000 to $12000 |
| Month 6 | 8x to 10x | $1500 | $12000 to $10000 |
What Is The Monthly PPC Campaign Management Fees For Your Perfume Store Business?
Monthly PPC account management fees at Softtrix is designed to fit your budget and deliver exceptional results. We understand that every business is unique, so we offer customized pricing plans tailored to your specific needs and goals. Whether you're a small boutique looking to boost local visibility or a large perfume retailer aiming for nationwide reach, our experienced team of PPC experts is here to ensure your advertising dollars are maximized for the best possible return on investment. With our competitive rates and dedication to driving real, measurable results, you can trust us to make your perfume business bloom online.
You will need a minimum of \$500 to let the specialized workforce at Softtrix to manage your PPC account and generate incredible business results.
With us, you get to focus on core business operations while we work on getting your business on the top spot in Search Engine Result Pages.
Wait, there's more!
You get a FREE $500 Google promotional coupon code that makes your overall advertising spend for the first month to be ZERO!
YES, Softtrix is offering FREE Google ads credit to new Google ads account holders. The offer is valid for a limited period, claim it today with us.
Don't Invest In PPC If You Are Ready To:
How We Helped a Perfume Brand Increase Their Revenue from $5000 Per Month To $40000 Per Month
Overview
For many, $5000 per month in revenue is quite a good and satisfactory number, but our client is not happy with the sales.
Just like any other aspiring brand, they want us to boost their sales and online visibility.
While researching the brand, we were shocked to learn that despite having a decent amount of monthly revenue, the brand is having lots of struggles. Read further to get to know them.
Challenges
Before knowing about the brand, we thought we had to put little effort into the brand awareness area. Again, their monthly revenue makes us think that way.
But we soon realized our mistake and put the task of boosting brand awareness on our priority list. 
     

Limited Online Visibility
Our client has an extraordinarily amazing perfume lineup. Their team works really hard to showcase their products online, but they didn't work enough on their online visibility.
Our PPC team instantly understood that working on their online presence would give exceptional results to the client, as their products are already amazing.
Earlier, the perfume industry was considered one of the most profitable niches as the competition was quite low, but today it is among the most competitive niches.
We have researched and found that there are many established and new players in the game who are doing very well in the perfume niche. Beating them all and making a way to the top was the real challenge.
Our client was not very sure about PPC as he had already lost most of his revenue share in a paid campaign.
He had many misconceptions about this method. He talked with our PPC team and cleared up all of his doubts and fears.
But the main concern was the budget. He has a very limited budget. So we had only one chance to win his trust.
What We Discovered!
As our client already had a Google Ads account, we started analyzing his account. No surprise, we discovered many mistakes.
The prime ones are not using the basic PPC practices and getting irrelevant clicks. This mistake left the client's budget exhausted without getting any leads.
How Did We Overcome The Challenges
 

We start by finding and picking a new set of keywords with high intent. The prime goal of choosing such a keyword is to attract a high number of quality clicks.

After this, we optimized our client's PPC campaign with our handpicked keywords.

In between, we also did a competitor analysis using advanced tools like SpyFu and SEMRush.

These tools helped us figure out what the competitors were up to.

 

We rewrote the banner ad copies and redesigned the banner ads totally from scratch.

For remarketing purposes, we created different sets of ads so they could leave a better impression.

As the client had a limited budget, we decided to focus on Google Shopping Ads.

 

We are pretty much sure that it is the right place to get sales for our client.

 

We leveraged a search campaign for the best sellers. This helped us maximize the leads.

We tracked the performance of the ad campaign and made necessary changes on a regular basis.

 

Apart from all of this, we have made some advanced tweaks and additions to the PPC campaign that helped us get phenomenal results.
As you can clearly see, we have helped our client earn a whopping $40000 in revenue in a month.
Moreover, we have increased his conversion value per cost from 1.08 per month to 9.74 per month.
The journey from $5000 to $40000 was really exciting for both of us.
The best part was that our PPC team delivered something extra beyond the promised milestone.
Do you want to experience the same?
Let's talk and unlock the real potential of your perfume brand.
What Process Does Softtrix Follow To Deliver Amazing PPC Results
   Market Research and Keyword Analysis
     

Identifying Relevant Keywords
We start by exploring and selecting the right keywords that potential perfume buyers might use. We consider tools like Google Keyword Planner and other advanced keyword research tools.
We study competitors' PPC strategies. What keywords are they targeting? What's working for them?
   Budget Planning 
     

Determining Your Advertising Budget
We change our strategy and keywords according to the budget of our clients. We don't compromise because of budget limitations.
Unlike others, we don't just divide the allocated budget equally as we believe in leveraging the time and event i.e. weekdays or after working hours people are more likely to make purchases.
   Ad Campaign Setup
     

Creating Compelling Ad Copy
We craft ad copy that speaks to your audience's desires and emotions. Highlight what makes your perfumes unique.
     

Designing Eye-Catching Visuals
In the perfume industry, visuals are crucial. Our team of graphic designers and video creators create visually appealing images and videos for your ads.
     

Setting Ad Targeting Parameters
We pick the right targeting options provided by the platform so your product can reach the right audience. This includes location, demographics, and interests.
   Landing Page Optimization
     

Creating High-Converting Landing Pages
Your landing page is where the magic happens. We suggest necessary changes to the client and after getting approval we make the required changes from text to images that encourage users to take action.
     

Ensuring Mobile Responsiveness
In the mobile-driven world, we make sure your landing pages are responsive and load quickly on all devices.
What Metrics We Use To Measure The PPC Success
   Key Performance Indicators (KPIs)
CTR determines the percentage of visitors who click on your ad after seeing it. It serves as a prime metric of ad relevance and effectiveness.
Conversion rate tells how many clicks turned into actions, such as a purchase or sign-up.
     

Return on Ad Spend (ROAS)
ROAS reveals the revenue generated for every dollar spent on ads. It's a crucial metric for assessing profitability.
We experiment with different sets of ads and discover which ad type is working for your perfume brand.
So this is all it takes to run a successful PPC campaign.By reading the above information, you will definitely agree with us that running an ad campaign requires lots of expertise and years of experience, as having knowledge is not enough.
If you want to take your perfume brand to the next level, generate 8x or more growth, and survive in this cutthroat competition, then talk to our PPC experts and experience immense growth.
Discover
How Our Agency Can Generate More Traffic & Sales For You!
SEO: Maximize traffic with top-notch SEO Services. Watch real results!​
PPC:

Ignite instant lead generation with my team of PPC experts.

Content Marketing:

Unleash my team of storytellers who craft share-worthy content, attract traffic, and pull in valuable links.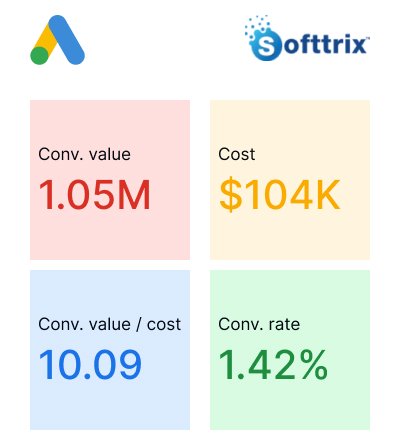 Why Opt For The Best Digital Marketing Services For Your Perfume Business Over The Cheap Ones?
Expertise Matters
Top digital marketing agencies have seasoned professionals with industry-specific knowledge.
Whereas, cheap services often lack the expertise needed to create effective campaigns tailored to your business.
Quality Over Quantity
The best agencies focus on generating quality leads and conversions, not just traffic. Cheap services may bring in unqualified traffic that doesn't lead to sales.
Brand Trust and Reputation
High-quality agencies prioritize maintaining your brand's image and reputation. Cheap marketing services may compromise your brand's credibility with inconsistent messaging and low-quality content.
Long-Term Perspective
The best agencies build sustainable strategies that adapt to industry trends and algorithm changes. Cheap digital marketing services often use short-term, unsustainable tactics that can lead to penalties from search engines.
Tailored Strategies
Top agencies customize their strategies to your unique business needs and goals. Cheap services often offer one-size-fits-all solutions that may not align with your objectives.
Efficient Budget Utilization
Quality agencies employ sophisticated targeting and analytics tools to maximize your marketing budget. Cheap services may waste your budget on ineffective tactics that don't yield meaningful results.
Consistent Online Presence
The best PPC agencies maintain a consistent and professional online presence for your brand. Cheap services may cut corners, leading to inconsistent branding and messaging.
Investing in the best digital marketing services by Softtrix is a strategic decision that ensures your perfume business not only survives but thrives in the digital age. It brings expertise, quality, brand integrity, and long-term success to the forefront, ultimately boosting your brand's recognition and revenue.
Why Do Most Perfume Store Businesses Fail These Days?
As of we speak, there are n number of perfume business owner who have either shut their business down or are thinking of calling it a quit! This is all because the current market dynamics no longer get served by the age-old marketing methods. It too requires a stir of fresh air, which is only possible through the new age digital marketing methods! We have compiled a few reasons that indicate the failure of many fragrance businesses these days and the need to brace themselves!  
Saturated Market:

Intense competition in the perfume industry makes it challenging for new businesses to stand out.

High Overhead Costs:

Costs associated with inventory, rent, and marketing can be prohibitive.

Changing Consumer Trends:

Shifts in fragrance preferences and a growing interest in niche and natural scents impact sales.

Counterfeit Products:

Counterfeit perfumes undermine trust in the market and legitimate businesses.

Online Competition:

Online perfume retailers offer convenience and competitive pricing, affecting brick-and-mortar stores.

Economic Factors:

Economic downturns can lead to reduced consumer spending on luxury items like perfume.

Inadequate Marketing:

Failing to effectively market and differentiate products hinders success.

Brand Authenticity:

Authenticity and brand reputation are crucial; a lack of trust can drive customers away.

Regulatory Challenges:

Compliance with fragrance regulations and labeling requirements can be complex.

Limited Foot Traffic:

Store location and foot traffic are vital for physical perfume stores; poor locations can lead to failure.
In the captivating world of your Perfume business, where every scent tells a unique story, your digital presence should be no different – distinct, alluring, and unforgettable. At Softtrix, we recognize the essence of your brand and understand the artistry behind every bottle of perfume. Our PPC expertise is tailored to elevate your perfume store business to new heights. As we've explored the cost of generating sales through PPC, it's evident that this digital strategy is not just an expense but a strategic investment. With Softtrix by your side, you're not just investing in advertising; you're investing in the fragrance of success. Our team combines creativity and data-driven precision to ensure every click counts, every impression captivates, and every sale is a step closer to your brand's fragrance legacy. So, why settle for ordinary when your Perfume Store can exude extraordinary? Choose Softtrix, where your scent of success is crafted, refined, and celebrated in the digital realm. 
Let's embark on this journey together. Get a FREE consultation with our PPC Professionals today!