Search Engine Optimization (SEO) is a powerful and cost-effective way to expand your digital presence, reach organic audiences, get qualified leads, and boost conversions. If you are a digital marketing agency that lacks the required expertise and resources to provide end-to-end SEO services to your clients, then it might be time to consider white label SEO services.
It is also a suitable option if you are a full-fledged SEO company, but think you have too many things on your plate – unable to manage all the projects together. In such cases, you might consider outsourcing a part or the entire SEO project to a white label partner.
Whatever your needs are, finding a good white label SEO company is important. Therefore, we have highlighted the best white label SEO agencies in Chandigarh that enable you to fulfill your clients' needs and scale your business.
Best White Label SEO Agencies in Chandigarh
Softtrix brings the perfect blend of technical knowhow, creativity, and marketing expertise onto the plate, providing cutting-edge and results-driven white label SEO services to businesses globally. Their personalized SEO reseller programs are designed to boost your clients' Google search rankings, while establishing your brand as a full-service SEO company.
Their white label SEO servcies for agencies can help broaden your current product lineup without the cost of hiring and retaining an in-house SEO team. You can seamlessly integrate their white label products and services into your offerings, resell them to the clients under your own brand, and grow your business.
Some of the key features that make Softtrix a leading choice for performance marketing in Chandigarh are:
They enable streamlining the client fulfilment process with turnkey white label SEO reseller services for marketing agencies, solopreneurs, and SEO companies.
Softtrix guarantees 100% white-labeled program tailored to your digital agency's branding and marketing goals for a seamless experience.
They have an in-house team of highly competent and experienced professionals who can handle your clients' SEO campaigns with care and expertise.
The company maintains transparency in communication and reporting, ensuring you are always on top of your clients' PPC campaigns.
You can get personalized support from dedicated account managers who are responsible for managing all your campaigns, ensuring professional and timely service.
| | |
| --- | --- |
| Company name | Softtrix |
| Established in | 2009 |
| Services | Full website audit, keyword mapping, brand strategy marketing, on-page & off-page SEO optimization, quality backlink creation, analytics tracking, monthly reporting |
| Clients | Coretech, Life Matters Claims, Stanton Optical, Enterprise DNA, Coach Whizz |
| Contact | |
| Email | |
| Website | |
Is Your Business Website Not Visible On Google?
Get It Ranked On #1 Page With Us! 
Google #1 page ranking for targeted keywords
Rank #1 on your local maps
Increased brand engagement & sales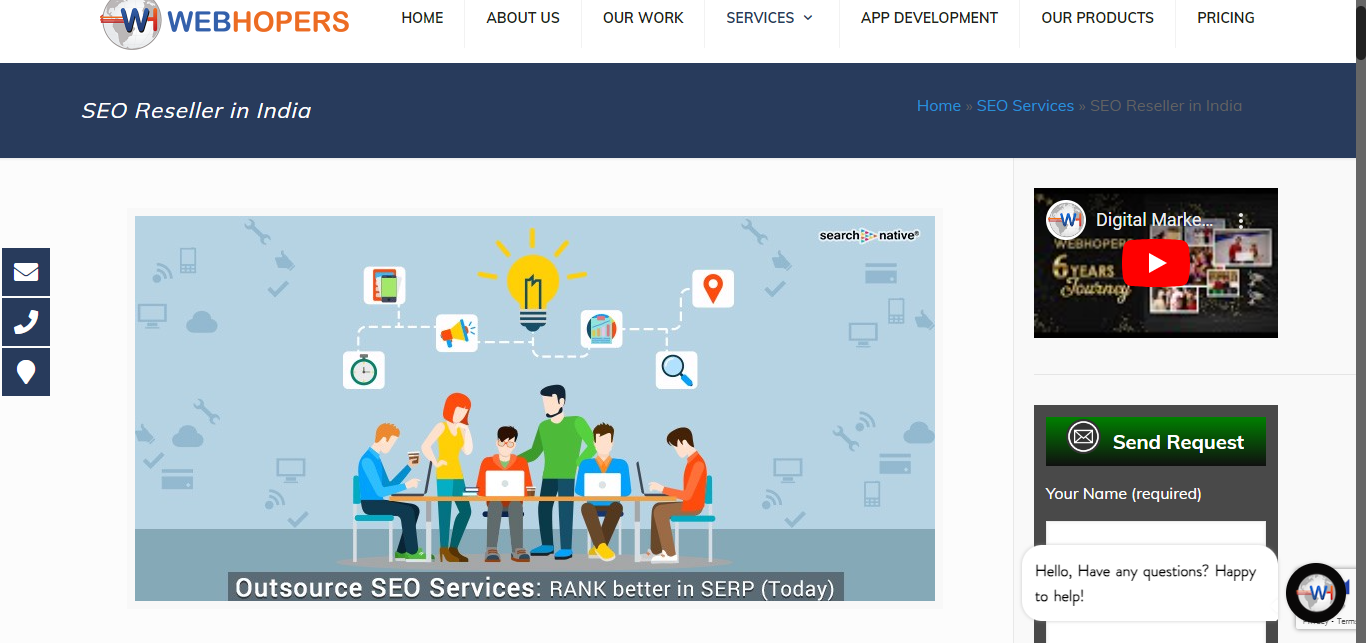 Delivering proven SEO results is not everyone's cup of tea. Keeping this in mind, WebHopers provides reliable and high-quality white label SEO services that enables marketing agencies to scale their business and expand their current offerings.
They have a team of talented SEO professionals, content developers, and account managers who can devise proven strategies to deliver desired results. They combine white label SEO with effective link building, web development, content marketing, and social media marketing to provide your clients comprehensive services for web marketing in Chandigarh.
| | |
| --- | --- |
| Company name | WebHopers  |
| Established in | 2012 |
| Services | Competitor analysis, SEO strategy building, keyword optimization, organic marketing, on-page & off-page SEO, local listings, content marketing |
| Clients | Nutrition, Murtela, Modloft, Medrix Pharma |
| Contact | +91-78147-08022 |
| Email | info@webhopers.com |
| Website | www.webhopers.com |
Rank The Page helps small businesses and marketing agencies resell their comprehensive SEO solutions, scale their business, and attain client satisfaction. They have 10+ years of industry experience, catering to clients across India and the USA.
They provide innovative and proven digital marketing & SEO solutions to small businesses that enable businesses to boost efficiency, streamline processes, and boost overall performance. Leverage their extensive knowledge of the latest SEO practices and advanced methodologies to drive increased conversions for your client and add value to their websites.
| | |
| --- | --- |
| Company name | Rank The Page   |
| Established in | 2012 |
| Services | Website audit, content creation & optimization, strategic link building |
| Clients | Interloop, Apex Urgent Care, Wheely Wheels |
| Contact | +91-98880-35703 |
| Email | rankthepage@gmail.com |
| Website | www.rankthepage.com |
Vishyat Technologies is a trusted SEO company in Chandigarh, using white hat practices to achieve improved visibility and higher search engine rankings. They also provide SEO reseller services to marketing agencies that want to outsource end-to-end SEO projects at an affordable price. Vishyat Technologies incorporates white-hat SEO practices that help drive organic traffic for your clients with measurable, long-term results.
White label SEO outsourcing to Vishyat Technologies is one of the best ways to save time & resources, and grow your agency organically. This is complemented with best SEO strategies, white-labeled reporting, web analysis, and top-notch project management for improved visibility.
| | |
| --- | --- |
| Company name | Vishyat Technologies |
| Established in | N/A |
| Services | SEO semantic keyword research, content writing, link building, YouTube SEO, Google Maps SEO, eCommerce SEO, multilingual SEO, enterprise SEO, |
| Clients | N/A |
| Contact | +91-93546-16193 |
| Email | contact@vishyat.com |
| Website | www.vishyat.com |
ShoutRank is one of the most trusted choices for internet marketing in Chandigarh. Search engine optimization is their forte; so, they can curate winning strategies for your business, improving its overall bottom line. The company also provides SEO reseller services, giving your digital marketing agency a scalable solution to take your business to the next level.
Depending on your preferred business engagement model, ShoutRank can work as your agency's in-house SEO team or on an ad hoc basis. Understanding your clients' businesses, they provide results-oriented SEO packages that guarantee measurable outcomes. They also ensure 100% white label, i.e., all correspondence with the client is made under your brand name.
A dedicated account manager, high-quality SEO work, and timely reporting are some other factors that establishes ShoutRank as a reliable white label SEO reseller you can count upon.     
| | |
| --- | --- |
| Company name | ShoutRank |
| Established in | 2018 |
| Services | eCommerce SEO, multilingual SEO, enterprise SEO, local SEO, international SEO |
| Clients | Kwik Funnels, Center for Biopharma Analysis, Evo Seed Box |
| Contact | +91-73025-67861 |
| Email | enquire@shoutrank.com |
| Website | www.shoutrank.com |
Phanom Professionals is a 360° internet marketing company that provides you with tech-driven and innovative solutions. This enables you to drive SEO-generated organic business and increased sales. They have a highly competent team of experienced SEO professionals and digital marketers who ensure you service excellence at all levels.
As a white label SEO company, they will provide your agency with full-service search engine optimization services in Chandigarh. They can cater to all your SEO needs, including Shopify SEO, eCommerce SEO, SEO ranking, Amazon SEO, SEO-friendly content writing, YouTube SEO, and Conversion Rate Optimization.
| | |
| --- | --- |
| Company name | Phanom Professionals  |
| Established in | 2010 |
| Services | Keyword research & strategy, technical SEO, on-page & off-page SEO, link building, local SEO |
| Clients | LeasePlan, Jaquar, Pearson, InstallAware, Phoenix Publishing House |
| Contact | +91-78891-45109 |
| Email | info@phanomprofessionals.com |
| Website | www.phanomprofessionals.com |
Webomaze provides relevant and tailored solutions for effective digital marketing in Chandigarh. They leverage emerging technologies and SEO white-hat practices to build and grow your business and add value. Their team of Google-certified professionals have the proven expertise to drive businesses to the top SERP rankings and improve their bottom line.
They also provide white label SEO services, designing customer-oriented marketing strategies that can help your clients' websites rank high on the search engines. Whether you want to outsource a part of your client's SEO project or all of it, Webomaze has the expertise to drive organic results.
| | |
| --- | --- |
| Company name | Webomaze |
| Established in | 2014 |
| Services | Keyword research & rank tracking, web page optimization, link building, page speed optimization, Google penalty recovery, SEO consulting, local SEO, global SEO |
| Clients | British Motorcycle Gear, SantaBanta.com, Diet Yumm, BrandNewAgain |
| Contact | +91-86990-99910 |
| Email | hello@webomaze.com |
| Website | www.webomaze.com |
Solutions 1313 is a trusted SEO agency in Chandigarh that provides effective and affordable services to drive improved online visibility. They have 15 years of industry experience, serving over 5,000 clients globally in India, UK, Canada, Australia, and the U.S. Leveraging cutting-edge technology, they can help your clients' business grow and generate higher ROI.   
| | |
| --- | --- |
| Company name | Solutions 1313 |
| Established in | 2008 |
| Services | Keyword research, technical SEO, content optimization, business listing, link building, guest blogging, social bookmarking submission |
| Clients | N/A |
| Contact | +91-92160-41313 |
| Email | admin@solutions1313.com |
| Website | www.solutions1313.com |
White label SEO outsourcing is an efficient and cost-effective way of fulfilling your clients' SEO needs, expanding your service offerings, and improve the bottom line. Choosing the right white label partner will depend on their experience & skills, services you want, business engagement model, and results they are able to deliver.
Frequently Asked Questions