Wondering whether PPC For Drug And Alcohol Rehab Centers is Relevant Or Not?
You could be wandering around the same line of thought. Drug rehab and marketing do not mix well. This is exactly the reason that the drug addiction treatment industry appears to be a little less sensitive to the daily struggles of people who deal with alcohol and drug addiction. But the fact is you can't market your drug rehab center like any other new chocolate cookies launching in the market. Because drug rehab marketing solely doesn't aim at getting a sale or generating huge profit margins for you. The actual purpose for it is to spread the word for your treatment program, and then subsequently build your business. This is the only way you can truly connect with the people who are in need of your life-saving services! The opioid crisis that had gripped the US in 2017, is not hidden from anybody. Close to 20 million Americans suffered from it as a consequence. Many of them turned to Google to find the relevant addiction treatment they were looking for. And they still do to date.
However, Google Ad policy changes complicated matters for everyone searching for keywords related to drug treatments and rehab centers. Google released a statement that stated, that the search engine has started restricting ads that feature at the top when people search for addiction treatment. Google claims that over time some rehab clinics, that advertised themselves through Google Ads do not provide quality services to addicts seeking treatment to combat this compulsive disease. Google precisely said that it has "stopped selling ads related to those searches". But you need not worry! As the situation in the rehab clinic advertising realm is not this horrific anymore!
As a rehab facility, you too have to be sensitive to this entire situation. What you are marketing is not another mundane service but a life-saving treatment. Because the current addiction crisis impacts a significant portion of the population, one has to be a lot more careful while marketing this business. The majority of your readers would find your constant focus on the words "rehab", "addiction", "drug abuse", or "alcoholism" a little harsh. Add this to the fact that close to 90% of the people who seek these treatments do not get them in the first place. The need is increasing as we speak and a large portion of marketing that happens today remains soulless and inconsiderate.
What you truly need is a digital marketing strategy that is sensitive, all-encompassing, compassionate, and informative. It must also be highly targeted and bridge the gap between treatment providers and potential patients. This is where PPC or Pay-Per-Click advertising helps you establish a deeper connection with your audience. It ensures:
Low CPA
Paid advertising is one of the effective low-cost digital marketing channels with a very affordable cost per acquisition.
Highly Targeted Leads
It is very easy for your rehab facility website to target qualified leads who are in desperate need of your treatment.
Increase Business Awareness
You can save more lives and help numerous families that find it difficult to get the most appropriate rehab treatment online sooner than ever.
Are You Struggling To Generate Sales?
Let Paid Advertising Turn Your Woes To Business Triumphs!
Attract targeted potential audience

High conversion rate

Boost in Return On Investment (ROI)
Is Digital Marketing The Need Of The Hour For Addiction Rehabilitation Centers?
Digital marketing is the need of the hour regardless of what industry you belong to. Simply having a website is not going to be enough for your rehab center. You will have to invest in several marketing strategies such as Search Engine Optimization, email marketing, social media marketing, content marketing, and of course, the most prevalent at all for you – PPC. The focus on PPC seems to be increasing as we speak because it is one of the most effective, fast, and result-oriented marketing strategies. But before we move on to how it can turn your brand into an industry leader and also one of the most reputable businesses online, let's understand why you need digital marketing in the first place:
You will notice that the majority of rehab centers around you are stuck to the most traditional ways of marketing. They do not wish to quit the age-old marketing methodology. Newspapers and magazines are effective but they have become almost obsolete. Brochures and posters are also interesting but nobody cares for them anymore. Online marketing is able to reach a vast market segment that is more sensitive to regularly updated information on the go. This allows your brand to stand apart from the competition very easily.
Your rehab center is going to become a household name for everyone seeking treatment. By using the right mix of digital marketing strategies, it is easy to build a strong reputation on the internet.
For example, by employing the most useful SEO practices, you can bring your website to the forefront very easily. Combine that with PPC advertisements and you are looking at a massive increase in organic and inorganic leads heading straight to your website. This is what increases brand awareness and eventually leads to more conversions.
Attract More Website Traffic
Yes, the ultimate goal of this entire amalgamation is to increase your website traffic just as we mentioned above. Digital marketing comprises all these activities and this is exactly what puts you under the limelight. By utilizing backlinks, third-party blog post sites, and paid advertisements like Google ads, you can redefine your online existence.
Join The PPC Brigade For Your Rehab Center – Discover An Evident Edge Over Other Marketing Strategies!
If you want to get noticed, you need to invest in Paid  Advertisements. Going the PPC way is beneficial because you pay exactly for the services you want. You pay exactly for the degree of exposure that you seek. If you want your consumers to click on your paid ad and visit your website, PPC is the way to go.
The biggest and most concise benefit of using PPC ads is that you can target your desired consumer demographic with absolute ease. You don't beat about the bush with Pay-Per-Click ads. You get instant results and the leads that you are able to generate are highly likely to convert within the shortest time span. But how is that possible? Let's discover this in the following section:
PPC gives you the desired results very quickly. All you have to do is create a website that has the most basic functions and make sure that its loading time is less than 3 seconds. Now what you have to do is start running your PPC ad on the leading search engines. Google is the most preferred choice. It is an excellent marketing method because it pops up in front of your potential customers whenever they conduct a search for your recovery center on the internet. So they will be able to see your listing right at the top of the result pages. So the result that you expect from months and months of organic SEO campaigns, you can attain the same with just one or two paid ads.
Enhance The Targeting Of Your Prospects
Now, we will have to make a direct comparison of Google ads or PPC with some sort of organic SEO marketing methodology. In the case of the latter, it is not easy to be confident about how well your digital marketing messages are being received by the people. It is not possible to even assess whether they are reaching the right people or not. But with PPC, this is never a mystery. You have in-depth targeting options with Google ads or any other form of PPC advertisements. You can narrow down your target market based on their geographical location, the language they speak, and even the device that they use. This means that your pop-up ads are only going to appear for specific groups of people and for particular words and phrases that are highly relevant to your service.
This is the biggest and probably the most lucrative feature of PPC ads. They are as effective as you want them to be. This means that the more money you put in, the sweeter your campaign is going to be. If you want more visitors, you allot more resources to your PPC campaign. It also proves to be very affordable because you only pay for your PPC ad when somebody clicks on your advertisement. That is why it is called pay-per-click. You can make the most of your budget and also set caps on your daily marketing spending. This way you can ensure that you do not shell out anything more than you need to get great exposure for your rehab center.
Integrate Your Marketing Functions
With this marketing strategy, you are not going to be working in isolation. It is very much possible for you to carry on with your video content marketing plan and SEO-enriched blog post submission as well. You can combine your PPC campaign with other marketing strategies for your business. This improves your return on investment massively.
For example, many businesses out there use their PPC marketing function to test their keywords and also promote other marketing campaigns with the same marketing copy. You can also test different content headlines in your print advertisements to find out whether you get higher conversions or not.
Measure And Track Your Progress
Your PPC ad campaign is highly measurable. You can track its progress very easily.
For example, Google ads in particular allow you to keep track of impressions, clicks, and conversions. They are recorded with precision and give you a clear picture of which keywords and marketing copy are working for lead generation and which have bitten the dust lately. If there are any changes required with your PPC ad campaign, you can implement them using these valuable insights and analytics. This allows you to constantly improve your marketing efforts without swaying too far from your budget.
Expand Your Reach On The Internet
Pay-per-click advertisements allow you to expand your reach on the internet. There is no denying that SEO is a great way to increase your reach but there always remains a certain segment of the market that is untapped or untouched. This segment can be tapped into using the right PPC ad campaign. You can find people who are going to benefit significantly from your services and would appreciate it if they discover what your brand has to offer easily.
Achieve Your Business Goals
What is the ultimate objective of your business? What is the end goal of your marketing efforts? The aim here is to achieve your sales targets. These could be monthly or even quarterly. Another purpose is to save lives and in this industry, this is literally what you do. So yes, it turns out to be one of the most effective and practical ways to not just improve your sales but also to serve society. By giving your prospects the most updated, engaging, and persuasive information, you can achieve your business targets and serve humanity at the same time.
Google Ads Policy & PPC For Alcohol And Drug Rehabilitation Business – What's The Catch?
Does PPC work for alcohol and drug rehabilitation centers? If you want a one-word answer, then YES. PPC marketing is highly effective for your rehabilitation business.
Now, the only way to make your PPC marketing campaign successful is to follow the guidelines issued by Google with regard to the usage of a few keywords such as "rehab" and related semantic phrases. Not the ones that were largely ineligible for ads like "substance abuse".
So What Are You Going To Do To Draw New Customers To Your Rehab Center?
When Google Has Such Restrictions With Regard To PPC Advertisements, Is There A Way To Generate More Leads And Remain Relevant In The Online Landscape?
The LegitScript certificate comes into the picture with a very legible solution to this. It has come up with a vetting system that allows rehabilitation centers and addiction treatment clinics to promote their ads on Google without any trouble. This is a certificate for the facility to get certified with so that they can appear in Google ads without any restrictions.
The LegitScript Angle And Rehab & Detox Center Ads – Explained
As pointed out above, the biggest concern registered by Google was the legitimacy of rehab enters. Because of widespread unscrupulous activities being carried out by several rehab facilities, there rose a need to verify the legitimacy of these undertakings. So what LegitScript does is that it provides a criminal background check to the detox facility. It also carries out a check on their licenses, permissions, and insurance documents as well. So, if there are any illegitimate activities or fraudulent documentation, the business is prohibited from rolling out any Google ads.
In order to become certified by LegitScript, your rehab center has to complete an application process. When Google is satisfied that the application process is complete and that the rehabilitation center is authentic and provides high-quality service, they are allowed to advertise on Google.
So yes, a sure-shot way of ensuring that your drug and alcohol detoxification center is able to use PPC and Google ads without any restrictions is to get LegitScript certified. The upfront charge on average is $995. The average annual vetting charge is $1,995. So, if you are wondering whether PPC marketing Is Really going to work or not, It Still stands on firm ground and is 100% effective for your business.
Trivia Time: How PPC For Drug And Alcohol Rehab Centers Took A Massive Hit In The Past
This was a massive development for every drug and alcohol rehab center in the country. Google effectively prohibited addiction treatment centers from using its AdWords advertising platform. That decision was under a very intensive review process for a long time and things changed. The policy of the search giant evolved. However, there have been a few limitations in place ever since the Google ads platform was reinstated for rehab centers. Because of many unscrupulous advertisers and providers, the entire industry had gotten a bad name.
As an addiction rehabilitation center, you are now allowed to spread your marketing messages using Google ads again. However, the rules have become a lot more stringent than before. As an addiction treatment provider, you will have to pass a criminal background check and will also have to carry valid insurance proof in addition to several other documentation. This brings us to the question of whether PPC ads are valid and useful for your drug and alcohol Detox Center or not in the first place. The answer to this is simple and big, YES!
Google couldn't let go of the $78 million worth of revenue that it was able to generate through these advertisements. But this was not the only reason for the tech giant to reinstate this service for rehabilitation centers. The need for their services has increased significantly over the past few years. The drug and alcohol addiction rehabilitation business in the United States is a rather intimidatingly large industry. It was worth $42 billion in the year 2020 alone. With more than 14,000 treatment facilities and still counting, the number of patients who have successfully received high-quality treatments is more than 3.7 million.
So yes, there is a rising demand for these services which is an indicator of the country becoming more diligent towards its health and well-being.
How Many Clicks Should You Expect From Your Google Search Ads Campaign For Your Drug And Alcohol Rehabilitation Center?
This question is very subjective because we are talking about pay-per-click advertisements. Remember, the more resources and effort you put into your PPC ad campaign, the more results it is going to deliver. You have to be very proactive when creating your marketing copy for your paid ad. If you talk about Google search ads in particular, you should be able to garner at least 15 clicks per ad group in one day, with a cost per click of about $5 to $10 and even more. We are not talking about a single ad campaign. if you spend $5000 on average on PPC campaigns then you can get 500 clicks at a CPC of $10. Whatever, the amount you invest, there is a chance of a 10% conversion rate. So if, the average ticket size, i.e. your customer lifetime value and revenue generated, is $10,000, and you are achieving 300-500 clicks on average, after spending merely $5000, the qualified leads that you may generate are 30 to 50, and the number of final conversions is 3 to 5. So, at the end of the day, you earn $30,000, on a spend of $10,000, which is a win-win situation for your business!! This again depends on your marketing strategy and how you are able to leverage the exposure that you get with these paid ads. When you connect with a professional digital marketing agency like Softtrix, you should be able to cross this mark very easily.
What Is The Minimum Advertising Cost To Achieve Measurable Results For Your Addiction Detox Center PPC Campaign?
Your PPC ad campaign is always going to be measurable. This is the biggest benefit of using this marketing strategy. But just like any other service out there, the price of PPC Services for addiction rehabs is going to depend on several factors. The current state of competition in your industry will be the biggest determinant. Other than this, your unique business goals and the restrictions put by the search engine are also going to play a critical role in this. You will have to find a workaround and this is where it will become critical for you to associate with a highly skilled and experienced digital marketing company. But to cut to the chase, the minimum monthly advertising cost for your PPC rehab Center should set you back anywhere between $1000 and $1500 per month.
Case Study: Google Ads For Addiction Detox Center
The perfect way to explain how PPC lets you generate an average of 30 leads per month for your alcohol rehab center is this. The case study here talks about how LegitScript works and how easy and effective it is to run a Google ads program for a rehab center. Moreover, from 3 conversions per month, this rehab center went to attaining 137 conversions per month. Don't believe us! Check the video yourself…
What Is The Monthly PPC Campaign Management Fee For Your Drug And Alcohol Rehab Center?
Before we dive into the nitty-gritty of what it'll cost to supercharge your rehab business with top-notch PPC campaign management, let's demystify the magic behind it. Picture this: PPC management as the wizardry that powers your organization's PPC marketing campaign. It's not just about keeping tabs on the cash you're dishing out to craft and showcase those eye-catching ads. It's about going Sherlock Holmes on your PPC ad campaign, dissecting it from every angle, and making sure it's not just good – it's downright phenomenal.
Now, here's the kicker: PPC campaign management isn't just important; it's your addiction treatment center's lifeline. It's the engine that keeps the momentum going, and it's a journey without an end in sight.
Factors That Determine The Cost Of Your Monthly PPC Ad Campaign Management
The competition on a given set of keywords is going to directly impact the cost or monthly PPC management fee that you pay. The more competitive the keyword is, the higher the cost per click is going to be.
The quality of your advertisement is going to determine the cost of your PPC campaign directly. Higher-quality advertisements often have a low cost per click.
The placement of your PPC ad also matters a lot. If your ad appears at the top of the search engine result page, this means that you have paid a higher cost per click than your competitors.
The relevance of your PPC ad also counts because the more relevant your ad is, the more likely it is to be clicked on. This means that it is going to have a lower cost per click.
Keyword specification means that if your keyword is more specific, it is going to be more affordable. Long tail keywords have less competition which means they have lower cost per click.
How optimized is your landing page also dictates the cost of your PPC ad campaign. If your landing page is highly relevant, it will prove to be suitable for conversions and decrease your cost per click.
Unlocking the true potential of PPC campaign management is like diving into a world of limitless possibilities, where your investment can shape the quality of services you receive. Here's the lowdown: The monthly fee for PPC campaign management typically kicks off at around $500. 
But, hold on to your digital hats because when you embark on your journey to digital success with Softtrix, we've got a sweet deal for you – $500 in free Google Credits for your brand-new Google Ads Account. In essence, that means your monthly PPC account management costs can magically shrink to a grand total of zero.
Discover
How Our Agency Can Generate More Traffic & Sales For You!
SEO: Maximize traffic with top-notch SEO Services. Watch real results!​
PPC:

Ignite instant lead generation with my team of PPC experts.

Content Marketing:

Unleash my team of storytellers who craft share-worthy content, attract traffic, and pull in valuable links.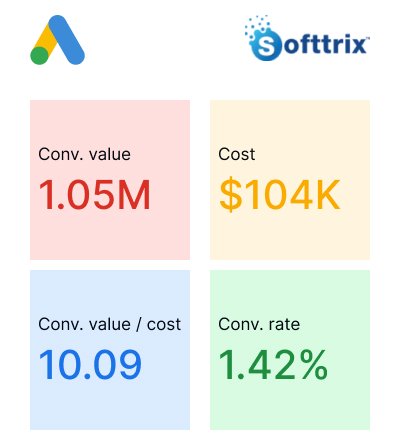 Let's Wrap This Up, Shall We?
Enough of this discussion now. What you need to know is that if you want to enter the world of PPC for your drug and Alcohol Rehabilitation Center, it is always better to come prepared. It is going to be a relatively daunting task but you need to buckle up. The competition is quite stiff out there. If you want the best and the most efficient PPC for your business, it is better to choose a qualified, experienced, and highly dependable digital marketing company. Somebody like Softtrix should always be on your mind. If you still need convincing, give us a call or just send us a message at your convenience. We'll be more than happy to help.
Frequently Asked Questions