So, if you're in the speakers or soundbars business, a smart marketing plan will surely help you maximize sales in the already-crowded market.
But first, ask yourself – are you getting enough sales for your online speakers business?
If YES, then this article will help you double (or triple) the sales in no time!
If NO, then you are at the right place because we are going to discuss some important sections of successful marketing plans to get more sales, increase customer footfall, and make your business more visible online.
Don't wish to read it all?
Watch this short video to know how you can increase sales for speakers/sound bars online.
Why Does Your Online Soundbars Or Speakers Store Need Marketing?
The world is welcoming new businesses with open hands to offer the best of products and services to consumers worldwide.
Now, we all have become an inseparable part of the technology-driven era where the marketing landscape changes speedily.
Just like any other booming industry, the stereo speakers business is also one of the most profitable. However, increasing sales in this business can be complex due to many unpredictable reasons.
But, worry not when you have the most amazing solution knocking at your doorstep – PPC Marketing!
PPC (or Pay-per-Click) advertising is a well-accepted, powerful tool that has the potential to drive more sales and generate profits.
As a speaker's store business owner, you already have an idea how fierce the competition is.
So, in the industry where nearly every sound bars/speakers business owner is embracing PPC, why can't you?
For enhanced sales and better online business visibility, investing in a proficient advertising team would turn out to be a game changer. By doing so, your business will enjoy increased sales while fostering brand awareness at the same time.
As a smart business owner, don't miss out on this opportunity to make your speakers business #1 in the world.
What are the Top-Selling Soundbars & Stereo Speakers Online?
Owning a speakers/soundbars store online brings an opportunity to earn considerable profits and lead the world with the best audio sets.
Due to an increasing demand for home entertainment systems, soundbars have gained enough traction to give you more sales and money.
However, to get more and more customers to your ecommerce store, offering globally reputed brands would certainly help.
A few of the top-selling stereo speakers' brands in the global market are: 
Including these brands (and more) in your web store basket would attract potential buyers to your online store, which improves online reputation, generates more traffic, and gives top spot to your business in Search Engine Result Pages (SERPs).
What Are The Top Keywords To Target For Speakers Business Online?
Keywords are the user intent and queries that draw a vast and eager audience to your online store. But, this only happens when your business can be found on the top results of Google or Bing search results.
Such relevant keywords can be incorporated within your promotional landing pages, articles, and advertising campaigns to magnetize maximum online population.
The more proficiently you use relevant, high-ranking keywords on your storefront, the better Google will regard your website. Additionally, the more your website will rank higher on Search Engines, the better are the chances of generating more sales.
So, when keywords are the deciding-factor to rank better on Google or Bing, why not give it a try?
Here are the keywords you can target for your online speakers business:
Why is Keyword Targeting Important?
Well, in the vast world of the internet, keyword targeting allows your store to pop up on the first page of Google or Bing when people search for related things.
Keywords are the secret ingredients that connect your online store to the interested customers.
Incorporating relevant keywords is essential for any online business to provide the right products, services, content, and information to people who are actually interested.
So, when you use the right keywords, your business attracts the potential visitors, which boosts your online reputation and makes more sales.
How Many Clicks to Expect with Google Search Ads for Online Speakers Store?
Well, those enticing text ads that popup right at the top when you search for something on search engines are none other than Google Search Ads or Bing Search Ads.
These ads are strategically placed on the top of search results to attract users to specific websites and do some shopping.
For the speakers/soundbars business owners, Google Search ads can do wonders to target a particular, genuine, and interested audience to get more sales.
When the Google Search Ads or Google Text Ads are organized properly, your web store will be shown on top to the users actively looking for speakers, soundbars, stereo systems, and more related keywords.
So, now coming to the possible clicks that you can expect with Google Search ads, well, get ready to enjoy 5X more customers than you do with other marketing methods.
Unable to believe it? Consider these statistics – the average CTR (Click-through Rate) for Google ads is around 6.1% in 2023.
So, with this amazing CTR for speakers/soundbars business, you can expect at least 1500-1800 customers on your online store with an initial investment of $2000.
Why Are Google Shopping Campaigns The Ideal Choice For Online Speakers Stores?
Google Shopping ads are a spectacular option to opt for when it comes to boosting online speakers' sales and attracting more customers.
Just like text ads, shopping ads are intentionally placed on top of SERPs with beautiful images and visuals to catch the eye of a broader audience.
These ads showcase images, product details, and shopping info right at the top of search results for better user experience. Anyone searching for speakers, stereo systems, soundbars, and related items will find your offerings at the top.
And here's the best part – the users can make a purchase with just a few clicks!
Now, to set up these Google Shopping ad campaigns for your online speakers/soundbars store, it's better to leave it to the professionals, like Softtrix, to get the job done right.
These ads are special because they appear right at the top of search results – thanks to PPC Marketing – where millions of internet users can easily notice them.
Talking about the cost – When it comes to Google Shopping ad campaigns for your online speakers/soundbars store, you can expect an average cost-per-click (CPC) ranging from $0.50 to $3.
These ads are created to keep a close eye on things, track the incoming traffic, and monitor the conversions on your website.
What's The Cost of Remarketing Campaigns For Online Speakers Stores?
As an online speakers' store owner, you will never wish to lose customers, be it fresh or returning ones.
So, to win back lost customers and re-engage with them, remarketing campaigns can be the game-changer for your online speakers business.
Remarketing campaigns are necessary for online businesses because about 95% of customers are just checking things out and only a 5% actually make a purchase.
It's a brilliant marketing strategy that lets you reconnect with those window shoppers who left without making a purchase, and guess what? It often leads to generating more sales.
These are a type of personalized ads, especially organized to re-engage with customers who once showed interest in your speakers' products but didn't complete the purchase.
You might think of remarketing campaigns as an expensive trick. Well, these just cost $0.25 to $0.60 per click – a small investment that brings in increased sales.
So, if you are looking to boost sales for your speakers business, remarketing ads is a must-try!
Remarketing ads are a second chance to win over those interested shoppers.
What's the Minimum Advertising Budget to Increase Sales for Your Online Soundbars Store?
As an online speaker store owner, you can start small with a minimum of $1000 (and increase the budget accordingly) to boost your business.
There is no need to burn a hole in your pocket to run a successful marketing campaign. But, that's only possible when you have an excellent team standing by your side.
An experienced, quality team needs to handle your advertising campaigns because that will be a deciding factor overall. The more powerful your advertising campaigns will be, the higher will be the success rate.
Let's have a look at the following statistics to prove our point: the average conversion rate (CVR) for Google ads is approximately 2-4% in 2023.
So, with Softtrix, you can expect around 500+ visitors from your $1000 Google ads investment.
How Much Is The Monthly PPC Account Management Fees For Your Online Speakers Store?
Maintaining the top position on search engines is as difficult as promoting the business online. That's because you will need an experienced team to handle and monitor the ad campaigns for you by making the necessary changes.
And, that's what comes under PPC account management!
You need a superhero team of specialists to set up the advertising campaigns and track budget as per the varying market scenarios.
So, when exploring the online/offline market for a superior team with years of experience in PPC account management, look no further than Softtrix!
Our expert team has over 18 years of advertising experience in setting up successful PPC campaigns.
Now, talking about the monthly PPC account management fees for your ad campaigns – you can start your journey with just $500.
NOTE: Softtrix is currently offering a $500 promotional discount code (FREE Google Ads Credit) for first time account openers.
So, what are you waiting for? Make your monthly budget ZERO by opening your first account with us today!
Why Does Your Online Speakers' Business Need Continuous PPC Campaign Management?
Running successful PPC campaigns is not a layman's work, and it's crucial for generating enough traffic and sales. That's why having an expert team to handle your PPC campaign management is a smart move for your business.
With that said, let's discuss the top reasons your business needs continuous campaign management.
Make your ad campaigns work better
Keep your ads updated to stay relevant
Monitor ad budget to avoid overspending
Use the latest SEO tools to discover high-ranking keywords
Harness digital tools to boost your ROI
Monitor your campaigns and fine-tune underperforming ones
Use your resources wisely for maximum impact
Use advanced tools and strategies to stay on top
Keep an eye on your rivals for better insights
Leverage social media channels like Facebook, Instagram, & more
What ROI Can You Expect From Digital Marketing Campaigns With Softtrix?
Here at Softtrix, we're confident to deliver exceptional business results. In fact, we aim to provide you with a fantastic $10 for every $1 you invest.
We know that a business's return on investment (ROI) depends on various factors, including how well your current ad campaigns are performing.
According to the experts, a successful marketing campaign should bring in $5 or more for every $1 spent. But, we guarantee more than what you expect from the market.
To kick-start your journey, all you need is $2500 to run PPC ad campaigns and give your online business a boost.
However, you have the flexibility to adjust your campaign budget as there are some positive results.
| Time | Expected ROAS | Expected Budget | Expected Sales |
| --- | --- | --- | --- |
| Month 1 |     1.5X | $2,000 | $3,000 |
| Month 2 |   2X | $2,000 | $4,000 |
| Month 3 |       2X+ to 4X | $2,000 | $4,000-$8,000 |
| Month 4 | 4X to 6X | $2,000 | $8,000-$12,000 |
| Month 5 | 6X to 8X | $2,000 | $12,000-$16,000 |
| Month 6 | 8X to 10X+ | $2,000 | $16,000-$20,000+ |
NOTE: Keep in mind that out of the total $2500 budget, $2000 goes toward ad spending, and $500 covers our service and maintenance charges.
Are You Struggling To Generate Sales?
Let Paid Advertising Turn Your Woes To Business Triumphs!
Attract targeted potential audience

High conversion rate

Boost in Return On Investment (ROI)
Why Choose Best Over Cheap as Your Digital Marketing Services Partner?
Having an experienced and knowledgeable team by your side can take your business to the zenith while the inexperienced staff won't produce expected results.
The professional digital marketing agencies not only boost your business sales but also work on building positive online reputation.
With over 18 years of experience, Softtrix has been the preferred choice for countless online speakers' stores.
So, with that said, here we discuss why choosing Softtrix as your best digital marketing agency is a brilliant move compared to cheaper alternatives:
We promise a better return on your investment.
Our experts know how to elevate your business and deliver impressive results.
We offer affordable professional services without breaking your bank.
We offer top-tier support around the clock.
We stay ahead of the competition with the latest tools and technology.
We open doors to a wide range of marketing strategies.
We have a track record of setting up and managing successful campaigns.
Our extensive social media reach connects you with new customers every day.
We excel in social media, email, content marketing, and more.
So, if you're looking to make your speaker's business thrive, choosing Softtrix as your best digital marketing agency is the game-changer.
Why Do Most Online Speakers/Soundbars Stores Fail?
The speakers market is booming and the market is forecasted to cross 291.31 million units in 2028, increasing at a speed of more than 20%. (2023-2028)
Still, many online speakers/soundbars stores fail for some unforeseen reasons.
Opting for low-quality materials for building substandard speaker products
Customers seek stylish and valuable products, which is missing many times
Not addressing customers' issues leaving them dissatisfied
Late deliveries lead to order cancellations
Unexpected disruptions in the supply chain
Negative reviews from customers damaging online reputation
Empty shipments or missing products frustrate customers
Neglecting customer feedback and reviews resulting in missed opportunities
Other online stores offering same product at lower prices
Ineffective marketing plan won't deliver desired results
Failing to promote brand on social media
Neglecting Google Search Ads and Google Shopping Ads
Poorly designed and unresponsive website
Discover
How Our Agency Can Generate More Traffic & Sales For You!
SEO: Maximize traffic with top-notch SEO Services. Watch real results!​
PPC:

Ignite instant lead generation with my team of PPC experts.

Content Marketing:

Unleash my team of storytellers who craft share-worthy content, attract traffic, and pull in valuable links.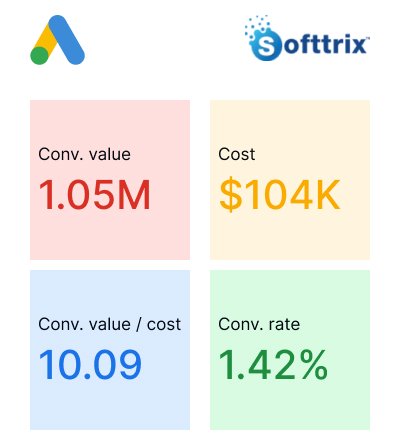 There you have it!
Now you have all-inclusive knowledge about everything you need to boost online sales for your speakers and soundbars. Still, having a team of professionals, like Softtrix, would give you greater, unexpected results.
Our skilled experts can help you generate adequate traffic and increase sales through successful marketing strategies. 
So, what are you waiting for?
Get in touch with our PPC expert right away and don't miss out on the opportunity to maximize your online speakers/soundbars business.