After the Covid pandemic, most people are getting concerned about their physical health. The industry is gaining better revenues after each passing day. Are you searching for the steps to enhance the ROI through your PPC campaign? Through fitness PPC marketing, you can shape your business and bring it to a good position. Allow industry expert PPC professionals of Sofftrix to help enhance the paid search workflow to put your business on the path of success.
To grow the gym business, the owner must be focused on simple and complex metrics. We all are aware of the power of social media marketing, but do you know how PPC marketing can lead to huge growth? Here in this blog, we are going to share why fitness businesses should recognize fitness PPC marketing as a go-to business tool.
What do you mean by a successful fitness PPC marketing campaign?
PPC marketing for fitness & gyms is the most efficient & quick way to bring more leads and online sales. If you have a gym or fitness-related business or you are an individual on a fitness marketing team, then a fitness marketing PPC campaign is the right choice. In order to set up a successful PPC marketing campaign, you have to go through certain steps.
By following the steps of a fitness PPC marketing campaign with Google Adwords, you can enhance your business. A successful PPC campaign allows your business to be Google's first search engine result page. Through this way, you can bring attention to your business from clients & competitors.
When it comes to fitness PPC marketing, the industry is thriving with multiple competitors. You can easily find a gym in every corner of your locality, and most of them have a website. Most gyms are transforming their business to smarter digital marketing like PPC campaigns. A website is not enough if you are expecting long-term business growth. For better growth, here we share five top ways of fitness PPC marketing.
Why do gym/fitness businesses need pay-per-click advertising?
A PPC advertising campaign is a digital marketing technique that entails posting advertisements on the website, search engine, and social media platforms. Most fitness companies use PPC so that they can get their message delivered to different platforms through online advertisements. This is an ideal way to target any preferred demographic to grow your business and make your business identifiable by the people.
So, basically, this is a digital advertising platform offered by Google which falls under the marketing channel. The advertiser pays for every ad campaign. When a visitor clicks on the link, the advertiser has to pay a specific amount to Google. 
Google Ads are efficiently driving the targeted traffic to the business. You can use this campaign to improve the website traffic. In the long run, Google Ads assist you in analysing & improving the ad's quality in order to reach a broader group of people.
Are You Struggling To Generate Sales?
Let Paid Advertising Turn Your Woes To Business Triumphs!
Attract targeted potential audience

High conversion rate

Boost in Return On Investment (ROI)
Best ways of PPC marketing campaign for fitness business
Initiate with the SMM campaign
Social media is the biggest connecting platform for fitness buffs. It's a convenient place where they can showcase the results after going to the gym. It is recommended to choose a social media platform where you can share your image, for example, Twitter & Instagram. By launching a social media campaign, you can encourage your audience to advertise your company's products so that you can reach the specific goal.
Being the owner of any fitness or gym-related business, you are more familiar with the Key Mantras. Many fitness enthusiasts are there who want to know what they should eat & drink throughout the day to maintain a good health routine. Writing & posting regular blog posts on fitness is the best way to educate the targeted audience and motivate them to take services from you.
Utilize videos for better demonstration
Most of the nutritional facts and physical exercises can't be demonstrated by texts only. In this place, you need to use some kind of video. You should give a few illustrations to your audience through videos. For better results, you can film those videos by yourself. This is how you can prove to them how professional you can be as a professional trainer.
Most of the people who want to be fit don't have enough time to search for gyms physically. Whether you are a gym-trained or a seller of fitness accessories and products, you should target your local audience first. 
Ask people to share their journey
This is the best way through which you can prove you are relying on genuine business. We all know the recent trends where people are sharing their before and after pictures where an individual picturized himself and put the pictures on Instagram.
No doubt they have the massive gut to share their previous story and then throw the next bombing picture where he is closer to achieving a six-pack bag. So, you can ask people to share similar stories. You can ask them if they are interested in sharing their journey or not. Before publishing any face, make sure you have permission. By publicizing these contents, you can attract targeted eyes. These people can even act as the brand ambassadors of your company. Through them, you can influence your audience to purchase your product. 
This is how you can use fitness PPC marketing as a way to reach fitness enthusiasts.
Our Chronicles of Success
Softtrix is an ultimate name in the field of online advertising. Our company has been serving professional marketing services to strengthen online business. 
Every business has a weak point that they want to turn into their strength. If your business website receives less reachability and you have already invested a lot in traditional marketing but are still not experiencing any changes, choose PPC marketing. In such scenarios, you can change your traditional perspective to a digital one. This is when Softtrix helps gym/fitness-related businesses to generate new leads for the business. We help you to build a solid online presence over different demographics. 
We met a client a few days back who was into the fitness/gym-related business. He has a renowned fitness supplement store. The client was already running Google Ads, but his merchant centre was suspended. That's the reason they approached our team for help. They asked for help from different agencies and freelancers, but in the end, they reached out to us. They heard about our company and our expertise through our videos. So, our task was to review the Google merchant center and approve them.
Our team designed a specific strategy to help the business. For this, first, our team has to review their website properly and evaluate whether it abides by all the policies listed in Google. After reviewing their website, we finally found out that their merchant center was suspended because of the payment method. The client had listed multiple payment methods in their website footer, but when a user used a card for purchase, they were unable to use some of the payment gateway systems. Our team gave the inputs to the client for fixing, and that's how their Google Merchant was reactivated. 
Our next task was to set up the Google shopping & search engine campaigns by using the best practices of PPC marketing. By establishing a campaign and using some top PPC marketing skills, we could see growth in their results. For this, our team made a lot of effort. For example, we reviewed their competitor's websites and sales channels. 
With the help of our expertise, we generated almost thirty thousand dollars in sales on a monthly basis. Although the sales percentages were growing, the next challenge that came to our path was minimizing CPC to enhance the profit. With the help of our expertise, we modified the Google shopping feet to minimize the CPC based on the client's requirements. And after all these efforts we won! The sales started booming, and at the end of the year, the client was successfully making sales up to $500,000 Plus! The client was happy and completely satisfied with our work.
Need More Convincing results from us? Go through these Videos!
PPC Cost For Gym Equipment
Discover
How Our Agency Can Generate More Traffic & Sales For You!
SEO: Maximize traffic with top-notch SEO Services. Watch real results!​
PPC:

Ignite instant lead generation with my team of PPC experts.

Content Marketing:

Unleash my team of storytellers who craft share-worthy content, attract traffic, and pull in valuable links.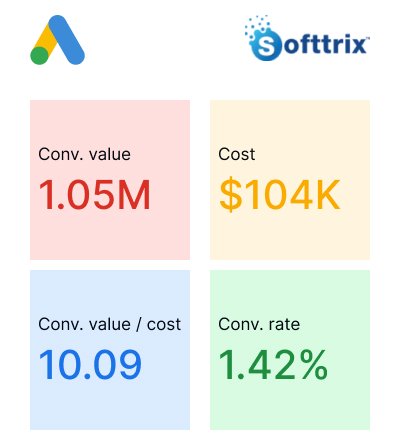 Frequently Asked Questions by Gym & Fitness Store