Google Ads is an effective pay-per-click (PPC) advertising Strategy. Thus, you only have to pay for the results.
So, if no one clicks on your ad to contact your business then you will not be charged for it. This may appeal those roofers who wants to control their ad spend but it does not communicate the whole story.
For roofers, setting a small ad budget is tempting as it appears to be a great deal.
The main problem is the continuously moving bidding process in which your ads exists.
Every targeted keyword "YOU" want to rank for your roofing business, hundred of "OTHERS" want to rank for the same. You are in charge of your daily and monthly budget but thinking that you will gain leads for just nine bucks after setting a $9/day ad spend is a titanic mistake.
Why? Because leads and ad clicks are not the same.
If the targeted keywords for your roofing business cost $2 per click and you are budgeting $10 per day then you will only get 5 CLICKS a day instead of 5 LEADS. This means that a low ad budget cannot bring traffic that might convert in future, even when it looks excellent on your credit card statement.
You can spend $300 on ads that gets clicks over a month, but it will never generate any single lead. It is because those daily clicks burn through your ad spend when you set your daily budget so small. This results in your ad going offline the next day which means you are basically paying for nothing.
So, if underspending is a destructive way to proceed, how much will a SUCCESSFUL ad campaign cost for your roofing business?
keep reading to find out!
What Are The Factors That Influence The Google Ad Cost For Your Roofing Business?
For any business like yours, roofers try to figure out the cost of targeted keywords that eventually help them in a PPC campaign. Although, for a Google ad, the cost-per-click (CPC) is around $8-$10 but limiting yourself to the "averages" won't fetch you any results.
Yet, it is through the use of Google's free keyword planner that you can find the exact cost for your targeted keywords. Therefore, the following is a list of a few keywords that would have different CPCs:
Roofers Near Me
Home Roof Near Me
Roof Repair Near Me
Hail Roof Repair
Further, the keyword planner makes it easy for you to determine the ad cost for your targeted keywords. For instance, if you want to target 20 keywords for your roofing business at an average CPC of $10 then you can efficiently figure out the ad spend on the basis of the number of clicks you are getting.
Chasing after 200 Clicks? Then it will cost you $2,000
Aspiring for 2000 clicks? Then that will cost you $20,000 in total
Does this seem like a huge investment? Don't worry, these figures may look scary but with Google Ads, it will only bring in more clicks. After all, it helps in predicting the amount that you can generate from each click.
How Can I Use Google's Keyword Planner?
Does searching for targeted keywords for your roofing business seems difficult? Well, let me guide you step-by-step so you can use Google's keyword Planner for the same.
Let's begin, go to your dashboard and click on the "keyword planner" option.
Now, select the "Discover New Keywords" option
With this, you can start the keyword research process by entering targeted keywords that are related to your roofing business. You can also enter your URL but don't forget to set the right search location. Through this, Google can also provide keyword suggestions based on your roofing website's content.
On pressing "enter", you will see the average monthly search volume for a range of keywords. It will also show you the top-of-the-page bids as these are the amount paid by your competitors currently ranking for those keywords.
For instance, if the keyword "roofing" costs $5.65 per click, you can't set your max bid at $5 and then expect to rank well.
Now, select and click on the "Add Keywords" option appearing at the top of the result pages.
After adding keywords, click on the "Plan Overview" appearing on the left sidebar. It will show you the estimated cost of your ad campaign.
So, with Google, you don't waste your valuable time as it does everything for you.
Isn't this beneficial for your business and so easy to operate?
What Is The Cost Of A PPC Campaign By A Roofing Agency?
Hiring an agency like Softtrix reduces your workload and brings profitable results. Here, you can enjoy the skills and expertise of professional experts who will help your roofing business to generate quality leads.
Listed below are the commonly used pricing models at Softtrix:
Hourly Model
Monthly Model
With the hourly model, you can pay after accessing our work. This helps you to monitor your work progress and manage it simultaneously. Therefore, the average hourly rates usually start from $50 and go up to $100 or more.
The monthly model is value-based and client-friendly which helps in your business growth. The monthly prices are based on agreed-upon deliverables and duration. Therefore, the average monthly rates at Softtrix range between $500-$1000.
Are You Struggling To Generate Sales?
Let Paid Advertising Turn Your Woes To Business Triumphs!
Attract targeted potential audience

High conversion rate

Boost in Return On Investment (ROI)
Important note: Google gives a $500 promotional discount code for every new account. At Softtrix, you can get this discount which means that if you decide to spend $500 on ads, this amount will be added as credit from the second month itself. Thus, you can enjoy our services at ZERO cost for the second month.
What Am I Paying An Ad Agency For?
Is it really worth paying for an ad agency? Well, you can only figure it out after learning what exactly you are paying for.
Ad agency like Softtrix is necessary as it helps you to get more ads with optimizations and edits. But, this requires certain management fees which usually include the following services for your roofing business:
Ad Edits
Original Ad Copy
Lucrative Landing Pages
Continuously Rotating Ad Campaigns
Your Personal Account Manager
After looking at the mentioned services, you will also agree that hiring an ad agency seems justified and profitable!
What Is The Best Budget For Google Ads?
The Google Ads budget depends on what vision you see for your roofing business.
Mostly, roofers like you target one of the following goals for their business:
Generate Enough Leads To Keep The Status Quo
The monthly budget should at least be $1000 to target the roofing keywords as your competitors also place a high bid on them. These keywords bring in more leads and keep the status quo.
Generate Enough Leads For Business Growth
Having a monthly budget of around $5,000-$10,000 will benefit your roofing business by generating more leads, and ranking your ads with the help of specific keywords.
Generate Enough Leads To Outshine Competitors
You can outshine your competitors by targeting roofing keywords that bring commercial intent. This is only possible with a monthly budget of around $15,000 which would also help you in boosting your bottom line.
Note: All the above goals require separate budgets.
So, If you have read the whole blog, then it means you are ready to take some action for your business.
But, are you confused regarding how you should proceed? If yes, then start by contacting a good ad agency like Softtrix to help you in your growth-oriented journey.
Discover
How Our Agency Can Generate More Traffic & Sales For You!
SEO: Maximize traffic with top-notch SEO Services. Watch real results!​
PPC:

Ignite instant lead generation with my team of PPC experts.

Content Marketing:

Unleash my team of storytellers who craft share-worthy content, attract traffic, and pull in valuable links.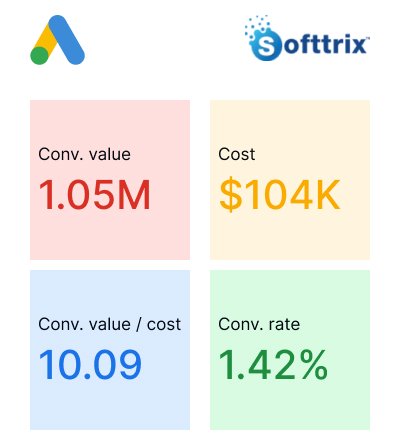 After all, the faster you take the first action, the more leads you can generate for your roofing business.