Post-Covid 19, health and fitness-based businesses have paved their way to the world of cut-throat competition. The reason is – maximum people visit the gym to get fit or do work-out from home to stay in shape.
So, overall it's good news for enterprises selling exercise & fitness equipment as the demand for gym essentials is booming. There's a great opportunity to make considerable business profits in the same.

According to research, the revenue for the gym and fitness equipment market is around 44 billion USD in 2023, which is expected to grow annually by 6.35% (CAGR 2023-2028).
With all the charts pointing towards a growing direction, are you also wondering how to maximize your business profits and meet customer demand for the sale of your exercise equipmentWell, you don't have to keep wondering, anymore! The one-stop solution to all of this is PPC Marketing!
As an exercise equipment company, you should be well aware of the fact that the current market offers terrific opportunities to scale your business with an effective marketing strategy and a successful business plan.
How Effective Is PPC Marketing For Exercise Equipment Providers?
While not many people are open to the idea of still going to a gym, at-home workouts have become extremely popular. They have found alternative methods to exercise and stay fit from the comfort of their homes.
For companies selling gym equipment, it's high time to plan & launch PPC advertising campaigns to promote their exercise equipment products and services.

PPC marketing allows your business to reach targeted audiences, stay on top of search engine results, remarket, and skyrocket sales, all within a calculated budget!

According to a study, around 80% of the brands stated that PPC marketing has hugely benefited their business by boosting sales.

Another research claimed that the traffic generated by PPC advertising has 50% more conversion rate as compared to organic traffic that lands directly on the website.

PPC marketing is highly effective for the exercise equipment business. Don't believe it?

Alright, here are some of the case studies to show you the proven PPC results that we achieved in recent years.
Exercise Equipment Store Case Study #1
Generated $50K+ Sales For Exercise Equipment Store With 7X ROAS
Check out this video to find out how we helped one of our gym equipment business clients generate around $60k in revenue with 7X ROAS. The client was already running Google AdWords campaigns for selling products like dumbbells, cardio machines, and other exercise equipment, but couldn't achieve the expected results.
We used the best and latest PPC strategies to create splendid ad campaigns to generate enough revenue the client was looking for.
After making the PPC ads campaign optimizations, the client was really satisfied with the results and even asked us to increase the ad budget to continue increasing his business revenue.
Exercise Equipment Store Case Study #2
Achieved Revenue of $223,000 With 20X ROAS From An Ad Spend Of $9500 For Gym Wear Clothing Business
One of our other clients has a premium gym-wear clothing business and was struggling to generate enough revenue to continue doing business. So, we implemented some tried and tested Google Ads strategies to maximize their ROI through targeted PPC campaigns.
They already had Google ad campaigns running with another agency previously, but the results were not as expected so they decided to move on. The agency failed to run the campaigns effectively and produce sufficient revenue for their firm. The keywords that the marketing agency was using were too generic for the gym clothing industry and the ad copies were continually being rejected by the client as well as the audience.
After working with our PPC experts for a few months, we helped them generate $223,000 in revenue with a ROAS of around 19.89% from their previous revenue of $9500 and ROAS of 3.45%.
Check out the video to know how we achieved these astounding PPC results
What Are The Top Selling Online Gym And Exercise Equipment?
Fitness and exercise equipment is a flourishing industry. And if you want to build your brand in this booming marketing, then you've gotta hit the right audience with the right products. It is one of the few profitable businesses to own right now to generate maximum sales.

Top-selling gym products that you should have on your e-commerce store are as follows:
Now that we know about the hot-selling exercise products, here we discuss the top keywords that you should include in the content to rank well.
Which are the Top Keywords to Target for An Online Exercise Equipment Store?
Keywords are generally the ideas, topics, or search queries that a user enters in the search bar to get results. It is important to add relevant, business-related keywords in your website, landing pages, blogs, and content pages to have a better chance of ranking on top of SERPs (Search Engine Results Pages).
Here is the keyword list to target for your online exercise equipment store:
| Keyword | Avg. monthly searches | Competition | Top of page bid (low range) | Top of page bid (high range) |
| --- | --- | --- | --- | --- |
| exercise equipment store | 4400 | Medium | 0.73 | 6.96 |
| buy adjustable dumbbells | 90 | High | 0.37 | 1.89 |
| buy exercise bike | 170 | High | 1.06 | 10.06 |
| buy treadmills | 1300 | High | 0.71 | 8.23 |
| buy yoga mats | 260 | High | 0.49 | 3.76 |
| exercise bike for sale | 5400 | High | 0.49 | 4.15 |
| yoga mat online | 50 | High | 0.47 | 3.53 |
| best buy treadmills | 3600 | High | 0.64 | 6.08 |
Why is Keyword Targeting Important?
According to SEO (Search Engine Optimization), keyword targeting is important for gym equipment businesses to stay on top of Google (or Bing) search results.
Keywords help you discover what people are searching for on search engines and allow you to provide content, product, or services. Knowing the keywords helps you navigate through the relevant search queries entered, and cater to them with the best possible content, products, and services owned by your brand.
Ultimately, this helps your business to drive more organic traffic to the ecommerce store while improving the website rank on SERPs.
How Many Clicks (CTR) Can You Expect In Search Ads For The Exercise Equipment Industry?
As per the data from the above keywords table and data from the live account, the average Cost-per-Click (CPC) for showing the ads on top of the page would be around $0.5-$2 on the search network. That means, if you are spending around $2000 on Google ads, then you can expect around 800-1400 visitors to your website with an average CPC of $1.5.
Now, if you are getting 800-1400 visitors, what should be the expected results?
This question is obvious for most exercise equipment store business owners, as in how much revenue you can generate after spending $2000 on Ads spend.
Well, the usual marketing conversion rate stays around 2-5%, According to the bench marketing conversion rate, if you spend $2000 then your business can expect 800-1400 visitors with a 2% Conversion rate, which results in around 20-50 conversions.
The next question that might come to your mind is, how much revenue you will make with 20-50 conversions.

The revenue generated depends on the average ticket size of the products you offer. On average, gym equipment purchases can range from $200 to $1,500 or more. With 20+ conversions and an average ticket size of $300, you could generate $6,000-8000 in sales, indicating a ROAS of over 4X-6X for the first month.

Note: The above results can be achieved only if you are using the best PPC practices. Your business should have a well-designed & responsive website, a blueprint for effective PPC strategies, and a professional PPC marketing team to do the job professionally.
Google Search ads are the targeted text ads that appear on the top of SERPs allowing your business to reach people looking for similar products.
Nowadays, people prefer to work out at home and have stopped going to the gym for one reason or another. They find exercising more efficient and favorable from the comfort and privacy of their homes.
Public just needs the right equipment and the mood to exercise, and that's all!
So, there's a lot of opportunity to earn the maximum profits from this industry, which is primarily possible with Google paid ads.
Google Ads or PPC are the most popular and effective advertising strategy to promote gym or exercise equipment business online giving you $2 for every $1 spent – that's almost 200% ROI (Return on Investment) on average.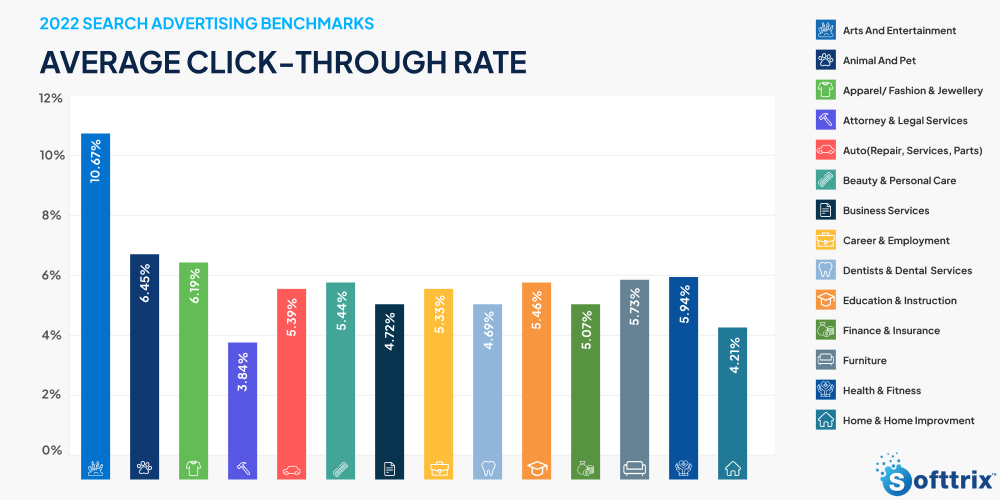 According to a study, the average Click-through Rate (CTR) for Google paid search campaigns is around 4-6%. The average CTR for fitness industry is around 5.94% (health and fitness industry combined).
NOTE: Click-through Rate (CTR) is calculated as the final number of user clicks divided by the total number of impressions on a particular ad campaign.
Why Google Shopping Campaigns Is Top Choice for Exercise Equipment Providers?
According to a survey, around 98% of consumers use the internet to find information about local businesses. And, more than 20% use the internet to find information about local businesses every day.
So, when everybody is exploring Google for their health and fitness equipment needs, why not market your business there?
Google shopping ads for gym or exercise products are targeted ads with product images that appear on the first page when you search for related keywords. Shopping ads have become the secret ingredient for online businesses to maximize their outreach.
Shopping ads are created by Google (Google Merchant Center) using your product details and information shared via Google Shopping Feed. Google fetches data from the shared information and creates a shopping ad, depending on how much budget you have set for a single user click.
You can create Shopping ad campaigns and optimize them regularly to find out which product or services are doing the best.
According to a report, the average Google Shopping Ads benchmark CTR (Click-through Rate) is around 6.11% in 2023. The CTR is around 6.44% for the health and fitness industry combined.
With Google shopping ads, you get to aggressively target the people searching for exercise equipment, health & fitness, or related business.
So, overall, it's a superb investment!
What is the Cost of Remarketing Campaigns for Exercise Equipment Store?
Remarketing is a well-accepted and successful technique used by online businesses to bring back lost customers and make them buy again from your website.
It's a popular fact in the digital world that only 3% of visitors convert into potential customers and the rest leave without shopping because they are only exploring your website for the first time.
The cost of remarketing campaigns is anywhere around $0.25 to $0.60 per click.
Most importantly, you only have to pay the campaign amount when someone clicks on your ads. So, it's a win-win!
NOTE: The cost of remarketing campaigns is completely industry dependent. For some industries, Google charges around $5 for remarketing campaigns, especially for highly competitive businesses.
Minimum Advertising Cost To Achieve Quality Results For Exercise Equipment
Online businesses, including gym equipment, strive to be highly visible online for generating traffic, increase sales, and flourish the company.
But, in the real world, increasing online visibility is not as easy as it sounds. It takes a lot of effort, sleepless nights, marketing strategies, capital, and resource investment to top the search engine results.
That's why having a professional digital marketing agency by your side would certainly help!
Softtrix is one of the renowned marketing agencies around the globe with 18+ years of industry experience and successful brand stories in their cart. With us, all you should count on is increasing sales!
According to the bench marketing conversion rate, the average conversion rate for Google ads in 2023 is around 7% for all industries. Therefore, it highly depends on the business niche and industry you are working in.
So, if we take a minimum conversion rate of 2%, then you can expect around 400+ visitors on your $1000 Google ads spend.
Are You Struggling To Generate Sales?
Let Paid Advertising Turn Your Woes To Business Triumphs!
Attract targeted potential audience

High conversion rate

Boost in Return On Investment (ROI)
Monthly PPC Account Management Fees Required for Exercise Equipment Business
Hiring an expert PPC management agency, like Softtrix, comes with multiple benefits for your business. The first and most important benefit is you get to focus on your core business while professional marketers take care of bringing in more and more customers.
Your business's PPC account will be managed by specialized staff that delivers quality and drives more sales.
You will need to allocate $500 (minimum) as a monthly management charge to get incredible business results. However, you can go as much higher as you want depending on your budget and expected ROI.
Good News: Softtrix is offering a $500 promotional code for your new account to start with. You can claim FREE Google Ads credit and your fees will be ZERO! (Offer available only for new accounts with Softtrix)
Why Does Your Exercise Equipment Business Need Continuous PPC Campaign Management?
PPC management ensures your gym and exercise equipment business stays on top of Search Engine Results Pages (SERPs) and drives fruitful results of increased sales. Implementing PPC campaign management professionally would guarantee high ranking on Google (or Bing) and various Social Media platforms, with the sole motive of enhanced sales.
Pay-Per-Click (PPC) management is an important part of digital marketing that you cannot skip when looking to expand your business. It gives you the opportunity to provide necessary information to the customers while promoting products and services.
Your exercise equipment company needs continuous PPC management to monitor successfully running ad campaigns and tracking ad expenses. Hiring a professional digital marketing agency, like Softtrix, that specializes in PPC would be a superb choice to get astounding business results.
Here are the top reasons to understand why your exercise equipment company needs PPC management:
For monitoring ad campaigns
Preparing a list of effective keywords using specific digital tools
Identifying target audience for your company
Tracking tactics and strategies used by your competitors
Evaluating competitor websites and their ad campaigns with digital tools
Making use of diverse search engines and social media channels
Finding out the top-performing ads that increase ROI
Optimizing the processes for ad campaign strategies
Split testing (also known as A/B testing) to know what's working for you better
Enterprises hire PPC management specialists to prepare effective strategies that would help their business rank well while getting increased sales. The main objective is to determine CPC (Cost-per-Click) ads budget while increasing ROI.
What ROI Can You Expect From Our Digital Marketing Campaigns?
Professionals at Softtrix believe that Return on Investment (ROI) for any business depends on numerous factors including business niche, conversion rate, ad campaigns, SEO, and more.
However, considering all these factors, you can expect at least 10x conversions for your exercise equipment business with Softtrix. That simply means you will earn $10 for every $1 spent.
| Time | Expected ROAS | Expected Budget | Expected Sales |
| --- | --- | --- | --- |
| Month 1 |     1.5X | $2,000 | $3,000 |
| Month 2 |   2X | $2,000 | $4,000 |
| Month 3 |       2X+ to 4X | $2,000 | $4,000-$8,000 |
| Month 4 | 4X to 6X | $2,000 | $8,000-$12,000 |
| Month 5 | 6X to 8X | $2,000 | $12,000-$16,000 |
| Month 6 | 8X to 10X+ | $2,000 | $16,000-$20,000+ |
As an exercise equipment business owner, you don't have to burn a hole in your pocket for running PPC ad campaigns and earn considerable profits. You can start with as low as $2500 for running PPC campaigns initially and further increase the amount once you observe good business results.

Note: From the $2500 budget, $2000 will be ad spent cost and $500 will be service charges.
Why Choose Best Over Cheap Digital Marketing Services for Your Business?
Digital marketing, when done by the right experts, makes your business brand go 360 degrees and reach millions. It brings limitless opportunities to expand your business, improve conversions, and increase sales.

But, this happens only when you choose the best digital marketing services and skip the cheaper ones. You should always look for the best, reputed marketing agency that assists you to drive more sales, connect with new customers, maintain relationships with existing customers, and scale your exercise equipment business in any way possible.
So, with that said, here are the top reasons you should choose the best over cheap digital marketing services for your exercise equipment business.
Professional Services at Affordable Prices
Hiring an in-house marketing team will cost you more as compared to outsourcing the professionals. Your business will get professional services at a cost-effective price.
Diverse Specialties to Manage Your Business
Be it SEO, PPC, marketing, developing, or content, the expert agency will look over everything while you focus on core business. The professionals offer diverse specialties to manage and maximize your business.
Latest Tactics and Technology
Cheap agencies won't provide you with the latest technology tools and techniques because they always look for cost-cutting. When working with a performance-driven marketing agency, your business stays on top of the SERPs.
Create Effective Marketing Campaigns
You can hire a PPC expert to create marketing campaigns but the results won't be as expected because they lack experience, required skills, or industry knowledge. That's not the case with expert agencies because they work with multiple clients, gain market knowledge, and have the experience to create effective ad campaigns.
Quality Grows Your ROI
You will be spending a lot to advertise your business leaving no stone unturned. But, if the ROI does not come as expected, you will exit the market sooner or later. So, it's better to invest in the right place and the right team that focuses on quality to increase sales and generate maximum ROI.
Working With Existing Departments
It's great if you have your own marketing department that handles your business 24/7. Hiring an agency to expand your marketing portfolio will certainly help to bring in more business. An expert agency won't have any issues working with existing departments. They will be happy to help hand in hand.
Why Do Most Online Exercise Equipment Store Businesses Fail?
While there is an increasing demand for fitness equipment across the globe, online stores are failing. The global fitness market is expected to reach approximately 15 billion USD by 2028; still, many businesses are shutting down drastically.
So, do you wonder what can be the reason behind the gym equipment store business failures?
Well, the reasons are quite obvious and lack of information makes the business owners shut down in the first few months.
Here we discuss such causes to help you stay clear and increase sales in your business.
Covid-19 deeply impacted the price of raw materials and businesses have to invest more in manufacturing than before
Maximum people have started work-out from home, increasing demand for fitness equipment, which the industry found difficult to fulfill
Fitness equipment industry is also witnessing labor shortage because workers are not ready to work in a market that doesn't makes a good profit
Gym equipment businesses that are earning good profits are not willing to invest more in advertising so the business doesn't grow anymore
Poor business marketing plan is another reason behind online gym equipment stores collapsing
Not promoting the product/services on social media channels is another big reason behind business failures
Overlooking the power of Google Search Ads and Shopping Ads that are capable of maximizing business to the fullest
Users want a quick and responsive website when exploring the internet. if your web store lags and is unresponsive, then people won't stay for long and leave
Investing less in marketing and more in other business strategies is a poor decision. The more you promote business, the higher will be lead generation and the better will be sales.
Discover
How Our Agency Can Generate More Traffic & Sales For You!
SEO: Maximize traffic with top-notch SEO Services. Watch real results!​
PPC:

Ignite instant lead generation with my team of PPC experts.

Content Marketing:

Unleash my team of storytellers who craft share-worthy content, attract traffic, and pull in valuable links.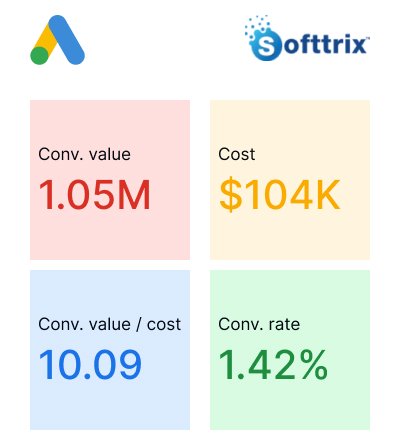 There you have it! That's the all-inclusive information you need to know for an online exercise equipment store. You can follow the tactics and techniques defined above to generate customer queries and skyrocket sales.
A reputable digital marketing agency, such as Softtrix, will accelerate your brand's growth with tried and tested marketing methods that earn a higher ROI.
So, what are you waiting for?
Let our experts create customized marketing campaigns to generate exceptional results for your online exercise equipment business.
Frequently Asked Questions