When thinking about buying or selling a house, the first thing that comes to mind for most people is going online and searching.
In fact, 99% of home buyers in the age group of 24 to 57 used the Internet to find homes in 2022. The internet has revolutionized the real estate industry, offering a wealth of information at your fingertips.
You can easily explore numerous properties, access detailed information, and stay informed about market trends—all from the comfort of your own home, eliminating the need for extensive travel and in-person visits.
Moreover, it is worth highlighting that according to Realtors, the percentage of consumers searching for information related to real estate on Google has witnessed an impressive surge of 253% over the past 4 years.
In this increasingly competitive real estate market, the battle for visibility and prominence on search engine result pages has intensified.
If you are in the real estate business and struggling to generate enough leads, it might be time to consider a powerful solution: Pay-per-click (PPC) advertising. This digital marketing strategy can significantly enhance your online presence and attract potential buyers and sellers.
By strategically investing in PPC campaigns, you can ensure that your real estate listings and services are prominently featured to the right audience, ultimately driving more successful transactions and business growth.
PPC For Faster Results And Enhanced Visibility
While it typically takes three to six months to begin witnessing the results of your SEO strategy, real estate PPC marketing offers a distinct advantage by potentially boosting traffic within just 24 hours.
It is important to note that PPC should not be viewed as a replacement for the long-term benefits that SEO provides, as SEO remains an essential component for sustained growth in the real estate market.
Still, PPC is a valuable asset in your real estate marketing toolbox, particularly when you want to swiftly reach potential clients. Its capacity to generate immediate traffic and visibility makes it a valuable choice for situations where timely outreach is essential.
By incorporating PPC alongside your SEO efforts, you can strike a harmonious balance between long-term sustainability and immediate impact, ensuring your real estate business thrives in both the short and long run.
Benefits Of Paid Advertising For Real Estate Business
Achieving Tangible Outcomes Through Investment
In traditional advertising, you pay a lot of money upfront to show your ads, but you are not sure if it will actually bring in customers. With PPC advertising, you only pay when someone clicks on your ad and goes to your website. This way, you know exactly what you are paying for.
PPC lets your real estate business target specific keywords, demographics, and locations, so that you can invest your money wisely. It also gives you real-time information about how well your ads are doing, so you can make improvements as needed.
PPC makes marketing more efficient and transparent. It sets a new standard for effective marketing in the real estate industry, where every dollar spent can be directly linked to results.
Precisely Reaching The Desired Audience
Google ads for real estate are great at finding the right people who might be interested in buying or selling a house. This works well because the ads are designed to fit different kinds of buyers or sellers.
Google's smart targeting means your ads do not get shown to people who are not interested, so you do not waste your money on clicks that do not lead to anything. It is a smart way for real estate businesses to find the right customers.
Google even gives advertisers who craft relevant and targeted campaigns a cost advantage by reducing the price of clicks.
Maintaining A Prominent Presence In People's Minds
PPC real estate marketing can help you get your ads in front of a lot of people quickly by displaying them on different platforms, such as Google Search, YouTube, Social media and other websites.
So, whether someone is searching for houses on Google or watching videos on YouTube, your ads will be there, making it a great way to reach potential customers fast and in different ways.
Engagement With People Who Can Turn Into Potential Customer
With PPC, your real estate ad campaign can be displayed in front of people who are most likely to be interested in what you have to offer.
Google Ads even helps by showing your ads to people who visited your website before and are interested. This means your ads stay in front of potential customers, making them more likely to come back to your website and take action, like contacting you or viewing properties, etc.
If you are thinking about using PPC advertising for your real estate business and need help, you are in the right place.
Finding a good PPC agency can make a big difference in how well your ads work. They can help you manage your budget, create great ads, and make sure you are reaching the right people.
So, do not look any further – you are in the right spot to boost your real estate marketing with PPC advertising.
Softtrix is a reputable digital marketing agency recognized for its effective PPC solutions. We are committed to boosting your digital marketing success, whether you want to increase website traffic, boost sales, or enhance brand recognition. Our expertise in PPC marketing spans across various platforms, such as:
Google ads
Bing ads
Yahoo ads
YouTube ads
Amazon ads
Facebook ads
Our commitment to excellence has led to numerous success stories, where we have helped businesses of all sizes achieve remarkable growth in online visibility and conversions.
Discover
How Our Agency Can Generate More Traffic & Sales For You!
SEO: Maximize traffic with top-notch SEO Services. Watch real results!​
PPC:

Ignite instant lead generation with my team of PPC experts.

Content Marketing:

Unleash my team of storytellers who craft share-worthy content, attract traffic, and pull in valuable links.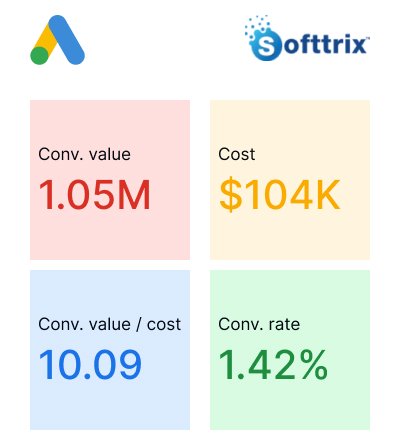 Our Services For Managing PPC Campaigns Of Real Estate Business
Keyword Analysis
Selecting the right keywords is essential to ensure the success of your advertising campaign, and at Softtrix, you are in good hands. With over 18 years of experience, we already know which keywords to target to achieve the best results possible.
We will ensure your ads appear at the top of Google when someone searches for the keywords we are targeting for your ad campaign, by setting the right bid amount for keywords based on their importance.
We are here to make sure your ads get seen by the right people and deliver the best results for your budget.
Crafting Ideal Ads
We make ads that really grab people's attention and make them want to click on your ad among the sea of options.
How Do We Do This?
We do not just make ads that look nice, we ensure your real estate business attracts the right audience and for that we begin by selecting keywords that align with popular search queries.
We ensure that your ad copy is not just informative but it is also persuasive. Our ads are crafted to be clear and concise, emphasizing the services and advantages your real estate business offers. Our goal is to ensure potential customers receive the right message.
We experiment with various ad copies in your campaign to improve your advertising strategy. Through careful analysis of these different versions, we identify what works best with your target market, helping your real estate business succeed in a competitive market.
Enhancing Landing Page
A landing page is an initial web destination for a user who clicks on your advertisement.
We specialize in crafting visually appealing landing pages that seamlessly align with your advertising campaigns, ensuring a user-friendly experience that effortlessly guides visitors towards becoming valued customers.
Whether someone wants to buy or sell a house, we organize the information on the page in a way that makes it easy for them to find what they need quickly and easily.
We incorporate various filters, including price ranges, locations, etc, enabling visitors to customize their search and receive instant results tailored to their preferences.
In addition to these enhancements, we implement a prominent call-to-action feature on your landing page, enabling users to connect with you swiftly for any inquiries or assistance they may require.
Our mission is to enhance your landing page's performance by optimizing its ability to convert visitors into loyal customers.
Continuous Monitoring & Optimizations
We keep testing to make ongoing improvements to your PPC campaign, ensuring it works well. We keep a close eye on your ad performance and make changes when necessary to make sure your ads are effective.
Regularly checking and adjusting your ad campaign is crucial for keeping it effective. We stay up-to-date and make changes as needed to keep your campaign on the right track for long-term success.
We also keep track of changing search trends and keywords, making sure your ads stay competitive and relevant. This helps your ads continue to perform well and reach the right audience for more visitors and leads.
Making your real estate business stand out among the competition is easier than you think. With the power of PPC advertising, it is not just a possibility but something we can make happen at Softtrix.
We are here to be your trusted guide, helping your business succeed every step of the way.
We will employ top-notch PPC strategies crafted explicitly for your real estate business. Your success is our top priority, and we are here to make it happen.
Are You Struggling To Generate Sales?
Let Paid Advertising Turn Your Woes To Business Triumphs!
Attract targeted potential audience

High conversion rate

Boost in Return On Investment (ROI)