First of all, thanks to all the dentists around the world! Without them, we would have missed those lovely smiles on our and people's faces.
You guys do owe an extensive amount of love and patients walking in!
All of you do a great job keeping our oral health in excellent condition. And, we all know that for practicing good oral hygiene, one must visit a well-known dentist habitually.
But, knowing this, how many patients actually walk through your door every day?
We believe only a few! That's why you are here!
There might be 'N' numbers of other dental practitioners in your area but not all get enough footfall to establish a recognizable name for themselves in the market. However, some of them do get sufficient patients but wish to expand their dental business.
Hence, the big question is –
How do you grow your dental clinic and get more patients?
Well, let's find the solution right away!
But first, you should know that not getting sufficient clients happens because of various noticeable reasons such as huge market competition, poor online reputation, lack of brand awareness, not maintaining proper hygiene, and many more. All of these reasons require apt solutions to make your business workable + marketable for it to get noticeable. Also, the dental market is growing at a rapid rate! So. it's time to brace yourselves and reap the best out of the market conditions by employing bespoke marketing solutions.
Top Strategies to Get More Patients for Your Dental Clinic
With the aim of increasing patient volume, a dentist must take care of 3 things – superb quality services, competitive pricing, and a rock-solid marketing plan.
The first two points – services and pricing – are in the dentist's hands but online marketing is where the trouble starts!
While the market is flooded with numerous digital marketing agencies, nothing actually works without getting help from real experts. Mind you, it's complex!
Getting new clients while enhancing your online presence can be intricate. Following the current market scenario, you not only need website traffic but also drive in paying customers for earning considerable profits.
So, in that case, only the best digital marketing professionals are going to help your dental practice skyrocket!
Without taking more time, let's jump into the top strategies to increase patient volume for your dental clinic.
1. Switch To an Up-To-Date Website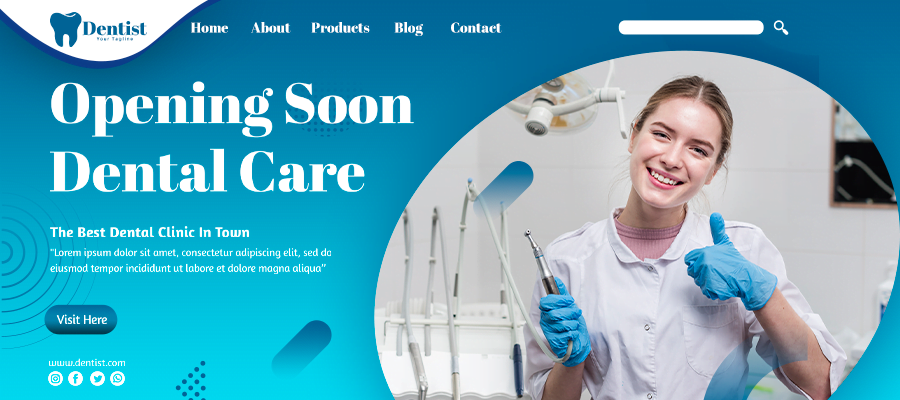 Not everybody knows you exist in the market until you have a website that speaks for itself. And, an up-to-date, responsive, and user-friendly website is a must-have to attract more new customers.
Shift your dental practice online with a website that operates technically well and is perfectly optimized to increase the visitor count.
Pro Tip
– You need to upgrade the website design if it looks old-school. ASAP!
Your dental website should be:
Professionally designed
Easy to navigate
User-friendly design
Multi-device friendly
Perfectly optimized with SEO
Must have client reviews and testimonials
Contact info rightly placed
Website is the first impression of what you are, your services, quality of care, clinic aesthetics, skills, and more. So, it's better to let your website be designed by professionals to engage potential users and boost its rankings and conversions.
2. Optimize Your Website With Right SEO Experts
Those in the arcade of marketing know the importance of this term, and your chosen marketing specialist might have told you the same multiple times too.
Search Engine Optimization is no longer a keyword or backlinks game anymore, it has evolved! So, you need to choose the right person or team to do the optimizations on your website.
To make your website SEO-friendly, make sure you have checked:
Speed of your website, it should be superfast to load pages
Multi-device optimization, for mobiles, tablets, and desktops
HIPAA-compliant and secure for customer data privacy
Rightly optimized with modern SEO tricks and techniques
Precise SEO techniques for dentists can help your business with increased revenue growth and a better online presence. In addition, once the website is up and running, ensure to invest your time and money in local and organic search SEO strategies to get maximum traffic.
3. Advertise! Advertise! Advertise!
Social Media Marketing (SMM), Pay-Per-Click (PPC), and Search Engine Marketing (SEM) are the major marketing techniques widely used around the globe, be it any business!
Online advertisements work the best to reach your target audience and ensure your dental clinic stays in customers' minds for a long time and drives conversions.
– Social Media Marketing (SMM)
It is a powerful tool to enhance your brand on Facebook, Instagram, Twitter, LinkedIn, and more platforms. These days, almost everybody uses most of these SMM channels, so it's better to publish customer-engaging content on these platforms for effective marketing results.
– Pay-Per-Click (PPC)
A lot of dentists worldwide use paid advertising to market their businesses. That's why, they are popular among the masses! Google Ads is one of the finest platforms for dental PPC to appear in organic search results. But, to make the right use of Pay-Per-Click advertising, dentists must invest in offshore PPC agencies because first, it's not layman's work and second it is a cost-effective solution!
These online ads work craftily by showing your dental practice every now and then in users' social media or Google feeds so that they find you when needed or remember your name when required.
4. Go Good With 'Patients First' Approach
Be it with referral bonuses, satisfaction surveys, patient care, or anything; ensure a customer-centric approach to succeed in your dental practice.
Patient referrals work like wonders, giving you many new customers just with word-of-mouth marketing. When your customers promote your services to others, they should be rewarded, and a bonus works as a motivation.
You should plan for patient satisfaction surveys to know about your business flaws. If you lack somewhere, be it the service, care, cost, or quality, only your real potential customers can tell, so it's better to ask them first. Change if anything is in doubt!
Before we proceed further, let's discuss the most important question!
Why Is Marketing For Dental Business Important?
Look, marketing is the backbone of any business. And, as a dental clinic owner, if you are not into digital or online marketing, you can't expect a major business turnover anytime soon.
The tactics of brand promotion change rapidly in the digital world, and every year many innovations happen. So, all it requires is some genius minds with a successful Plan of Action (POA) working on sophisticated strategies toward achieving common business goals.
Therefore, marketing is crucial for dental clinics because it gets the patients to Stay & Pay, and the process continues. That's all you need to nurture business!
Additionally, loyalty is a notable thing required to increase customer footfall. And, once you have dedicated customers, they will, undoubtedly, refer their friends and family to increase your business sales.
So, in simple words, marketing done by any means is crucial for a dental practitioner to advance in today's digital era.
Ready To Drive In New Patients For Your Dental Business!
There you have it! Your dental clinic is a few steps away from standing out from the crowd. You can do wonders with the right strategies, patient-first approach, and solid marketing plan, which you can get by hiring marketing professionals from Softtrix. The success of any business depends on how they move with Plan of Action, and yours is no exception to being the best dental business in the industry!