Joining a gym has become the absolute necessity for most of the people given the sedentary lifestyle we all follow. We all must have availed these services at one point of our time for sure.  If we go back, do you remember what kind of process you followed to locate the most trusted gym in your area or your locality? Did you roam on the streets in the hope of finding a good gym? Did you ask your friends, peers or family members about the best gyms around? Or did you go online to find out the most trustworthy gyms in your area? Chances are, online research must have helped a lot in forming your decision about the best gym to go to, either at the start, in the middle, or at the end of your gym-hunting journey. 
Now if we look at the other side of the table, if you are providing gym services for your clients and your business does not show up in the search results of those customers who might be looking for these services, you could be losing a significant number of 'potential customers'. Isn't it dreadful for your business survival?
All these real-life scenarios call for the importance of seeking gym PPC services in order to gain a competitive edge for your business.  Gym PPC services do not offer one or two benefits for your gym business but offer a myriad of benefits that can strengthen the positioning of your business.
Some Important Statistics
Before we talk about how gym PPC services can benefit your business, let us first take a look at the important statistics.
Health, gym and fitness industry holds $34.1 billion in the US economy. Hence, making it important for the service providers of this industry to keep pace with the changing business world scenarios. Without a concrete business plan and a robust marketing strategy, your gym business may not be able to reach the highest level of success it deserves.
Gym PPC Services- What Benefits Do These Services Offer?
If you ask us how easy or difficult PPC for the gym industry is, we would say there is not a straight way to answer this question. The reason being, the health and fitness industry is very competitive and is changing every minute, hence making it difficult and challenging to understand the trends that might make rules for the industry. In order to be successful, you need to pay close attention to the industry and its driving factors.
Before we understand that, let us look at the important benefits of Gym PPC Services.
Lets You Attract Valuable Leads for Your Business– You need a continuous flow of leads for your business to strive.  With the help of Gym PPC services, you can appear high organically in search engine results, which will open floodgates of valuable leads for your gym business.
You Get to Control Your Budget-   With gym PPC services, you are in complete charge of  how you want to control your budget. Whether you want to spend $200 or $2000, you can choose a budget that fits your financial plan. However, an important thing that is worth noting here is, you will see greater results on spending $2000  or maybe very minimal to no results with an ad spend of $200.  The reason is, CPC (cost per click) along with the competition in your area is the deciding factor here.  You need to understand the market trends in order to strike a right balance between how much you want to spend  to get results.
You get to Customize your Ad Campaign- The best thing about gym PPC services is, you can customize whenever you want. Google gives you complete control over how you want to display your information.   It is up to your sole discretion how you want your ad title and add description to look like to drive the best results for your ad campaigns.  Additionally, you also get to control when you want your ads to run and for how long you want them to run.  You can choose the best time of the day to run your ads when most of your target audience is online.
Track the Performance of your PPC Ads-  After putting your hard-earned money into the ads, you would like to know how your ads are performing.  The good thing is, you can easily track down the performance of your PPC ads to know if it is performing well or not. If it's not delivering the results that you might be expecting, it's always a good idea to make some changes in the ad. You can keep a check on the important metrics such as impressions, conversions and CTR (Click Through Rate).
Are You Struggling To Generate Sales?
Let Paid Advertising Turn Your Woes To Business Triumphs!
Attract targeted potential audience

High conversion rate

Boost in Return On Investment (ROI)
How to Run Gym PPC Services for your Health and Fitness Brand?
Gym PPC Services are extremely useful for gym and fitness centers who want to reach a larger base of the audience.  The latest market trends when combined with a strategic approach can work wonders for your gym and fitness brand. Mentioned below are several tips that can help you generate more leads,  spread the word of your business and bring more signups and bookings.
Create PPC Ads–  This is the first step and the most critical one in creating PPC Ads.  A PPC specialist would require spending time in understanding the market trends and the behavior, interests and likings of their customers. Consequently, a right set of keywords has to be selected to boost the marketing strategies. For your PPC ad to deliver excellent results, it needs to be fully optimized. To do this, marketers need to spend a considerable amount of time in understanding market trends, understanding customer behavior and gathering data.  These days, AI tools are extremely helpful as they provide large amounts of data by understanding the market trends and studying the past results. Marketers can use this data to optimize PPC ads for success.
Keyword Research– For your PPC ads to drive conversions, you need to research the right set of keywords.  There is no denying that research and planning takes time, but it can prove to be an extremely important tool in driving customers to your gym and fitness business. As we mentioned earlier, you can use AI tools to gather data and optimize your PPC campaigns.  These tools are highly efficient in gathering tons of data which is going to ultimately ease the process of setting up a PPC campaign for you.
Work on Enhancing Ad Targeting-  In order to ensure your ads reach the intended market, you need to work on enhancing ad targeting.  But again, in order for your ad targeting to work correctly, you need to understand the demographics and market trends thoroughly.  To create highly targeted and optimized ads that convert, you need to pay attention to data gathered from previous customer interactions, their interests, browsing and buying behaviors, and demographics. All these details would help you create optimized ads that convert.
Know How Much to Bid-   Knowing how much is the right amount to bid is imperative for the success of your PPC campaign.  On the one hand, setting high bid amounts can waste your PPC budgets, on the other hand, low bid amounts can make you miss opportunities. Therefore, you need to strike a right balance between how much you want to spend to make the most use of your PPC budget.   It does end there.  You need to keep monitoring your ads and re-adjust the bid amount to get the maximum benefits.
Tracking the Performance of Your PPC Ad-  After you are done with all the things mentioned above,  the next step is to track the performance of your PPC ad.  Tracking the performance of your ads is important because PPC ads produce instant results, either good or bad. You need to monitor the progress or downfall of your ads  so that you can make changes on time to maximize the results for your gym and fitness business.
Test Your PPC Ads-  Testing your gym PPC ads is imperative for the success of your PPC campaign. A/B testing can test the performance of your ads to ensure which ad copies work fine for your gym business. A/B testing can test different variations of the ads, tone, message, offer, ad copy, CTA and time at which you are planning to launch your ads.   You can create different versions of your ad copies to test and gather the results. Consequently, you can choose the correct version of the PPC ad that works fine for your business.
All these tips can help you create, optimize, improvise,  and test PPC ads.  It is advisable to talk with your PPC ad specialist beforehand to discuss your concerns and business goals so that he can launch a campaign that best suits your marketing goals. 
At Softtrix, we have helped numerous clients from the gym and fitness industry to get the results they are expecting.  When this client came to us, he already had an adwords campaign running which was not optimized using the best PPC practices.  Therefore, our challenge was to conduct an in-depth market research and create a fully-optimized ad using the best PPC practices in the market.
The Challenge and The Strategy
We started the process by creating an audit report for the client where we shared our plan with the client. He liked what he was offering and that is how we started with the project.  Initially, the client was running a single ad where he was targeting all the products.  He had to restructure the ad by creating separate ads for different products.  Based on the information that we received from the market research, we targeted high-intent based keywords. Our strategy worked and high-intent based keywords brought us sales.
We implemented GA4 ecommerce tracking to track the revenue generated accurately and do the optimizations in a timely manner to make our ads perform better.
By following a robust marketing approach, we were able to generate almost $60, 000 in terms of revenue. We were able to achieve this goal by optimizing the campaigns. After seeing the wonderful results that we achieved, the client asked us to increase the ad spend.  The client was very happy with the results we achieved for him.
Have a look at more of our YouTube Videos:-
How Much Does Google Ads Cost For Gym Equipment?
How To Sell Gym Equipment Online
Discover
How Our Agency Can Generate More Traffic & Sales For You!
SEO: Maximize traffic with top-notch SEO Services. Watch real results!​
PPC:

Ignite instant lead generation with my team of PPC experts.

Content Marketing:

Unleash my team of storytellers who craft share-worthy content, attract traffic, and pull in valuable links.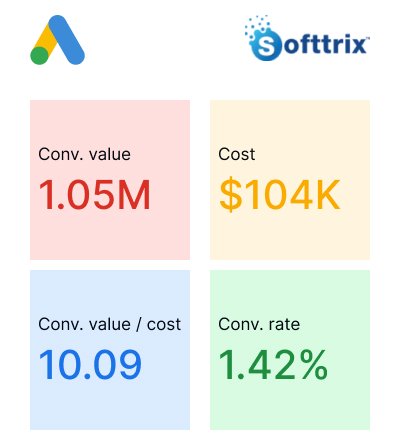 Gym PPC services are helpful in gaining qualified leads for your gym and fitness business. If you are struggling to get clients, increase bookings, or spread the word about your business, get in touch with the experts of Softtrix.
Frequently Asked Questions About Gym PPC Services