Do you want to skyrocket your business growth, by impressing your clients with jaw-dropping digital marketing results? While you might have mastered the realms of Pay-Per-Click or Social Media Marketing, without acing SEO or Search Engine Optimization, you might encounter a tough road ahead. So, to be able to help your clients with the best SEO services, you need a professional team of SEO experts by your side. Since Google's Algorithms are no child's play, you can't rely simply on "just anybody" to keep your clients' online rankings pretty high. Plus do you have all the time on earth to pay personal attention to each and every account? Hence – SEO Reseller is to your rescue! By outsourcing the SEO needs, you can easily leverage the hands-on marketing expertise and experience required and simply focus on client conversions, and generating new ideas to walk on the path of success.
What Are SEO Reseller Services?
SEO Reseller Services, often referred to as White-Label SEO or SEO Outsourcing, are your agency's strategic allies in the quest for digital supremacy. They are the unsung heroes working behind the scenes, partnering with agencies like yours to bring forth the magic of SEO to clients who aim for online success. In simple words, SEO resellers handle your clients' SEO campaigns on your behalf. This way, you can add one more full-fledged professional solution to the range of services your agency provides without the cost of building an in-house team of SEO experts.
Why Reseller SEO Service Is Growth Accelerator For Your Agency?
SEO Reseller Services introduce your agency to a treasure trove of SEO expertise. These services are powered by teams of seasoned professionals who live and breathe SEO. They stay at the forefront of industry developments, ensuring that your clients' websites stay ahead in the ever-evolving digital race.
One of the standout features of Reseller SEO Services is the white-label approach. Your agency retains full control of the client relationship, and the SEO work is performed in the background, under your brand's banner. This seamless integration boosts your agency's credibility and trustworthiness in the eyes of your clients.
Reseller SEO Services offer a versatile toolbox of solutions, perfectly tailored to your clients' unique needs. Whether it's on-page optimization, content creation, link building, or site audits, these services can be customized to create a bespoke strategy for each client.
Scalability at Your Fingertips
As your clients grow and demand more, Reseller SEO Services empower your agency with scalability. Expanding your umbrella of services without the headache of hiring, training, or managing an in-house SEO team is a breeze with outsourcing. You can readily take on a more extensive clientele, ensuring consistent quality and results across the journey.
Cost-Effective Brilliance
Setting up and maintaining an in-house SEO department can be financially draining for many agencies. Reseller SEO Services offer a cost-effective alternative. You pay for the services you need, eliminating the burdensome overhead costs associated with full-time teams.
In the fast-paced world of digital marketing, time is your most precious resource. Reseller SEO Services free up valuable hours that can be channeled into devising innovative strategies, nurturing client relationships, and steering campaigns towards your success.
In short, adopting the SEO reseller services can help your agency to:
Focus on what you do best while keeping up with your client's expectations
Enhanced brand recognition and revenue generation
Driving in more clients
Harbor new skills to support clients with in-house specialty services
Build industrial relations by partnering with other agencies
What Type Of SEO Services Can Be Outsourced?
Website Analysis and SEO Audit
Any fresh SEO campaign that an agency comes up, starts with a thorough evaluation of the website and current SEO conditions. With SEO resellers, quick wins for your client's site health can be easily identified, and results promised for a long-term happy association. They make sure to track down everything in the loop that improves the performance of the site on the search engines!
Link Building
Link building is one of those SEO activities that yields the most money for any SEO reseller. Outsourcing link-building services or activities to a white-label organization fosters extensive benefits, as this particular SEO activity is not everyone's cup of tea. Therefore, resellers indulge in a variety of strategies – including – building solid outreach, guest blogging to fixing broken links. This means they handle all the laborious tasks at their end, while you sit as the top SEO agency in the market.
Keywords and Competitor Analysis
Identifying the right keywords and competitors to keep in the target eye, requires substantial time and diligence. And surely you don't have the time + tools to carry out such extensive analysis and provide optimum results to each and every client. Right? So the best you can go about is, to outsource all of this!
Local and International SEO
Increasing the visibility and optimizing your client's website for local search as well as multiple countries and languages by translating country-specific content, implementing language tags, and optimizing for different search engines, or creating local content, creating Google Business Profiles, and getting local reviews, all requires some ardent efforts that only a team of specialized SEO experts can perform.
Content Generation
With so many clients at hand, you would need a full house of creative content writers to create content in bulk that is engaging and compelling for the audience. Now to combat this, hiring a white-label digital marketing agency is the perfect solution, and have copywriting expertise at hand, so that your client's website ranking keeps soaring high.
The Pros Of SEO Reseller Services
High Business Scalability
Okay, so partnering with an SEO reseller can help your umbrella of services expand at a larger scale. It may help you scale your business without actually going through the hassle of working on these services alone. Consequently, you can onboard huge projects from ruling brands and businesses of the market and not worry about the deadlines. This way your agency can make millions, as SEO projects usually take six months to a year to deliver exceptionally fruitful results. On top of this, you don't have to pay a huge sum for hiring, buying marking tools, and training an in-house SEO team.
Boost In Campaign Performance
By outsourcing your SEO needs to white-label experts, you are working with professionals who are already experienced at understanding the client's needs and work in such a way that it meets their goals pretty aptly. With white-label SEO services, you can promise, surging results, campaign performance, and highly optimized strategies, for nothing but the best outcomes for your clients.
Access To Paid SEO Tools and Marketing Platforms
To run effective campaigns that do produce results, your team should have relevant data and insights at hand that can only be accessed through SEO tools. By joining hands with SEO resellers, you get direct access to premium tools and platforms, that otherwise would keep digging a hole in your pocket every month. They take care of all the important SEO KPIs to keep delivering results for your clients.
Common Mistakes You Should Avoid With SEO Outsourcing
Never Fall For "Guaranteed SEO Results"
Whether you are an agency or a client, it's important to understand that there is nothing that can guarantee you specific or far-fetched SEO results. For example, any white label agency promising to rank your client in the top 3 position of Google, within 15-20 days, or sudden influx of traffic towards your client's website. It usually takes 3-6 months, for an SEO service to start showing visible results. Anything before that is simply a sham! Plus, every client's business niche and expected SEO results are different. Therefore, forecasting specific results within a stipulated period of time is somewhat not possible.
Overly Simplified On-Boarding
Companies offering reliable SEO services want to be sure that their work is put out there in the best way possible while they collaborate with industry experts. This is the reason many SEO resellers, include a proper onboarding procedure wherein they discuss every detail for a seamless "white-label" experience for both parties. If there's no sign-up process, there's a red flag you can't miss!
Lack Of Quantifiable SEO Results
It's always advised to watch for firms with authentic testimonials and case studies that speak for their work. Any SEO agency that you partner with must be able to deliver optimum results for their work. If the SEO resellers you're examining, fall short in these areas, it's probably best to look out for a different agency.
Opting Cheap Services
Cheap SEO services don't always mean the best SEO services. If you see a company advertising SEO services for lower-than-average costs, then surely it's a trap laid out for agencies like you. Falling into such pits will make pay more down the line to repair the dreary results.
Inappropriate Communication
To stay involved in the reselling process, it's crucial to communicate with your agency. A lack of communication can complicate things and might lead to dissatisfied results. So, check the reviews carefully and assess the agency's communication pattern during the pitch.
How To Outsource SEO To The Right White Label Agency?
Finding the best company that can provide the top SEO services for your clients, is essentially crucial. So, here are some factors to take into consideration while outsourcing your SEO requirements.
Past Experience
It is of utmost importance that you verify the past experience of the white-label company in SEO you are considering hiring. It's a good idea to check what type of clients they have worked with, what were their SEO results, and how many years of relevant industry experience they hold.
Professional Tools At Hand
When interviewing an SEO reseller, it is important to check what type of SEO tools they will be using to implement, track, and update the SEO activities for your client. You should assess whether those tools integrate with your client and company requirements.
Progress Tracking System
So, it is a known fact that SEO is an ongoing process, and takes a few months to show visible results. But how do these white-label companies, you are interviewing manage to track their campaign performance? And by what means they will communicate this information with your agency! Having such vital information at hand can help you in the long term success.
Don't Skip Testimonials and Reviews
This is the most important of all. It is crucial to thoroughly go through the reviews and testimonials left by other clients for the SEO company you are thinking of outsourcing to. Know what people are saying about them and then make your final decision.
Check Communication Channels
Ascertain whether the SEO reseller company you are thinking of hiring, get back to you with all the answers quickly! How easy are they to talk over a phone call or a video call? Are they answering your questions in detail and maintaining complete transparency? Well, these are some pivotal things, you surely can't choose to ignore!
What Steps You Should Follow To Outsource SEO?
Determine what type of SEO services you want to outsource
List down the goals you wish to accomplish for both you and your clients
Discuss the SEO strategies with the agency you have hired
Keep a track record of progress reports and stay updated with the campaign performance of every account
Are You Ready For SEO Reselling?
In today's fast-paced competitive era staying ahead of the curve is not just an advantage; it's a necessity, especially if you are surviving in the US, UK, Australia, and the European markets. Therefore, SEO reselling provides a cost-effective and reliable solution for your business to expand its digital footprint and help its clients climb the ranks of search engine results pages. By outsourcing SEO services to white-label SEO agencies in India, you can harness the complete potential of search engine optimization without the need for in-house expertise at cost-effective prices. This strategic approach not only leads to better results but also empowers you to focus on your core competencies, fostering growth and innovation.
Discover
How Our Agency Can Generate More Traffic & Sales For You!
SEO: Maximize traffic with top-notch SEO Services. Watch real results!​
PPC:

Ignite instant lead generation with my team of PPC experts.

Content Marketing:

Unleash my team of storytellers who craft share-worthy content, attract traffic, and pull in valuable links.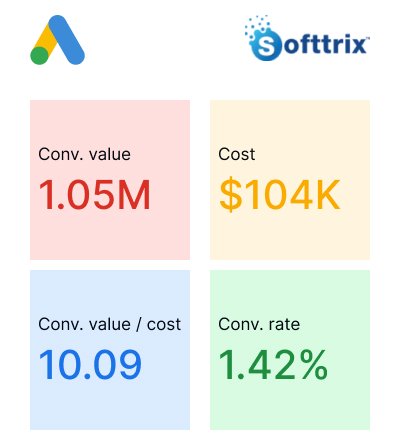 So, stop hesitating anymore and get in touch with SEO professionals at Softtrix today! It might just be the game-changing move you need, to achieve lasting success.