Jacksonville is a beautiful city located on the Atlantic Coast of Northeastern Florida. This city offers world-class museums, 22 miles of beaches, and an amazing lifestyle to its residents. Jacksonville is also the most populous and largest city by area, offering numerous opportunities for businesses to grow and attract a solid client base. When it comes to increasing the visibility of your business or gaining more customers, nothing can beat the flexibility social media offers. It is one of the most effective platforms out there that can open floodgates of leads for your business. If utilized correctly, various social media platforms such as Facebook, Instagram, LinkedIn, and more can benefit your business like no other platform.
Among different social media platforms, Facebook is still the big fish in the ocean of social media networks worldwide. After years of tremendous shifts in the world of social media, Facebook has managed to be among the top social platforms. Facebook has become a powerful marketing tool for well-established brands and startups worldwide.
With over 2.9 billion monthly active users, Facebook offers promising opportunities for digital marketing. However, it is essential to consider the best ways to use Facebook as a marketing tool to achieve the desired results. There is more to the potential of Facebook than just serving as a platform to reach more customers.
Why Should You Use Facebook for Your Business?
The thought of hiring Facebook management agencies in Jacksonville draws multiple doubts to the mind. Why should you prefer Facebook when you have many other popular alternatives, such as Instagram? Facebook is a popular social media platform that still enjoys a dominant presence in the online landscape. Some numbers explain why Facebook is a trusted tool for businesses.
The platform has almost 2 billion daily users and can reach 59% of social media users.
The annual ad revenue of Facebook will be more than $153 billion in 2023.
200 million small businesses have a Facebook page and use Facebook tools to increase their online presence.
Over 72% of users on Facebook also utilize channels such as Instagram, YouTube, and WhatsApp, facilitating flexibility for cross-platform marketing.
Almost 54% of Facebook users follow brands or research products on Facebook.
The massive user base, flexibility of marketing, and potential for cross-platform marketing are promising reasons to use Facebook for business. It can help you communicate your brand's messages to target audiences and strengthen your online presence.
How Can You Use Facebook for Business?
The benefits of using Facebook for business marketing showcase a set of reasons to adopt Facebook in your business strategy. The most effective way to use Facebook for business focuses on advertisement and marketing. Businesses can reach their customers directly on Facebook, where more than a billion users spend their time daily. Here are some notable benefits of using Facebook to promote a business.
Facebook helps understand the target audience with the help of Facebook Insights.
Brands could use their Facebook page to initiate personalized interactions with their target audience and build relationships with them.
Facebook also helps improve a brand's online visibility and enables more accessible access to the benefits of brand awareness.
Facebook could also be a reliable tool for improving your brand reputation through practical assessment of ratings and feedback.
Brands could also use Facebook as an ideal platform for promoting events or offers and launching new products.
One of the crucial highlights of Facebook as an ideal tool for businesses is its ability to improve user engagement. With the help of a reliable Facebook management agency in Jacksonville, you can have better control over how your business uses Facebook. Businesses could find the following benefits with Facebook ads.
Target the exact audience.
Better and more flexible ways for displaying ads.
Highest return on ad spending.
Targeting Facebook ads for specific goals.
Assurance of faster results with Facebook ads.
Lower cost of advertisement.
How Can a Facebook Management Agency in Jacksonville Help?
The role of a social media agency in Jacksonville goes a long way in providing advertising, marketing, designing, or influencer partnership platforms on platforms like Instagram, Facebook, LinkedIn, and more. These agencies are highly beneficial in helping businesses develop, implement, and manage social media strategies across various social media platforms. The social media experts can help businesses in Jacksonville achieve their goals by creating custom strategies, producing compelling posts, designing graphics, engaging with potential customers and tracking the performance of your social media campaigns.

List of Services Provided by Facebook Management Agencies in Jacksonville
Some of the significant services provided by Facebook Management agencies in Jacksonville are:-
Creating Custom social media strategies
Creating social media marketing campaigns
Creating advertising campaigns
Designing graphics for social media campaigns
Providing Influencer marketing services
In addition to the services mentioned above, you can also rely on a social media management agency to offer you custom services depending on the needs of your business. You can discuss your needs with the experts, and they will devise custom strategies to meet your business's varied needs, saving time and hassle.
Are You Struggling To Generate Sales?
Let Paid Advertising Turn Your Woes To Business Triumphs!
Attract targeted potential audience

High conversion rate

Boost in Return On Investment (ROI)
Why Should You Hire a Facebook Management Agency?
Let us address the elephant in the room by pointing out the reasons to work with a Facebook management agency. Why should you choose an agency for a job you can do yourself? For example, you could access social media management tools and in-house teams for data analysis to create targeted content. On the other hand, you must note the complexity involved in using new tools and techniques for building and managing your presence on Facebook. Here are some notable benefits of working with a Facebook management agency in Jacksonville.
The first reason to choose a professional Facebook management agency is the experience of industry professionals. Experts working in a Facebook management agency could offer a better understanding of the target audience and best practices for content development. In addition, the agency could help you avoid discrepancies in compliance with the ad policies of Facebook.
Facebook management agencies could help you access the services of designers, analysts, content creators, and other professionals. On the contrary, hiring in-house professionals for these roles can have a formidable impact on your advertising budgets.
The tricky part of
social media marketing
is the continuous fluctuation of market trends. Changing customer preferences and evolving content formats create new challenges for businesses. However, Facebook management agencies could support businesses with flexible changes in marketing campaigns. In such cases, the benefits of continuous monitoring come into play and ensure high-quality ad campaigns for companies on Facebook.
Facebook marketing can appear as a simple process at first glance. As you dive deeper, you will find multiple obstacles, especially regarding the learning curve. On top of that, you might experience difficulties in understanding the new industry trends and innovative technologies. You can overcome the challenges with the support of a professional Facebook management agency in Jacksonville or other locations. Furthermore, organisations do not have to waste their time and resources to achieve faster results.
What Does a Social Media Marketing Agency Do?
Not all businesses have the time, resources, and expertise to manage their social media platforms and ad campaigns. Putting together a few ads and posts does not mean it will yield results. You need the expertise, knowledge, and skills to run successful campaigns that can produce positive outcomes. This is where the role of a Facebook Management Agency in Jacksonville comes into play. These agencies have an in-depth understanding of social media, content, and digital marketing. They can launch campaigns and create strategies to help you meet your goals. The working of a management agency would be entirely dependent on the factors mentioned below:-
Goals (long-term and short-term)
Strategies
Plans
Analytics
Reports
Some of the major tasks of a social media management agency include:-
Preparing and Organizing Content for Social Media
A social media management agency creates, posts, and organizes content for your social media channels. We will manage the captions, upload videos, add links, and organize posts for your social media channels. We will send you regular reports so you can have peace of mind that the work is being done to meet your goals. We regularly check analytics and reports to see if everything works in your favor. We will also create custom dashboards so that our clients can better monitor the progress of their campaigns.
Managing Activities on Social Media Platforms
Facebook management agencies in Jacksonville are responsible for maintaining an active presence on social media. These activities might also include- publishing posts, responding to comments, engaging with followers, and helping with customer service on behalf of the brand.
Managing Growth of the Account
A Social media management agency is responsible for taking complete ownership of your social media account. The social media experts stay on top of the latest industry trends, news, and strategies. When you adopt the right strategies, you can easily garner likes, shares, and comments.
Creating high-performing ads
If you want to get high returns on paid advertising, then Facebook ads might be the thing for you. The first step of getting started with paid ads is creating a compelling ad copy by keeping the client's goals in mind. These goals could be increasing brand awareness, getting more leads for your business, generating higher returns on investments, or launching new products into the market.
We will pay attention to your target audience, their interests, gender, competitors, pain points, and various other details while creating ads. We will do all the technical work, which includes- research, ad copies, A/B testing, monitoring results, and ensuring the Facebook account is compliant.
How Much Does a Facebook Management Agency Cost in Jacksonville?
There are many ways to answer this. The Facebook management agency's cost in Jacksonville depends on various factors, such as the goals you want to achieve, the size of your business, and the competition in the market.
| Features  | Basic -$300 | Intermediate -$500 | Advanced-500+ ( Based on Needs) |
| --- | --- | --- | --- |
| Account setup and configuration | ✔ | ✔ | ✔ |
| Audience targeting | ✔ | ✔ | ✔ |
| Ad creation and testing | ✔ | ✔ | ✔ |
| Campaign management and basic optimization | ✔ | ✔ | ✔ |
| Reporting | Weekly | Bi-Weekly | Custom |
| Advanced audience targeting | X | ✔ | ✔ |
| Ad testing and campaign optimization | X | ✔ | ✔ |
| Campaign management and basic optimization | X | ✔ | ✔ |
| Creative development | X | ✔ | ✔ |
| Conversion tracking | X | ✔ | ✔ |
| Full account management | X | X | ✔ |
| A/B testing | X | X | ✔ |
| Advance Funnel Planning | X | X | ✔ |
| Strategic planning | X | X | ✔ |
Disclaimer- The prices and features mentioned in the tables above are subject to change with time and as per the client's requirements. Please contact us for an exact quote for your business requirements.
Facebook Ad Management Fees
| Levels  | Ad Spend | Management Fees |
| --- | --- | --- |
| Level 1 | $500-$2000 | *$300-$500 |
| Level 2 | $2000-$5000 | *$500-$700  |
| Level 3 | $5000-$7500 | *$700-$800 |
| Level 4 | $7500+ | To Be Discussed |
*- The management fees will be charged based on the work needed. Please contact us so we can offer you the best quote based on your requirements.
Discover
How Our Agency Can Generate More Traffic & Sales For You!
SEO: Maximize traffic with top-notch SEO Services. Watch real results!​
PPC:

Ignite instant lead generation with my team of PPC experts.

Content Marketing:

Unleash my team of storytellers who craft share-worthy content, attract traffic, and pull in valuable links.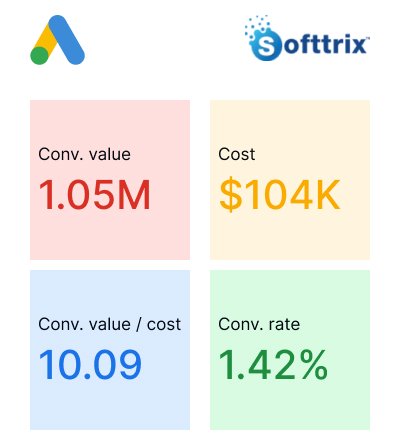 At Softtrix, we have helped numerous Jacksonville clients get the results they have been hoping for in their business. We have had the pleasure of working with one of our clients from the dental industry who needed to reap positive results from his social media platforms. The client offered a complete range of regional dental services, including dental checkups, dental cleaning, dental implants, and many more. Considering the extensive competition in the industry, we suggested Facebook Ads to the client to increase brand awareness and the need to attract new clients.
Since dentistry is a competitive business niche, our client faced stiff competition from other dental practitioners targeting the same demographics. The second challenge was reaching the correct set of customers because the client needed more knowledge of the targeting options and valuable strategies to implement on Facebook. The client did not set up the conversion tracking correctly, so the tracking was unsuccessful, and the results were not convincing.
The Strategy and The Results
Our strategy was to overcome all the challenges faced by the client so that results could be improved. Our strategic planning worked wonders, and the client could generate 200 leads in one month with a CPC of $49.87 for his dental business with the help of Facebook advertising.
That is Not All! Here's More:-
The value of a Facebook management agency for your business extends beyond managing your Facebook marketing strategy. Facebook is one of the biggest social media platforms with humongous potential for business marketing. Which business would miss out on a platform with more than 1.9 billion daily users?
At the same time, the complexity of advertising on Facebook calls for specialized services such as Facebook management agencies. The work of a social media management agency revolves around creating the ideal content strategy. On top of that, the agency must also monitor the performance of your content on Facebook.
It also listens to what your customers say about your brand in different conversations on Facebook. Brands could capitalize on the experience of Facebook management agencies and explore new avenues for success in marketing. Find a credible Facebook management agency for your business right now.
Frequently Asked Questions on Facebook Management Agencies in Jacksonville