Worried about the declining sales of your travel business?
Wondering how to Get More Customers to travel with your Tourism & Ticketing Company?
This is a question that has been giving you restless nights and stressful days for a long time. Despite the current statistics that we see today, your travel and tourism business seems to be in a slump. What could be the reason? Before we get into that, let's have a look at a few numbers that are shaping the travel and tourism sector globally as we speak.
If we look at the travel and tourism sector market in the US alone, more than 1.3 million people travel for business trips practically every day
Interestingly, only by the year 2021, business travel made up nearly 20% of the total tourism expenditure globally
Africa and the Americas were able to gain around 88% and 85% of their pre-COVID travel statistics respectively
Also, by the end of 2022, the value of international tourism easily hit the $1 trillion mark
At the beginning of 2023, more than 235 million tourists had traveled globally before the month of March ended
In 2022, the travel and tourism industry generated approximately $7.7 trillion
A recovery rate is expected further, making it touch a revenue value of an estimated $9.5 trillion
The entire travel market (specifically for business purposes) is expected to grow by a whopping 188% by the year 2028
But chances are that you do not find your travel and tourism business tasting this kind of growth at all whether it is in commercial travel or leisure trips sector. The reason for the frailing performance of your tour and travel business comes with its fair share of challenges and pain points that can hinder growth and profitability!
Common Challenges Faced By Travel Businesses: Addressing Your Pain Points For Success!
Leading Brands Eating Up Your Market Share
This happens when your competitors are taking your place. They are probably employing better advertising strategies and have become the number one choice of your prospects.
Lack Of Customer Loyalty
You can only create customer loyalty when you are constantly on their minds. If you haven't yet found a way to increase the recall value of your brand on the internet, you need to do some hard thinking.
Declining Online Presence
In the present time and age your overall online presence comprises your website, social media channels, and search engine optimization (SEO) practices along with a solid investment in paid advertising (PPC). Lacking any of that is going to push you out of the market.
Bad Website Design
Your website design has to be incredible and very user-friendly. If it is slow or difficult to navigate, your user is going to switch to your competitor.
Lack Of Personalized Ads
Every customer would like to receive special treatment. As per industry statistics, close to 65% of travelers prefer personalization when it comes to consuming advertisements on the Internet.
These instances resonate with practically every travel and tourism company out there that struggles to achieve its monthly sales targets. The problem is that you probably haven't invested your time and resources in effective digital marketing strategies yet. 
Do you know how launching Google Ad campaigns can be a real game changer to promote your travel and tourism business in 2023 and beyond? 

This digital marketing magic wand gives you immediate results and exposure on the internet. You can control your budget quite easily and supervise the ad campaign as well. Leveraging Google Ads drives you valuable leads that convert to regular travelers faster and it builds a very strong brand awareness as well.
What Are the Top Online Travel Agencies?
You are not the only one sailing through this competitive landscape. There are a lot of other players in this industry making it a rather formidable space for your travel company. What makes them so successful? What makes them the preferred choice for travelers? It is the way they connect with their prospects by popping in front of their eyes, wherever they are, and whatever they seek. As if your existing troubles were not enough already, finding out that your competition is all geared up at all times, is a real blow to your ego and profit margins. But, you can use paid advertising to combat this hurling situation. You too can give your rivals a run for their money but first have a look at some of the most popular ones such as:
What Should You Know About PPC Advertising For Your Tourism and Travel Company?
You must have understood by now that paid search engine ads do make a difference in your marketing function. It is not just recommended but necessary. PPC advertising or pay-per-click advertising comprises Ads that can be launched onto multiple platforms such as Google or Bing. It allows you to promote and market your tour and travel packages online to your prospects all over the world. According to this arrangement, you, the advertiser are going to pay the search engine each time a potential prospect clicks on one of your ads visible on the internet.
The most effective form of paid advertising is Google Ads which are immensely popular these days. Your Google Ads expert will bid on (the most relevant and searched) keywords and your paid ads will appear on the top of the leading search engine results when those very keywords are searched for by your prospects. Thus, driving the potential qualified leads.
Of course, there is a cost attached to it but the benefits you derive from PPC advertising for your travel and tourism business are nearly 5X as much and in many cases, even more.
Are Google Ads The Right Way To Maximize Your Travel and Tourism Business Profits?
Absolutely! Google Ads is a powerful tool that can supercharge your travel and tourism business in no time. With so many search queries entered every day on Google, it has turned out to be the best platform to target your business audience and convert them into your paying customers!
Google Ads is like a digital spotlight for your business. It is an online advertising platform that allows you to promote your travel and tourism services on Google's search results. When someone searches for relevant keywords (like "exotic vacations" or "hotel in [your location]"), your ad can appear at the top of the page, right where potential customers are looking. It is widely used for its:
Increased Visibility: Google Ads catapults your business to the top of search results, ensuring potential travelers see you first. This is gold, especially for last-minute planners or spontaneous adventurers.
Targeted Ads: You can aim your ads like a pro archer, reaching the exact audience you want. Pick demographics, locations, and even the type of device they're using. It's like serving an ad directly to travelers who are most likely to book with you.
Budget-Friendly: No need to break the bank! You're in control. Set daily budgets and pay only when someone clicks on your ad. Your marketing spend stays within your comfort zone.
Quick Results: Forget the waiting game. Google Ads deliver results fast. As soon as your campaign is live, you'll start seeing those clicks and, fingers crossed, bookings pouring in.
So, if you're looking to maximize your travel and tourism business profits, Google Ads is a smart choice. It's all about getting your business in front of the right people when they're actively looking to book their next adventure. It's like putting your shop right on the busiest street in town, and it's incredibly effective!
What Are The Most Relevant Keywords For The Travel and Tourism Industry?
Let's not beat about the bush. There is always going to be a set of specific keywords, phrases, and combinations of words that will be more relevant to your business, in the case of digital marketing. These keywords are what your users type into the search bar to look for your services.
This is how the search engine is going to find your business website which contains those words and terms and all that content that is relevant to your customers. In short, if you want your business website to be found on the internet, you must include those keywords in the searchable content of your website pages, blogs, newsletters, and social media. Yes, the higher the relevance of the keyword that you include in your content and Google Ads, the more exposure you will get on the internet.
Therefore, having relevant and definitive keywords gives you more traction with your customers and they can find you easily. This leads to more conversions and eventually more sales for your travel website. These are some of the keywords relevant to your traveling website:
| Keyword | Avg. monthly search | Competition | Top of page(low range) | Top of page bid(high range) |
| --- | --- | --- | --- | --- |
| Travel & Tourism | 1600.0 | Low | $0.99 | $5.01 |
| Travel Industry | 880.0 | Low | $1.09 | $4.27 |
| Tourism Company | 390.0 | Low | $1.81 | $8.06 |
| Tourism Industry Company | 390.0 | Low | $1.81 | $8.06 |
| Travel Tourism Company | 170.0 | Low | $1.83 | $12.92 |
| Best Tourism Company | 40.0 | Low | $0.56 | $8.41 |
| Tourism Management System | 10.0 | Medium | $2.64 | $13.85 |
As evident from the table provided, each keyword is associated with its respective cost!
Why Your Travel Company Can't Afford to Ignore Google Ads
Your travel and tourism company needs to invest in PPC advertising because it is the need of the hour. This is the only way to make your business stand apart from the crowd without taking much time. It has not one but multiple benefits for your business. Once you launch your PPC ad campaign, your prospects will be able to see what your travel agency has to offer. Some tourism companies report record sales practically overnight.
PPC campaigns, when launched through Google Ads help you get more travelers or prospects to your travel agency website. Your business ads will get put on the first page of Google search engine results. So when your target user group, i.e. the people interested in traveling or planning trips performs a search using relevant keywords, Google Ads is going to show your advertisement right on top.
They will click on your ad, reach your webpage, browse through your website, and book a trip with you. This is how you make sales using Google Ads. However, this is not the end of it. You have multiple advantages of launching Google Ads for your business:
Finding Your Target Audience Before Your Competitors Do
Because Google Ads are highly targeted. You can find the segment of the audience that will be the most responsive to your advertisements fast. You can narrow down your options based on age, location, language, frequency of visits, devices used, and a lot more.
Setting Your Budget And Sitting Within It
Setting the budget for your Google ads campaign is also very easy. There is no lower limit and likewise no upper limit to this budget. The more competitive keywords you target the more you will have to pay. And you don't have to pay anything if the user sees your ad but doesn't click on it. Cool, right?
Optimizing Ad Campaigns Throughout The Year
It is easy to find out what your prospects are doing after clicking on your Google ads. You are notified every time you get a click. You can also find out whether they made any reservations or probably downloaded your newsletter or brochure. This gives you an understanding of which ads and keywords bring more bookings so that you can edit, modify, and optimize them accordingly.
Deciding Where Your Ads Appear Is Crucial
Based on this insight and knowledge, you get to decide where your Google ads appear. You can choose many different websites on the internet for your ads to target your user base.
Working On Ad Quality To Increase Ad Score
You have the freedom to keep on editing your advertisement to enhance its overall quality. Google is going to assess the click-through rate, ad relevance, and landing page quality to calculate your ad quality. This is your quality score. If you have a high-quality ad, you will pay much less, and vice versa. Better ad quality means more prospects get attracted to your Google ads. This leads to more clicks and more conversions. It eventually leads to better sales for your travel agency.
What Type Of Google Ads Bring Results For Your Travel and Tourism Company & How We Help You Optimize Them?
In the bustling world of travel and tourism, getting your message in front of the right audience at the right time is the key to success. Among the multiple types of Google Ad campaigns available, – Search Ads are the best workhorses, capable of delivering remarkable results. 
Let's delve deeper into why Google Search Ads are the driving force behind bringing more travelers to your doorstep and boosting your business:
Targeted Precision: Reaching the Right Travelers
Google Search Ads put you in the driver's seat when it comes to targeting your audience. You can handpick the keywords and phrases that are most relevant to your travel services. This means your ads will appear when potential travelers are actively searching for the destinations and experiences you offer.
For example, if your travel business specializes in organizing hiking adventures in the Swiss Alps, you can bid on keywords like "Swiss Alps hiking tours" or "mountain trekking in Switzerland." This precision ensures your ads are seen by those who are already interested in what you have to offer, making it more likely that they'll click and convert.
High Intent Audience: Capturing Travelers on the Verge of Booking
When someone goes to Google and types in a search query related to travel, they are typically in the planning or booking stage of their journey. They are actively looking for information, prices, and options. Google Search Ads capitalize on this high level of intent.
Imagine a traveler sitting at their computer, searching for "last-minute beach getaways." If your travel business specializes in spontaneous beach vacations, your search ad can pop up right at that moment, catching their attention and driving them to explore your offerings. This means you're not just reaching potential customers; you're reaching potential customers who are ready to take action.
Budget Control: Managing Advertising Expenses
One of the brilliant aspects of Google Search Ads is that you have complete control over your budget. You set a daily budget that aligns with your financial goals and comfort level. Once your daily budget is exhausted, your ads will no longer appear that day, ensuring you stay within your spending limits.
Immediate Results: Fast-Track to Visibility
In the fast-paced world of travel and tourism, timing is everything. Google Search Ads offer quick results. Once your campaign is live, your ads can start appearing in search results almost immediately. This agility is especially beneficial when you want to capture last-minute bookings or capitalize on timely promotions and events.
For instance, if your travel company is offering a limited-time discount on winter ski trips to Aspen, your search ads can go live instantly, making sure that anyone searching for "Aspen ski deals" sees your enticing offer.
In the competitive landscape of travel and tourism, Google Search Ads emerge as the ultimate navigational tool for your business. They guide potential travelers directly to your offerings, ensuring that your services are not just seen but acted upon. So, if you're looking to maximize your marketing impact and drive more bookings, Google Search Ads should be a cornerstone of your strategy.
Why Softtrix Is Your Key To Launch Targeted Google Search Ads?
Perform Complete Research Depending On Your Industry
This is a multi-faceted research process. It comprises keyword research, customer profiling, and a deep understanding of Google Trends as well. It is essential to narrow down on relevant keywords and phrases that your customers use. This enables our PPC professionals to come up with relevant ad copies. Also, your target audience is going to differ depending on the variety of tours and travel packages you sell. The factors determining your customer profile will be their age, gender, interest, budget, language, and location among many others. Also, you get location-specific ads created for precise targeting options.
Set Your Budget From The Start
You also get to decide how much you are willing to spend on a particular advertisement. Somewhere between $350 and $1000 per month can be your initial budget. You can also go higher or lower depending on how much you can spend on your Google ad campaign in a given month.
Create Ad-Specific Landing Pages
Your Google ads are most probably going to display particular travel destinations. So it becomes essential to create relevant landing pages that the customer can reach after clicking your paid ad. They always have a unique URL which is different from the homepage of your website. These web pages are optimized for conversions and have very clear CTAs as well. And also, help increase your Google ad quality score tremendously.
Decide Upon The Objective Of The Campaign
Your Google ad campaign can have several objectives. But as a travel agency, you will have to choose one. Creating leads should be your primary goal because then your ads are shown to prospects that are highly likely to convert. The other option is to focus on creating more website traffic which again gives you qualified visitors and then comes brand awareness which expands your overall internet reach. We are going to help you choose wisely.
Set The Bidding Strategy With You
There are 4 primary bidding strategies and you will get full assistance with them. You can either go for maximizing clicks, maximizing conversions, maximizing impressions, or setting a target conversion value. Your PPC campaign manager will explain to you just how the bidding procedure works and which strategy is going to suit your travel agency the best depending on your goals.
Create Attractive Ad Copies And Visuals
Creating useful and informative ad copies for your Google ads is also a very critical step. Headlines in these ads are always going to draw the eye of your prospects. Attention-grabbing images are also a captivating aspect of your Google ads. Highly distinct ads are always going to get more clicks from your target audience and we ensure that always.
Optimize Your Ad Campaign Intelligently
Your PPC or Google ad professional is also going to track and optimize your ad campaign. They will have a close look at the ad quality score and suggest if any new keywords or phrases are to be added. Google Analytics also plays a very important role in determining the amount of time customers spend on your landing page after clicking a particular ad.
Adjust Ad Campaigns For Seasonal Visibility
Because you are a tour and travel company, seasonal changes are always going to impact your sales. Your Google ads are going to reflect those changes and evolving consumer habits as well. Your paid search ad campaign will then include seasonal keywords and unique imagery to target more popular destinations during a given season.
This was just an example of how a common Google search ad campaign for a travel agency can be optimized. The approach is going to differ depending on your specific business needs and budget.
How Many Clicks You Can Expect From Google Search Ads?
When we talk about the number of clicks that you can expect for your travel agency Google ads, it is quite surprising to see the results. To determine the average number of clicks it is important to note the average CPC – Cost Per Click of your business-related keywords. The average CPC for different businesses and their keywords for Google Ads across the US is between $1 and $2. Taking the Travel industry in particular, the CPC is $1.53. So, if you choose to invest $2000 initially to launch your Google Search Ad campaign, you'll receive a total number of 1000 to 1300 clicks.
What Results To Expect From Google Search Ads For Your Travel & Tourism Company
You would usually start measuring any results accruing to you by way of your Google ads in the form of a CTR – click-through rate. This, in general, is the ratio of the clicks your ads receive to the number of impressions it has (the number of times they appear in front of your users). So in Google Ads, when your ad appears on the SERP, that is an impression and when the customers viewing your ad click on it, you get your click-through rate.
Click Through Rate is the number of people who clicked the ad divided by the number of people who saw your ad. The average CTR for Google Search Ads is 3.17%. The average CTR for the Travel and Hospitality sector in general is 4.68%. With such an impressive click-through rate (CTR) of your ads, you can expect approximately a good amount of traffic coming your way. This translates to not only expanding your audience but also attracting individuals who have a real and keen interest in your tourism services, ultimately driving higher sales and revenue.
Case Study: Google Ads For Travel and Tourism Agency
For a clearer understanding of how the entire Google Ads journey unravels, you can have a look at this case study where we generated over 250 leads for a travel agency through PPC advertising.
| Month | CPA | Budget | Conversions |
| --- | --- | --- | --- |
| Month 1 | CHF250 | CHF2.5K | 10 |
| Month 2 | CHF30.76 | CHF1200 | 39 |
| Month 3  | CHF11.77 | CHF942 | 80 |
| Month 4 | CHF2.45 | CHF701 | 286 |
As you can see in the table, over the course of four months, our advertising campaign has shown varying levels of performance.
In Month 1, our client invested CHF2.5K on budget, with a Cost Per Acquisition (CPA) of CHF250, resulting in 10 conversions. Month 2 saw a significant improvement in efficiency, with a lower CPA of CHF30.76 and 39 conversions while spending CHF 1200. In Month 3, our CPA decreased further to CHF11.77, and we achieved 80 conversions with a budget of CHF942.
Finally, in Month 4, our client's campaign reached its peak efficiency, with a CPA of just CHF2.45, resulting in an impressive 286 conversions for a budget of CHF701. These results demonstrate the potential for optimization and growth in our advertising efforts as we continue to refine our strategy.
Our commitment to delivering results and our proficiency in Google Ads ensured that every penny our client invested was spent wisely. We provided an excellent return on investment (ROI) for their business, showcasing the power of digital marketing in transforming a traditional mountain hiking business into a thriving online success story.
| KPI's | First Month | After Four Months |
| --- | --- | --- |
| Spend | CHF2.5K | CHF701 |
| Cost/conversion | CHF250.0 | CHF2.42 |
| Conversions | 10 | 286 |
| CPC | CHF24 | CHF0.76 |
| CTR | 7.14 | 18.9 |
| Clicks | 104 | 920 |
| Impression | 1,456 | 4,865 |
The key performance indicators (KPIs) have undergone significant changes over the span of four months, reflecting the evolving success of our advertising campaign. In the first month, we allocated a budget of CHF2.5K, resulting in 10 conversions at a cost per conversion of CHF250.0. The Cost Per Click (CPC) stood at CHF24, with a Click-Through Rate (CTR) of 7.14%. This led to 104 clicks from a total of 1,456 impressions.
After four months, the campaign has made remarkable progress. The budget has significantly decreased to CHF701, while cost per conversion has plummeted to just CHF2.42. The CPC has seen a substantial drop to CHF0.76, and the CTR has surged to 18.9%, resulting in 920 clicks out of 4,865 impressions. These remarkable improvements underscore the effectiveness of our ongoing optimization efforts, demonstrating a clear positive trajectory in our advertising performance.
How Much Is The PPC Campaign Management Fee For Travel Agency Google Ads?
You must be asking yourself this question. What is the cost or fee for PPC Campaign Management? Before that, understand that pay-per-click management comprises overseeing and managing the entire PPC ad campaign, and its cost and strategy. PPC management helps you improve your results and return on investment constantly. The PPC campaign management agency is going to perform several functions such as keyword analysis, channel targeting, analysis of your competitor, monitoring ad campaigns, optimizing your landing pages, performing various ad tests, and a lot more.
At a minimum, the fee may start somewhere around $500. Collaborating with Softtrix is going to help you big time though. You receive a FREE $500 Google Ads credit in your new account when you join hands with us. This means that your monthly PPC campaign management fee is going to be zero!
The final fee or cost for your PPC campaign management from the next month will depend on several factors including the responsibilities that the PPC professional is handling, your business goals, etc. Other than this, the following factors will also be at play:
The experience, expertise, and knowledge of the digital marketing company that you choose
The amount of competition that you have on your target keywords
How many ad campaigns you are running simultaneously
The type of ad campaigns that you have invested in
What platforms do you want to target with your Google Ads
Are You Struggling To Generate Sales?
Let Paid Advertising Turn Your Woes To Business Triumphs!
Attract targeted potential audience

High conversion rate

Boost in Return On Investment (ROI)
Why Should You Go For PPC Campaign Management For Your Travel Company
Remember, PPC management shouldn't just be effective but continuous as well. It can be the biggest game changer for your travel company.
As explained in the section above, you need seasonal changes to be performed on your Google ads. You should also be able to track the progress of your PPC campaign throughout the year. This necessitates that you invest in continuous PPC management. Here is a quick breakdown of the reasons why you should go for it:
Seamless Cost Control
You have the freedom to increase or decrease your PPC management budget. Depending on the monthly spending capability of your business, you can decide whether to increase or decrease your ad expenditure for the time being.
Measurable Results Throughout The Year
It gives you the liberty to monitor and track your ad campaign throughout the year. From clickthrough rate to conversions, you can keep track of everything that matters to your business.
Flexibility In The Ad Campaign
Another very useful feature is that you can tweak your PPC ad campaign if it is not performing well. You can change its headings or perhaps other features to make it more attractive anytime you feel the need.
Complementing Other Marketing Strategies
Your Google ad campaign can be used in combination with other marketing strategies such as content marketing, search engine optimization (SEO), email marketing, and many more.
Continuous Access To Customer Insights
PPC always works after having a close look at industry and customer insights. You have access to rich data that comprises user interests, behaviors, and demographics. These prove valuable when refining your Google Ad campaign. You have numerous reasons to carry out PPC management continuously and reap its benefits in the long run.
What Is A Remarketing Ad? Should You Use It To Assist Boost Your Google Ad Campaign?
Remarketing is popularly known as retargeting. It is a highly common digital marketing methodology used by numerous businesses and industries out there. So this is the drill. Once you have created an ad for your users and convinced them to visit your website or a specific web page, you have created a potential lead. Given that they have not taken specific action, it is now on you to target them again with your offerings.
When they have already shown some interest in your travel company, they will be attracted to your offerings almost instantly on a second attempt. This gives them a second chance to book their travel with your company. It gives you a second chance to up-sell your services and utilize your Google ads campaign to its full potential.
Launching Remarketing Ads is an absolute must if you want to succeed in the current competitive landscape. A few very incredible benefits of remarketing that you are yet to leverage include:
Every website has a little bit of lost traffic, remarketing helps you capitalize on the same
This is the only process of targeting people who have already visited your website once and shown interest in your services
It is a great way to constantly keep your brand active and fresh in the minds of your customers
It is highly affordable and practical and you can use it on a wide range of platforms
Also, it is highly suitable and practical for every industry and vertical
Remarketing is available in numerous ad formats which makes it very flexible
You can save personalized advertisements for different users based on their travel itinerary
In the end, let's say that just like any other business owner, you must also be quite curious about what it is going to cost you to run a remarketing ad. The cost is somewhere between $0.66 and $1.23 per click for every remarketing ad campaign that you run. This is surprisingly teensy-weensy and it is in your best interest to invest in this digital marketing strategy.
Google Ads By Softtrix - What ROI Can You Expect With Us?
It is going to prove to be very profitable to invest in Google Ads. Google says that on average, for every $1 that you spend on Google Ads, your business gets $2 in return. This means that you get an ROI of 100%, which is great! And, if you have Softtrix with you for your PPC Expert, you could also record a return of $5 or even more. We have stats to prove!!
Now as discussed the average conversion rate for Google Ads for the Travel and Hospitality industry floats at 3.55%. This means you can easily hit a mark of 30 to 40 qualified leads or in your case – bookings after spending about $2000.
Discover
How Our Agency Can Generate More Traffic & Sales For You!
SEO: Maximize traffic with top-notch SEO Services. Watch real results!​
PPC:

Ignite instant lead generation with my team of PPC experts.

Content Marketing:

Unleash my team of storytellers who craft share-worthy content, attract traffic, and pull in valuable links.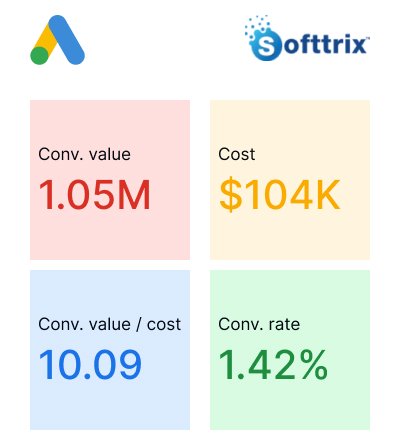 You can say goodbye to the constant slump in your sales that you have been experiencing up until now. Your travel and tourism business is about to encounter a massive growth trajectory with Google Ads. Now is the time to let your competitors know that you have arrived. With Softtrix, this transformation is going to be very easy. We harbor pay-per-click advertising experts with 18+ years of industry knowledge and expertise.
The only way from here is forward and we will be with you throughout. 
Frequently Asked Questions