Are you a healthcare provider struggling to stand out in the digital landscape? Wondering how to attract more patients to your practice and enhance your online presence? If yes, then Search Engine Optimization (SEO) is the absolute answer to all your business woes! In the modern day, when almost each one of us turns to Google, to find medical information and services, it has become all the more crucial to stay on top of the search results. But how much does it cost to climb the search engine ladder, and how can you achieve it without robbing a bank?
Let's explore the pricing structures that can help your medical practice thrive in the competitive world with the help of SEO!
Defining a specific cost for Healthcare SEO can be a bit challenging, due to its complexity in nature. Yet, we can help you have an estimate of how much it would take for medical SEO on average. But before that, let's dwell on some really important aspects that can help shape your business growth!
Is Healthcare SEO Worth Your Money Invested?
Any investment made in SEO, compounds in nature. The result of increasing traffic and revenue may seem "intangible" in the initial phase, but your business growth is easily visible when measured over time.
This is why, optimizing the technical aspects of your website and digital content is nothing, but essential. Today as we speak, approximately 93% of the online journeys get started with that trusty tool at hand that we call a search engine.
Picture this: There's a user, in need of your medical services, sitting at their keyboard or exploring their mobile screen, initiating a quest through the virtual informative jungle of the internet. And what guides them on this expedition? None other than those search boxes on Google, Bing, or Yahoo.
This is where SEO (Search Engine Optimization) enters the scene, with its ability to shine a spotlight on your healthcare business amidst the vast digital landscape. An effective SEO strategy isn't just a mere digital marketing strategy; it's the beacon that beckons more traffic, leads, and revenue to your doorstep. And what's the best part? SEO doesn't punch out at 6 PM; it's your 24/7 digital companion, tirelessly working its magic, even while you sleep.
But that's not all; the advent of voice search, the rise of artificial intelligence, and access to the internet through smartphones means that your business can be discovered at any moment, day or night. In fact, a few stats floating around suggest that over 50% of all website traffic comes from those organic searches. Moreover, it is observed that 70% of the audience looks at online reviews first before they choose which doctor or medical practitioner to visit.
So, how can you rise to the top of the digital ladder, so that you become the first choice of all seeking services like yours? Well, there's no secret recipe, but Google does have a knack for identifying the creamiest of websites—the high-quality, informative, and user-friendly ones. And Google rewards them handsomely with better rankings. It's no wonder businesses aspire to claim that number-one spot on search engine results pages through best-in-class search engine services.
So, embrace the power of SEO, seize the digital spotlight, and watch your online presence flourish.
What Is The Cost Of Healthcare SEO Services?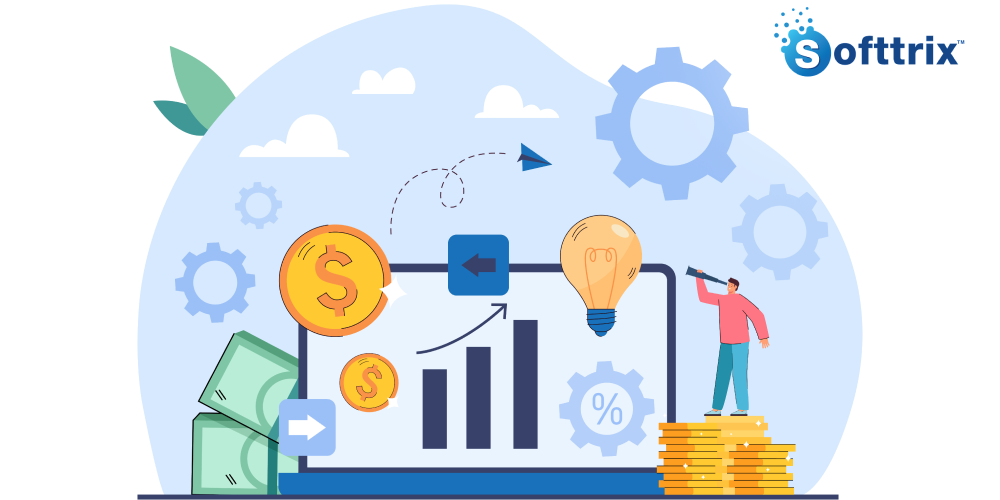 In today's fast-paced competitive digital landscape, establishing a robust online presence is vital for medical businesses. Today, many companies are investing heavily in digital marketing to outshine their competitors and build a solid brand image in the market. Softtrix understands that the cost of SEO services is a major concern for businesses. Therefore, rather than doubling your budget, we've designed our pricing structures with your success in mind. Our commitment is to ensure that every dollar you invest delivers tangible value to your healthcare business. With us, you can start with as low as $500 per month, helping you to kickstart your SEO journey. As you witness the impact, you have the freedom to adjust your investment, even up to $5000 per month, based on the outcomes you anticipate and the crucial factors influencing the final costs.
P.S. Did you know, we are an industry-leading SEO agency with 18+ years of experience? We are known to offer transparent SEO pricing, so you know upfront what you'll pay and receive with our SEO services.
Have a look at our cost-efficient pricing models to save you money!
Hourly Pricing Model
With this SEO pricing model, you pay an hourly fee based on the work we do for you. This model is ideal for agencies who are just starting out with their marketing ventures. On average, hourly digital marketing rates start from $15 and go up to $50.
Monthly Pricing Model
With a monthly digital marketing pricing plan at Softtrix, you can retain the marketing services on a monthly basis. Monthly or retainer pricing is based on an agreed-upon duration and deliverables. In this can you need to pay us upfront or after every milestone is achieved. This model is widely accepted as value-based and client-friendly. Since the payment is pre-decided as per the deliverables, it comes down to 24% less on the total cost as compared to the Hourly Model + double the consistent efforts.
On average, monthly digital marketing costs start from $1000 and go up to $12000 or more per month.
SEO Costs Broken Down By The Size Of Your Healthcare Business
| Business Size | SEO Pricing |
| --- | --- |
| Small business | $500-$1000 |
| Mid-sized business | $1000-$2000 |
| Enterprise business | $2000-$5000 |
What SEO Services For Healthcare Industry Include?
Comprehensive SEO audit of your website
Keyword/Local Keyword research and integration
Competitor analysis
Content creation and SEO optimization
On-page SEO: title tag, URL, meta description, etc optimization
Off-page SEO: building backlinks, forum submissions, social bookmarking, social media engagement, etc.
Technical SEO: page speed optimization, fix broken links, optimize core web vitals, ensure website mobile friendliness, etc.
Citation management
Google Business Profile optimization
Review management
Share reports and analysis of SEO performance
Re-evaluate and optimize ongoing SEO strategies
What Factors Influence The Medical SEO Pricing Structures?
Now that you have understood the average pricing structures to get started with Search Engine Optimization services for your healthcare business website. It's also important to know that due to the complexity of this industry, there are many factors that influence the cost of medical SEO. A few common elements that you might encounter are as follows:
The Keywords Dilemma
Keywords are the search entries or phrases people type in the search engines when looking out for information. Some keywords are really popular and competitive because many websites want to rank for them. In the competitive field of healthcare, using these keywords effectively in the SEO strategy might require more work, and that can affect the price.
Size Of Your Website
Let's assume your healthcare website is a big library with many books aka web pages. The more pages you have, the more attention each page needs to make sure it's easy for search engines to understand and rank them well. If your website is huge with lots of pages, it might cost more to optimize them all for SEO.
Your Ultimate Objective
SEO isn't one-size-fits-all. Depending on your goals, the scope of work can vary. If you want your medical practice to show up first in local search results or if you're aiming for national or even international recognition, the strategies and efforts required can significantly impact the pricing.
Industrial Competition
You are not alone in the online world. Your competitors are also trying to get noticed in the healthcare sector. If you operate in a specialized niche, you might have less competition around. The more competitive your specialty is, it can directly influence the level of effort and cost required.
Number Of Targeted Locations
If you are interested in investing in local healthcare SEO, the number of regions or locations you want your SEO provider to target will definitely impact the final cost. Since your hired digital marketing experts will have to check all the SEO tasks for every area you wish to shine in.
What Results You Can Achieve After Getting Started With Healthcare SEO?
Increased Spike In Patient Base
Higher Ranking In Search Engine Results Pages
Tough Fight To Your Competitors
Providing Your Patients With Key Information Helps Build Trust
Cost-Effective Option As Compared To Running Ads
Helps You Stay Relevant With Patients & Medical Industry
Is Your Business Website Not Visible On Google?
Get It Ranked On #1 Page With Us! 
Google #1 page ranking for targeted keywords
Rank #1 on your local maps
Increased brand engagement & sales
In the world of healthcare, where every click could mean a life-changing decision, the value of a well-executed SEO strategy cannot be overstated. Therefore, the cost of healthcare SEO is not just an investment in your online presence; it's an investment in the health and well-being of your practice. By optimizing your medical website for search engines, you open the doors to a world of opportunities. You become more accessible to patients who are actively seeking your services, and you establish trust and credibility in a competitive healthcare landscape.
So, what's making you think more?
Get in touch with Healthcare SEO experts at Softtrix and let's ride on this exciting journey towards a brighter, more prosperous future for your medical practice!