Are you a home builder struggling to attract new clients? If you are still relying on traditional methods to find clients, it is time to explore new approaches, and in this article, I will introduce you to a game-changing strategy known as Pay-Per-Click (PPC) advertising.
 Pay-Per-Click (PPC) advertising is a dynamic internet marketing approach that charges you each time someone clicks on one of your ads.
If you are new to this concept, you might be questioning the remarkable benefits it can bring to your business.
Let me clarify – online marketing has become absolutely crucial for businesses across diverse sectors. It is a powerful tool that enhances your online visibility, engages potential customers, and fosters business growth.
Why are businesses increasingly turning to paid ads?
Because it allows them to connect with individuals actively seeking their services, resulting in substantial lead generation. 
What's even more exciting is that with PPC, you may start seeing results within just 24 hours. So, don't hesitate – kickstart your ad campaign today and watch your business flourish.
Now that you are aware of the remarkable benefits PPC advertising can bring to your home building business. If you are curious about how you can get started and how much a paid ads campaign can cost your business,
Keep Reading….
How Much Does A PPC Ad Campaign Cost A Home Builder?
The cost of your ad campaign can vary depending on several factors, making it challenging to provide an exact figure. However, I can provide you with an illustrative example that gives you a rough estimate of the investment needed to attract a substantial number of new customers.
For instance, that the keywords you are targeting have an average cost-per-click (CPC) of $5, and your daily advertising budget is set at $100. With this budget, you could expect to receive around 20 clicks per day.
However, it is essential to remember that not every click turns into a potential customer.
Now, let's say your goal is to acquire 100 new clients. To achieve this, you need to know  that the typical conversion rate in your industry falls within the range of 10% to 20%. 
The formula for calculating the conversion rate is 
Conversion Rate =(Total conversion/Total clicks) * 100
With this conversion rate in mind, you will require somewhere between 500 to 1,000 clicks on your ad campaign to reach your target of 100 new clients.
Next, let's discuss your Cost Per Acquisition (CPA), which measures how much you spend to acquire each customer.
CPA = (Total Cost/Total conversion) 
If your CPA is $50, you should allocate a budget of approximately $5,000 to achieve the desired number of 100 new clients.
Again, please remember that these figures are for illustration purposes and can vary based on factors such as competition, location and keyword cost.
As you can see in the table below, each keyword has its own price. These are examples of some of the best and most competitive keywords for your Home Building business. 
| Keyword | Avg. monthly searches | Competition | Top of page bid  |
| --- | --- | --- | --- |
| best home builders | 1300 | Low | $4.08 |
| home builders contractors | 880 | Medium | $8.05 |
| best home builders near me | 480 | Low | $4.40 |
| best new home builders | 260 | Medium | $4.26 |
| best house builders near me | 70 | Medium | $4.21 |
| top home builders near me | 70 | Low | $3.91 |
| good home builders near me | 40 | Medium | $6.04 |
| best builders for new homes | 20 | Medium | $5.54 |
But these rates can fluctuate significantly depending on your advertising location. In specific geographical areas, certain keywords may be more expensive than others.
It is crucial to note that your competitors may also target the same keywords for their ad campaigns, and if they are bidding higher for those keywords, your ads may not appear as frequently.
To achieve optimal results, it is essential to choose a budget that ensures your ads are prominently displayed on Google but not so high that you are overspending on clicks that don't lead to conversions.
Are You Struggling To Generate Sales?
Let Paid Advertising Turn Your Woes To Business Triumphs!
Attract targeted potential audience

High conversion rate

Boost in Return On Investment (ROI)
What Is The Right Budget For PPC Ad Campaign For Your Home Building Business?
Handling your budget can get tricky, considering all the factors involved. It is true that a Pay-per-click ad campaign can bring in lots of profit, but if you do not know what you are doing, you could end up throwing away thousands of dollars.
You should consider getting help from a PPC consultant or agency to handle your ad campaign so you make the most of your PPC investment.
With Google AdWords, You get to decide how much you spend on an ad Campaign. Whether your budget is limited or substantial, your hired agency will ensure that your funds are used efficiently, leaving no room for wasteful spending.
With over 18 years of PPC expertise, Softtrix Tech Solutions will guide your ad campaign to success by optimizing your budget for maximum leads and results.
Competitor Analysis
Before launching your ad campaign, we will thoroughly analyze your competitors.
This strategic move aligns with the saying, 'Knowing your enemy is the key to victory.'
We aim to assess your competitors' PPC advertising strategies to better understand the challenges you will face, enabling you to excel and outperform them.
Keyword Research
Selecting appropriate keywords is critical for the success of your ad campaign.
We will identify the most valuable keywords related to your brand and pinpoint any negative keywords that could harm your campaign.
Once the keywords used by your target audience in their searches are chosen, we will design a PPC campaign tailored to match their search patterns.
We will then adjust your ad budget based on the value of these keywords.
Campaign Strategy
We craft a PPC (Pay-Per-Click) campaign strategy to increase brand visibility among the target audience.
It involves precise targeting to reach the right individuals, optimizing ad placement, and identifying specific audience segments for ad display.
By focusing on these elements, we aim to efficiently allocate ad spend, improve click-through rates, and ultimately drive massive leads by spreading the brand's awareness within the desired audience.
Ad Copywriting
Crafting an appealing ad copy is crucial, but ensuring its relevance to your landing page is equally essential.
Even when holding the top spot in search results, you are still in competition with numerous other ads.
Your ad content should captivate and persuade users to choose your ad over rivals. We excel in creating ads that drive conversions.
Performance Testing
Testing is invaluable as it enables continuous improvement of campaign and performance metrics. Through testing, one can assess the effectiveness of the PPC campaign.
We will consistently monitor your ads' performance to determine whether they are performing well or if adjustments to the ad copy and features should be done to ensure the best possible ads are always running.
Ultimately, the key to progress lies in carefully reviewing your ads.
Campaign Improvement
Monitoring and adjusting your ad campaign is essential to ensure its ongoing effectiveness.
Your advertising campaign should always remain relevant and impactful, so checking them regularly and making necessary adjustments is important. This proactive approach helps your campaign stay on track and keeps it efficient, leading to long-term success.
We keep ourselves updated of what keywords people use in their online searches, as this can change. We always keep track of these changes to ensure your ads remain competitive and relevant.
By doing this, your ads will keep working well, reaching the right people and getting more visitors, leads, or sales.
Discover
How Our Agency Can Generate More Traffic & Sales For You!
SEO: Maximize traffic with top-notch SEO Services. Watch real results!​
PPC:

Ignite instant lead generation with my team of PPC experts.

Content Marketing:

Unleash my team of storytellers who craft share-worthy content, attract traffic, and pull in valuable links.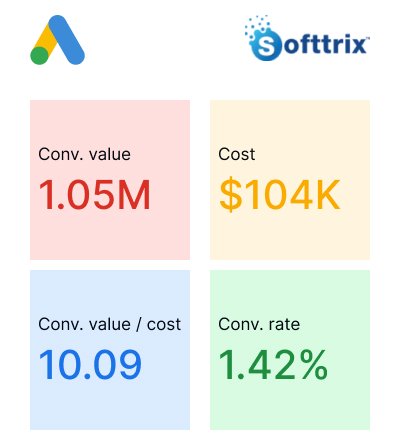 Management Fee With Softtrix Tech Solutions
Softtrix Tech Solutions offers a range of flexible pricing options to meet the diverse needs of its clients. 
You can opt for an hourly rate of $15 USD, allowing you to pay for services on a per-hour basis, providing a dynamic and cost-effective approach.
Alternatively, there is the option to hire us with a fixed monthly fee of $400 USD. This flat-rate model offers predictability and consistency in expenses. 
Softtrix Tech Solutions prides itself on having a skilled and capable team, with a commitment to ensuring the success of their clients' projects.
And Guess what? We are offering a FREE $500 coupon for a new Google Ads account which can be used for advertising on Google.
PPC or as you may put it paid advertising has turned out to be a necessity rather than an aid to grow businesses these days! It is an ideal tool for people looking out to generate leads or drive conversions within a short period of time. Moreover, you can start observing results within a week! So, if you also want to skyrocket your profit margins as a Home Builder, start launching your PPC ad campaigns today!
Don't think twice. Simply get in touch with the PPC Experts at Softtrix and watch your business rise to new heights.
We are waiting to hear from you soon!